Quiet, Safe, and Affordable Hostels in Christchurch, New Zealand
Christchurch is the largest city on the South Island of New Zealand. It is located on the edge of the Canterbury plains and is relatively easy to access through its international airport.
The city was established in 1850 and it still has some interesting older buildings, particular in the cultural precinct along Worcester Boulevard and Rolleston Avenue. Christchurch is known as the Garden City and it has a pretty setting with many trees and green space.
There are a good number of hostels in Christchurch that have character and charm. Many are found in older buildings that make for a quaint and comfortable place to stay.
How much do hostels in Christchurch cost?
| | |
| --- | --- |
| Average Dorm Price | $20 ($8 to $27) |
| Average Double Private Room Price (in a hostel) | $60 ($42 to $108) |
A good hostel for backpackers, couples, and small groups.
Dorm Bed:
$
36.00
Private Room:
$
44.50
Overall Rating:
85%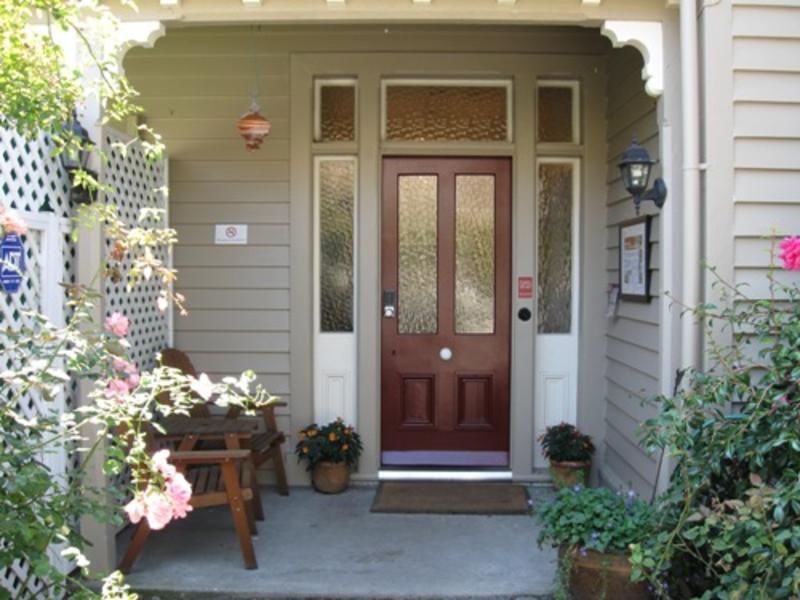 Dorset House Backpackers is a boutique style hostel that's located in a charming historic home. It has a peaceful garden setting and is located right next to Hagly Park. The building dates back to 1871 when it was originally the home of a wealthy timber merchant. The hostel attempts to maintain much of its original history and character while also offering comfortable and affordable accommodation for guests.
The hostel has a full kitchen which guests can use, laundry facilities, and a large lounge area. There's also free parking that is available on a first come, first serve basis. Wi-fi is available throughout the building and there is a public computer and printer that guests can use.
Dorset House has both private rooms and dorms available. Private room options include singles, twins and doubles and dorms sleep up to five people. The rooms have a lot of natural light and are well furnished. There are no bunk beds, only stand alone beds, so you can be assured a comfortable and quiet night's sleep.
If you want to stay at a charming hostel with a lot of character, then this is a great option. It has the feel of a home and you'll be warmly welcomed here by both the staff and the other guests.
1 Dorset Street PO Box 25350
,
Christchurch
,
New Zealand
,
A good hostel for couples and budget travellers.
Dorm Bed:
$
26.92
Private Room:
$
30.77
Overall Rating:
92%
Canterbury House Christchurch is another home style accommodation option in Christchurch. It's centrally located but offers a quiet and relaxing setting where you can unwind after a busy day exploring the area. The hostel has a large garden area, a quiet reading lounge, and a television room if you want to watch a movie.
There are private twin and double rooms available as well as four bed dorms. All of the rooms are heated during the winter months and many rooms have garden views. A sun deck also offers a great space to sip coffee or tea. If you're arriving with your own vehicle, there is parking available about 100 meters away along a well lit driveway.
The owners of the hostel live on-site and are available to help you with anything you may need. This is a friendly and welcoming place to stay and it will quickly come to feel like home. The rooms are clean and well furnished and the staff and other guests are welcoming and respectful.
257 Bealey Avenue, Christchurch
,
Christchurch
,
New Zealand
,
A good hostel for backpackers, couples, and small groups of friends.
Dorm Bed:
$
24.49
Private Room:
$
31.21
Overall Rating:
88%
The Old Countryhouse is another popular backpacker hostel in Christchurch. The hostel has been around for years and has a reputation as a reliable and comfortable place to stay. There is even a free sauna and spa pool on-site where you can relax after a busy day exploring the area.
The hostel has a nice garden area where you can enjoy a walk between the different colonial villas. The villas are furnished with native timber furniture and they have been fully restored to have a lot of character but also offer any modern conveniences that you might need. The hostel has full central heating during the winter months. There's also free wi-fi access available. There is a shared kitchen, television lounge, and a separate reading lounge if you want a little peace and quiet. Off street parking is available for guests who have cars.
The hostel is located on the eastern side of Christchurch. You can walk to the city in about fifteen minutes and its close to many great local shops and restaurants. There's also a supermarket nearby if you hope to prepare some of your own meals. It's also easy to catch public buses to local beaches, major shopping malls, and the airport.
This hostel has twin, double, and three bed private rooms available. There are also four, five, six, seven, and eight bed dorms to choose from.
437 Gloucester Street
,
Christchurch
,
New Zealand
,
Share This Article