Best Hostels in Granada, Nicaragua for Solo Travellers, Couples, and Groups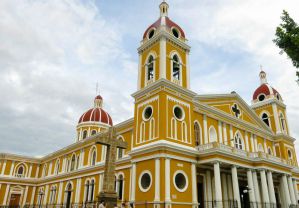 With old-world colonial charm and history in a tropical environment, Granada has a lot to offer visitors. The hostels offer a diverse range of amenities and atmosphere, so make sure you check out the options before making your selection. From relaxing resort-type establishments to downtown party hostels, many options are available for every type of traveler.
How much do hostels in Granada cost?
| | |
| --- | --- |
| Average Dorm Price | $9 ($5 to $20) |
| Average Double Private Room Price (in a hostel) | $27 ($12 to $63) |
A social and relaxing hostel, great for solo travelers, groups, and couples
Dorm Bed:
$
8.70
Private Room:
$
9.57
Overall Rating:
89%
"Oasis" is the perfect name for this hostel with the atmosphere of tropical resort.
Check out the photos!
Centered around a beautiful pool, this hostel has a variety of common areas with hammocks, a kitchen and nice dining area, rooftop deck, computers, TV room, and more. Both private rooms and dorms are available at very reasonable prices. Private rooms are available with and without ensuite bathrooms. Also, it's located in the middle of town, close to everything.
Guest reviews tend to highlight the cleanliness of the rooms and bathrooms, which are all well-kept and fairly modern.
A free all-you-can-eat pancake breakfast rounds out the list of amenities, and the front desk can help you set up tours and activities, including their daily trip for a swim in a volcanic crater. You can't go wrong here.
Calle Estrada, Casa 109
,
Granada
,
Nicaragua
,
A relaxing and social hostel with a resort atmosphere
Dorm Bed:
$
12.00
Private Room:
$
15.00
Overall Rating:
89%
West of Granada, overlooking the Laguna de Apoyo, is this relaxing hostel full of natural atmosphere and Central American charm. The clear blue lake and water activities are the main focus of activities here, as they have free kayaks, a floating dock for simmers, and water toys. They also have some indoor activities for relaxing, such as a game room and an onsite restaurant and bar.
The rooms are nice and clean. The Paradiso offers dorms as well as private rooms, with and without ensuite bathrooms. Lockers, laundry, internet, and other standard amenities are also available. The staff is friendly and can help with anything you need, including tours and transportation.
Although this place is somewhat remote, guests love the "get away" feel of it for a few days.
Laguna de Apoyo 300m East from triangulo (left when reaching the c
,
Granada
,
Nicaragua
,
A social hostel, great for solo travelers, couples, and families with kids
Dorm Bed:
$
7.50
Private Room:
$
8.50
Overall Rating:
76%
In the middle of town, a block from the central park, the Mochilas is set in an old colonial building with a courtyard surrounding a relaxing Jacuzzi-like pool. It's walking distance to everything you could need. A variety of room types are available from dorms to smaller privates with shared bathrooms, plus full ensuite private rooms of different sizes. A communal kitchen helps those that wish to cook meet their budgets. Wi-Fi, laundry, games, and a cafe are also provided for the comfort of guests. Some rooms even have air conditioning.
De La Gran Francia 100m al sur. Or From Central Pa Facing the Cathedral 1,5 blocks to the south ( rig
,
Granada
,
Nicaragua
,
A quiet but social hostel, great for solo travelers, groups, and couples
Dorm Bed:
$
9.00
Private Room:
$
9.00
Overall Rating:
87%
On the edge of town, but still walking distance to many restaurants and stores, is this hostel in a newly constructed building. With modern and clean bathrooms and simple dorm rooms and privates, this hostel makes up for in cleanliness and comfort what it might lack in old-world charm. Private rooms have ensuite bathrooms, and the ensuite dorm rooms are on the smaller size so you don't have to share a shower with a large number of other guests.
The kitchen is also modern and available for self-caterers. The common area has a TV with cable, games, a cafe, and more. Bikes can be rented, and tour booking is also available.
Guest reviews state that the staff and owners are very friendly and helpful!
Calle El Bolzon De Fortaleza La polvora 1C/ al sur
,
Granada
,
Nicaragua
,
A party hostel in the heart of Granada
Dorm Bed:
$
7.00
Private Room:
$
6.25
Overall Rating:
72%
Surrounded by bars and restaurants in the middle of Granada, the Libertad has a social vibe. With two buildings, some of the rooms surround a central courtyard with a nicely-sized pool. The onsite bar serves up drinks for those looking to relax and stay in place instead of venturing out into town. Laundry, Wi-Fi, tour booking, games, and a shared kitchen are also available.
Dorms and private rooms are available, with and without ensuite bathrooms. An all-female dorm option is available as well.
Some guests give it negative reviews for cleanliness and the condition of the rooms. To be fair, this is one of the cheaper places in town and many guests are looking to party.
Avenida 14 Septiembre 308 Granada
,
Granada
,
Nicaragua
,
Share This Article