Cheap Tours and Activities in Lima, Peru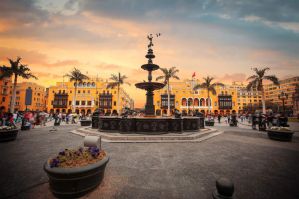 Lima, the capital of Peru, lies on the country's arid Pacific coast. Though its colonial center is preserved, it's a bustling metropolis and one of South America's largest cities. After Cairo, this sprawling metropolis is the second-driest world capital, rising above a long coastline of crumbling cliffs. To enjoy it, climb on the wave of chaos that spans from high-rise condos built alongside pre-Columbian temples, and fast Pacific breakers rolling toward noisy traffic snarls. Think one part southern Cali doused with a heavy dose of America Latina. But Lima is also sophisticated, with civilization that dates back millennia. Stately museums display sublime pottery; galleries debut edgy art; solemn religious processions recall the 18th century and crowded nightclubs dispense tropical beats. It's home to the Museo Larco collection of pre-Columbian art and the Museo de la Nacion, tracing the history of Peru's ancient civilizations. The Plaza de Armas and the 16th-century cathedral are the heart of old Lima Centro. No visitor can miss the capital's culinary genius, part of a gastronomic revolution more than 400 years in the making. This is Lima. Shrouded in history, gloriously messy and full of aesthetic delights. Don't even think of missing it. With so much to see, do, and taste, Lima is a great place to experience, and there are several options for exciting activities and tours in or near the area to help you make the most of your time here.
Greet your guide at a central Lima location to begin your cultural tour into the city's historical heart. Wander the famous pedestrian avenue of Jiron de la Union as you learn a few simple Spanish phrases from your informative guide. Stop to absorb the colonial charm of the San Pedro de Lima Church, marveling at the impressive bell tower as you learn about the history of the sacred 17th century structure. Continue to the vibrant and colorful market and immerse yourself in the bustling atmosphere; follow your guide past stalls bursting with exotic fruits and fresh vegetables and discover sizzling local dishes. Next, venture to the legendary Monasterio San Francisco to explore the subterranean catacombs that connect the spiritual structure to the other churches in the city. Enjoy a refreshing rest with a glass of traditional pisco sour in a bar that claims to have invented it. Conclude the tour at the ambient Plaza de Armas.

offered by Viator
Greet your guide at your Miraflores hotel to begin your two-wheeled exploration of Lima. Travel by coach to the enchanting elevation of Solar Hill to appreciate panoramic city vistas. Climb aboard your modern bicycle and begin your exhilarating descent of Solar Hill, stopping at impressive war memorials and significant historical landmarks as your guide offers insight into Lima's colorful past. Rest and revitalize in the charming seaside neighborhood of Chprillos before riding into the bohemian barrio of Barranco, an artistic enclave in which musicians, writers, and artists reign supreme. Admire enthralling examples of street art and colorful murals before following the curve of the coast towards Miraflores; gaze at the silken sands and tranquil waters of the Pacific Ocean as you arrive at Parque del Amor. Absorb the atmosphere and appreciate constructions reminiscent of Spanish architect Antoni Gaudi; stroll past romantically inspired statures before bidding your group farewell in this lovely location.

offered by Viator
After hotel pickup in Lima, sink into your seat in a comfortable, air-conditioned minivan as you venture to a typical Peruvian market. Marvel at the diverse and delicious produce on offer and browse stalls bursting with locally sourced exotic ingredients. Next, travel to a rustic local restaurant to begin your epicurean education; watch as an experienced chef prepares Peru's national dish of ceviche, combined chunks of raw fish with fiery chilies, aromatic coriander and zesty lime juice. While the sumptuous ceviche marinades, try your hand at mixing Peru's national cocktail. Gain insight into the cultural significance of the drink, learning about how Peru dedicates a national holiday to the beverage. Mix a delicious grape brandy with lemon juice, egg whites, sugar syrup and Angostura bitters then pleasure your palate with the sweet taste of a pisco sour. After enriching your knowledge of local cuisine, sit down to enjoy an authentic Peruvian lunch inspired by regional recipes. Return to your Lima hotel when the tour concludes.

offered by Viator
Treat your taste buds by tasting products from the region in a local market while visiting Lima's historic center and the bohemian Barranco district. Enjoy a culinary tour of Lima's Chinatown and taste the savory local food on this full-day tour. Lima's Chinatown is the largest in South America and has an exciting mixture of Peruvian and Chinese styles. Walk in the Historic Centre of Lima, taking in its monuments and architecture. Visit a local restaurant and observe the skill and concentration it takes to make ceviche, a tangy traditional seafood dish of fresh fish cured in citrus juices. Walk around the streets of the charming Barranco district, visit local shops, and browse through a private collection of the best Peruvian handcrafted goods. After your walk, visit a local restaurant to taste picarones, the well-known Peruvian dessert made of squash and sweet potato, shaped like a doughnut, and drizzled in syrup.

offered by Get Your Guide
You'll meet your local guide at the main door of the Virgen Milagrosa church on Kennedy park for a historic sightseeing tour of the city. Start the tour by taking the local bus to downtown, and learn a few words of Spanish along the way. Once you're downtown, the walking tour will begin with a visit to the Bolivar Hotel, before you head out on your adventure through the City of Kings. You'll walk along Jiron de la Union, a pedestrian avenue linking Plaza San Martin to Plaza de Armas. Along the way, your local guide will be pointing out the sights along this street, from the hidden gems to the Lima's classic tales. Next, you'll dive off the beaten path and make a short stop at San Pedro de Lima Church, an infamous Lima landmark, before heading towards the Central Market where you'll navigate through various stalls, checking out the fresh produce and learning about the eating habits of the locals. Walk through Plaza Bolivar, the perfect place to hear anecdotes about the history of Peru and all of South America. Visit the breath-taking Monasterio San Francisco, home to huge underground catacombs and a building so rich in history that it was named a UNESCO World Heritage site. After all that learning, rest your body with a Pisco Sour in hand at the place where the drink was supposedly invented. This Lima tour will come to an end here.

offered by Get Your Guide
Share This Article