Best Hostels in Lima, Peru for Solo Travellers, Couples, and Groups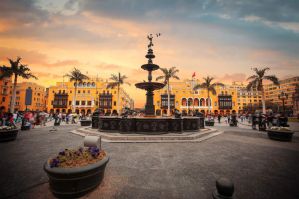 Lima is Peru's capital and largest city. It has a rich history, fascinating culture, and a unique blend of colonial architecture and modern development. Lima also has some wonderful restaurants where you can enjoy traditional Peruvian cuisine. Prices are quite affordable and their is a lot to offer budget travelers.
There are also a good number of affordable hostels spread throughout the city. There are several popular neighborhoods to choose from. San Borja is a relatively safe middle class area with many businesses. Miraflores, Barranco, and San Isidro are also nice and safe areas in the city.
How much do hostels in Lima cost?
| | |
| --- | --- |
| Average Dorm Price | $11 ($7 to $40) |
| Average Double Private Room Price (in a hostel) | $38 ($12 to $135) |
A good hostel for solo travellers and small groups.
Dorm Bed:
$
12.96
Private Room:
$
25.25
Overall Rating:
91%
Pariwana Backpacker Hostel is an affordable and fun place to stay for young travelers to Lima, Peru. The hostel has a large array of amenities available for guests including free wi-fi, a complimentary breakfast that is served late into the morning, all kinds of travel information, comfortable furnishings, board games, laundry service, a book exchange, and a television with movies. It's a social setting with a lot of common areas where guests can play ping pong or foosball. There's also a nice outdoor terrace where many guests like to hang out. The on-site bar has a fun atmosphere and affordable drinks with daily happy hours. The staff at the in house travel agency can also help you with any travel arrangements you may need.
The hostel has six, eight, ten, twelve, and fourteen bed dorms available. There are six bed female only rooms but all other rooms are co-ed.
This is a great place to stay if you want to get to know other travelers and backpackers. The staff keep the place social and fun and it's easy to meet other travelers. There are daily organized activities for guests including drinking games, poker nights, and trivia nights. They also run regular tours of the city.
Av. Larco 189 Miraflores (Al frente del ovalo del parque Kennedy
,
Lima
,
Peru
,
A family owned hostel that is great for couples, solo travellers, and small groups.
Private Room:
$
21.00
Overall Rating:
97%
If you're looking for a place to stay that focuses on personal attention, then this is a great option. The owners are involved in the daily running of the hostel and they insure that every detail is taken care of. They can give you maps and travel information, or may even walk you to your destination themselves. They can also help you book any tours or activities you may want to do throughout Peru.
The hostel has 24 hour internet available as well as free tea, coffee and water. The rooms are large and comfortable and each room has a ceiling fan, television, a decent mattress, and more. Breakfast is also included in the price of the room.
B&B Tradiciones Miraflores is located in a pleasant and safe residential area in Miraflores. It's right next to Tradiciones Park and is about an eight minute walk to Miraflores Centre.
This hostel offers private rooms that range in size from singles to five beds. Each room has it's own private, attached bathroom.
955 Ave. Ricardo Palma Miraflores
,
Lima
,
Peru
,
A good hostel for solo travellers, couples, and small groups.
Dorm Bed:
$
12.27
Private Room:
$
19.07
Overall Rating:
88%
Alpes Lima is another nice place to stay if you're looking for comfort on a budget. The hostel has all of the amenities a traveler could want including computers and wi-fi, a library, and a social setting. There are several great common areas as well. The large outdoor terrace is a nice place to relax or grill some food. There's also an on-site bar that offers daily drink specials. A shared kitchen makes it easy for guests to prepare their own meals. The staff are also friendly and helpful and arrange a number of activities for guests including football games, drinking games, and card games.
Alpes Lima is located in the middle of Miraflores. It's about four blocks from Kennedy Park and is three blocks from Larcomar mall which has many restaurants, shops, and activities. It's about a five minute walk to the beach and is near many clubs, bars, and restaurants.
The hostel has both private rooms and dorms available. Private rooms are doubles and dorms sleep four, six, or eight people.
Calle Jose Gonzalez, 170 Miraflores
,
Lima
,
Peru
,
A good hostel for couples.
Private Room:
$
25.00
Overall Rating:
93%
Another popular hostel in Lima, Miraflores House is also located in the Miraflores neighborhood. It's a comfortable and friendly place to stay with very helpful staff. There are eight rooms in total, each with its own private bathroom, cable tv, and a dvd player. This is a comfortable and relaxing place to stay. If you're looking for a relaxing setting in a convenient location where you can be assured a good night's sleep, then this is the place to come.
The staff are wonderful and will help you feel right at home. They can help you with all kinds of travel information and will help you feel comfortable and safe in Lima. Whether you've been traveling for years or this is your first trip, you'll quickly appreciate the setting of this hostel.
Both private twins rooms and doubles are available.
Av. Comandante Espinar 611 Miraflores
,
Lima
,
Peru
,
Share This Article