Best Party Hostels in Lima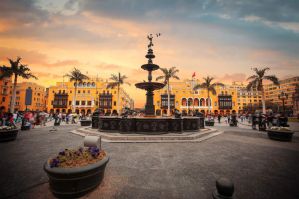 Lima is Peru's vibrant capital city. It's a great place to try some Peruvian cuisine or explore some great museums. It also offers visitors a wonderful nightlife, and many travelers look specifically for a hostel that will help them explore this fun side of the city. Check out any of these hostels if you're hoping to meet fellow travelers and head out on the town.
How much do hostels in Lima cost?
| | |
| --- | --- |
| Average Dorm Price | $11 ($7 to $40) |
| Average Double Private Room Price (in a hostel) | $38 ($12 to $135) |
Dorm Bed:
$
9.63
Overall Rating:
88%
The Point Hostel in Lima, Peru is one of the most popular party hostels in the city. It's well known for its fun atmosphere, friendly staff, and regular activities. It's also a comfortable hostel in a great party of the city.
Every night a "nightlife guide" will take you out and around the town to some of the city's best clubs. You'll pass the lines and get the VIP treatment.
There's plenty of fun in the hostel as well with a television room, pool table, ping pong table, and an onsite bar that stays open until 1 am.
You can also take advantage of the many amenities available at the hostel. There's free breakfast, laundry service, internet service, lockers, a book exchange, a travel center, and 24 hour security.
Malecon Junin 300 Barranco
,
Lima
,
Peru
,
Dorm Bed:
$
12.96
Private Room:
$
25.25
Overall Rating:
91%
Pariwana Hostel is a favorite among travelers. It has a longstanding reputation for being reliable, fun, and convenient. It's also affordable and offers a range of great amenities to its guests. There's a bar with a fun vibe, staff that are friendly and welcoming, and plenty of common areas with all kinds of activities. You can play pool, ping pong, or foosball, or just get to know other guests.
There are plenty of activities that are organized for guests as well. They host parties, play drinking games, have walking tours, and organize classes. There's also food available including both Peruvian and international dishes.
This is a great place that is always reliable and fun. It's best to make reservations in advance during the peak seasons.
Av. Larco 189 Miraflores (Al frente del ovalo del parque Kennedy
,
Lima
,
Peru
,
Dorm Bed:
$
36.36
Private Room:
$
49.54
Overall Rating:
79%
This hostel is designed as a place guests can come and relax, have fun, and meet other travelers. It's located right in the middle of Miraflores and is only a few blocks from Parque Kennedy. It's near many different dining, shopping, and nightlife venues so there is no shortage of activity nearby. It's also just 3 blocks from the ocean and the cliff top parks that offer paragliding and surfing opportunities.
There is plenty of common space throughout the hostel, both indoors and outdoors. It's a modern facility with modern comforts. It's safe and secure with a 24 hour reception area and lockers for guests.
The staff work hard to make sure that this is one of the most social hostels in Lima. There's an onsite bar, late breakfast is served, and you don't have to checkout until 1 pm. They also host nightly events so you have plenty of opportunity to interact with other guests.
Jose Galves 576 Miraflores
,
Lima
,
Peru
,
Dorm Bed:
$
7.80
Private Room:
$
8.00
Overall Rating:
84%
Condor's House offers visitors a wonderful atmosphere. It's located in a two storey house that really feels like a home. It's also conveniently located in the Miraflores neighborhood. The rooms are clean, nice and modern and breakfast is included in the price. There's plenty of space for guests to socialize including an outdoor barbecue, a television room, and a library and book exchange.
The staff work hard to make sure that this is the friendliest hostel in Lima. They help you organize your travel plans, and offer discounts if your stay is longer. There are plenty of activities you can participate in and the other guests are generally eager to make new friends.
Calle Martin Napanga 137, Miraflores, Lima
,
Lima
,
Peru
,
Share This Article