Cheap Alternative Cruise Shore Excursions in Lisbon, Portugal (On Your Own)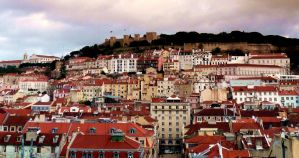 Lisbon is the stunning capital city of Portugal, and one of the most charismatic and vibrant cities in Western Europe. It is a city that effortlessly blends traditional heritage, with striking modernism and liberal thinking. As a holiday destination, Lisbon offers a rich and varied history, lively nightlife and is blessed with a glorious year round climate. Lisbon city perfectly reflects the Portuguese culture, which embraces modern culture while maintaining its unique heritage and traditions. Lisbon is constantly recognized as one of the greatest cities in the world. Surprisingly enough, it still is one of the least visited capital cities in Europe. It's a friendly city with a cosmopolitan population, welcoming to all visitors and families with children. It's one of the world's great historical cities, with characteristic and surprising sights, cultural treasures, and a beautiful setting that make it a paradise for walkers and photographers. With all of these fabulous attributes, Lisbon is a great place to experience, and there are several options for budget friendly sightseeing and tours excursions from the port.
Full-day private shore excursion to Lisbon, Sesimbra and Azeitao. Leave the Port of Lisbon and spend a day discovering the delights of southern Portugal on this private shore excursion. When your cruise ship docks in Lisbon, meet your private guide outside the port and set off to explore the city. From the comfort of your air-conditioned vehicle, see the sights of Lisbon, the sunny capital city that straddles the banks of the Tagus River. Visit the Castle of St George and Lisbon's enigmatic Alfama neighborhood with your own personal guide. Then, journey into the countryside and along the coast, where you'll take in the sea views from Sesimbra's Cabo Espichel and taste wine in Azeitao. The itinerary for this tour is customizable and can be tailored to your interests; simply let you guide know what interests you the most.

offered by Viator
Make the most of your time at port while discovering Lisbon and Sintra's rich history on this private full-day shore excursion. After docking in Lisbon, meet your guide and begin your special private tour. Enjoy a leisurely drive to Sintra, where you'll visit its best highlights. Learn about the time when Portuguese kings ruled the region, using this town as their summer residence. You will discover the many gems in Sintra, the former summer residence of the Portuguese Kings, classified as UNESCO World Heritage. Continue with a guided visit to Pena Palace (ticket not included) and free time at the historical center of Sintra. You will savor a scenic lunch and after lunch, you will see the highlights of Lisbon, such as Belem, Belem Tower, Jeronimos Monastery Church, Discovery Monument and historical down town, including the Lisbon Cathedral, Rossio, Comercio Square and much more, before returning to your ship in time for departure.

offered by Viator
Enjoy a private sightseeing tour of the beautiful city of Lisbon. Leave your cruise ship behind and set off to explore beautiful Lisbon and choose from a half- or full-day tour. Meet your private guide at the pier after your ship pulls into port and hop into an air-conditioned vehicle and travel in style to the heart of the city. Explore the city's must-see areas and attractions, from the timeworn Belem district, where you'll find the Monastery of St Jerome and Belem Tower, to Bairo Alto, a vibrant neighborhood whose narrow alleys are thronged with bars, eateries and quirky stores. On this tour, enjoy a flexible itinerary that shows you the key sights as well as the city's hidden gems. If you have any particular preferences about what you wish to see and do, make them known to your guide, who will customize the schedule to suit your interests. The itinerary for this private tour is entirely customizable, so you can choose to spend longer at the sights that interest you the most.

offered by Viator
Begin your Lisbon shore excursion hop-on hop-off tour from any of stops in the city. Getting off at a cruise port, head to Avenue Vinte a Quatro de Julha (the primary coastal street) and find locations ten and seventeen. Then board a double decker bus and comfortably view 360 degree views of Lisbon. Listen to stimulating commentary as you approach Belem. Hop-off and explore the Marques do Pombal Square, a roundabout with angular hedges surrounding a large column and bronze statue dedicated to Portugal's revered 16th-century prime minister. Then visit Lisbon's Oceanarium, located at Parque das Nacoes, and see the largest indoor aquarium in Europe. Continue your tour as you hop on and off as many times as you wish along both red and blue line stops. Customize your tour for the perfect balance of coastal and downtown attractions. Perhaps head to the Bairro Alto and Chiado districts and enjoy a traditional shopping area that mixes old and modern commercial establishments. Take a break after winding through narrow corridors at a local cafe before leisurely hopping back on. Continue your journey full of stops at Lisbon's most notable attractions. After a day of great city sightseeing on Lisbon's hop-on hop-off tour simply return to your port, but make sure you leave plenty of time on your voyage back.

offered by Viator
Share This Article