Cheap Day Tours and Activities in Lisbon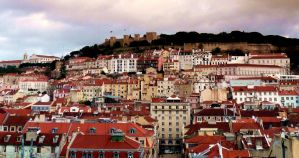 Lisbon is the stunning capital city of Portugal, and one of the most charismatic and vibrant cities in Western Europe. It is a city that effortlessly blends traditional heritage, with striking modernism and liberal thinking. As a holiday destination, Lisbon offers a rich and varied history, lively nightlife and is blessed with a glorious year round climate. Lisbon city perfectly reflects the Portuguese culture, which embraces modern culture while maintaining its unique heritage and traditions. Lisbon is constantly recognized as one of the greatest cities in the world. Surprisingly enough, it still is one of the least visited capital cities in Europe. It's a friendly city with a cosmopolitan population, welcoming to all visitors and families with children. It's one of the world's great historical cities, with characteristic and surprising sights, cultural treasures, and a beautiful setting that make it a paradise for walkers and photographers. With all of these fabulous attributes, Lisbon is a great place to experience, and because it is also a comparatively inexpensive destination, there are also several options for sightseeing and tours that are budget friendly.
Take a walk through Lisbon's historic cobblestone streets filled with intrigue and culture during this Lisbon guided walking tour. Walk the city's oldest quarter, the Moorish Alfama neighborhood, and ride Lisbon's traditional tram through popular inner-city hills. This Lisbon walking tour is exceptional for first-time visitors who want to experience rich culture like the Se de Lisboa cathedral, Eden Theatre and the famed Chiado neighborhood. On this tour you will also stroll to the city's best cafes and boutiques with your expert guide showing you local 'Lisboa.' The tour is limited to a maximum of 20 guests, so the tour never gets so big that you can't hear or speak with the guide. You'll also get the chance to learn about Fado (a type of music) and the city's history and culture through the expert knowledge of your guide.
This tour is a great option for those wanting to explore a little beyond the city of Lisbon but are limited on time or just don't want to change accommodations every night. On this tour you can see Portugal's natural and architectural wonders in a small-group, guided tour of Sintra and Cascais from Lisbon. On this journey, experience the rich vegetation of Sintra Natural Park, the hidden trails and caves at Pena Park and the bluffs of Roca Cape. Tour the immaculate Pena National Palace and then drive along the Atlantic Coast to Cascais for a leisurely walk through town to its scenic beaches. Start in the morning with your guide at a pre-determined location in Lisbon and then begin your adventure to the beautiful towns of Sintra and Cascais. On this tour you'll get to see the cliffs of Roca Cape, the westernmost point of continental Europe, and enjoy a scenic drive along the Atlantic coast, including free time at Cascais Beach.
Savor gourmet foods from Portugal during this three-hour, small-group guided food and wine tour of Lisbon. Taste Portuguese pastries, cheese, Port and cherry brandy. Enjoy a Lisbon wine tasting from the Alentejo and learn why this region produces some of the world's best wine. Visit some of the best food purveyors and restaurants in Lisbon. Plus, your guide will provide you with tips on the city's best eats and knowledge about Portugal's food and wine traditions. You will also get to enjoy much of the city's scenery along the tour as well. This tour is limited to fifteen people to ensure a personalized experience.
Explore Lisbon at your own pace and hop off the buses at any stop you wish. Experience the compelling spectrum of Lisbon's best sites during a convenient hop-on hop-off bus tour, with tickets valid for 48-hours. See Lisbon's many attractions from three distinct routes. Aboard a typical hop-on hop-off double decker bus, venture along the Olisipo and Tagus routes to famous squares like Rossio Square and Square of the Fig Tree located in the charming Baixa neighborhood. The third route will take you to see the main sights of Belem. In addition to the bus tour, your ticket will also include additional free rides on Lisbon's funiculars and select public buses. Then, cap off your 48-hour tour with a free ticket aboard Carmo lift where you can capture stellar panoramic views of Lisbon.
Share This Article