Affordable, Quiet, and Safe Hostels in Singapore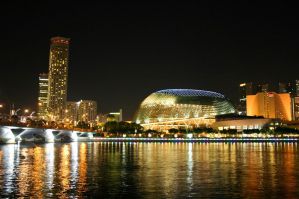 Singapore is a city-state in Southeast Asia. Many travelers who are backpacking through the area either arrive or depart through Singapore. It's a very modern and clean city and it's reasonably affordable. If you're used to the cheap prices of Cambodia or Vietnam, you might be in for a bit of shock though.
Singapore is a great place to visit with a very multicultural environment. It's one of the most popular tourist destinations in the world and there are plenty of amenities available for visitors. There is no shortage of budget accommodation available. The hostels listed below offer very affordable beds in a quiet and safe environment.
How much do hostels in Singapore cost?
| | |
| --- | --- |
| Average Dorm Price | $18 ($9 to $49) |
| Average Double Private Room Price (in a hostel) | $55 ($17 to $240) |
A good hostel for backpackers, couples, and female travellers.
Dorm Bed:
$
28.00
Private Room:
$
45.00
Overall Rating:
86%
Wink Hostel is a trendy, high tech boutique style hostel. It's owned by travelers who are passionate about the area and work hard to make sure you enjoy your time in Singapore. The hostel is comfortable and relaxed, but it's also a good place to rest after a busy day exploring the city.
The hostel has pod style beds that offer a bit of privacy for an affordable price. Each pod is custom-made and offers a decent amount of space. The walls are sound resistant and there is a reading light, electrical outlet, and large locker available with every bed. If you're traveling as a couple, there are queen sized pods available as well. There are also both female only and co-ed dorms to choose from. Dorms sleep up to ten people.
If you're looking for a comfortable and affordable place to stay with a social atmosphere and a relaxed setting, then Wink Hostel is a good option.
8A Mosque Street
,
Singapore
,
Singapore
,
A good hostel for backpackers, small groups, and female travellers.
Dorm Bed:
$
18.74
Private Room:
$
30.56
Overall Rating:
84%
Five Stones Hostel is located in the "Arab Street area, right in the middle of Singapore. The street is filled with activity and things to do, but the hostel is still quiet enough that you can enjoy a good nights sleep. There are many restaurants and shops nearby and there is also public transportation that is easily accessible. Both bus stops and subway routes are within walking distance. Little India is also nearby.
The hostel is a pleasant place to hang out after a fun day exploring Singapore. There's a nice lounge area where you can meet other guests. All of the rooms are also air conditioned. A free breakfast is served every morning and there is wi-fi available throughout the hostel. The hostel is kept secure with electronic key cards.
The staff here are also friendly and helpful. They can help you organize any transportation or tours you might want to do. They can also answer any questions you might have about restaurants or entertainment venues.
This hostel has both private rooms and dorms available. Private rooms include twins and doubles and dorms sleep four, six, eight, or ten people. Both female only and co-ed rooms are available.
285 Beach Road
,
Singapore
,
Singapore
,
A good hostel for backpackers, female travellers, and small groups.
Dorm Bed:
$
26.00
Private Room:
$
43.00
Overall Rating:
88%
Lotus Hostel (previously known as Singapore Backpacker Hostel) has been recently renovated and is a comfortable, clean, and relaxed place to stay. All of the rooms are air conditioned. Guests are provided with security lockers and there's a nice common area where you can relax and meet other travelers. The common room is furnished with large sofas and even a small library where you can borrow books. Wi-Fi is available throughout the hostel and breakfast is available all day.
This hostel is located in the quiet HDB area. It's conveniently located near anything you might need including convenient stores, coffee shops, and restaurants. There are bus stops right near the hostel where you can catch a bus to take you into the city center. It's also just four bus stops away from Sentosa.
The hostel has dorms that sleep four or five people. There are both female and co-ed rooms available. If you're looking for a safe and affordable place to stay in a quiet part of Singapore, then Lotus Hostel is a good option.
Blk 146, Jalan Bukit Merah #01-1088
,
Singapore
,
Singapore
,
A good hostel for backpackers and groups.
Dorm Bed:
$
36.90
Overall Rating:
85%
Met A Space Pod is conveniently located right in the heart of Singapore. It's about a six minute walk to Raffles Place MRT Station and is seven minutes to Clark Quay MRT Station. It's also located facing the Singapore River in a lively neighborhood. There are many great restaurants and activities just a short distance away.
The hostel is located in a four storey historic shophouse. It has a lot of character but also has all of the modern amenities that you might need. There's high speed internet, a game station, laundry facilities, and a travel agency right on-site. Free breakfast is served every morning as well and there's a snack bar where you can grab a bite any time of day. The hostel is very safe with surveillance cameras on the premise.
The hostel is affordable and has large dorms that sleep a large number of people. It's easy to meet other travelers here and the hostel even offers walking tours of the city if you want learn more about the area.
51A Boat Quay
,
Singapore
,
Singapore
,
Share This Article