Cheap Alternative Cruise Shore Excursions in Mallorca (On Your Own)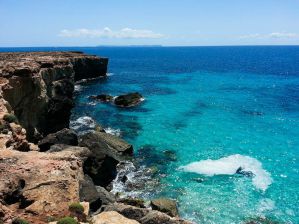 Mallorca is one of Spain's Balearic Islands in the Mediterranean. It's known for beach resorts, sheltered coves, limestone mountains and Roman and Moorish remains. Capital Palma has nightlife, the Moorish Almudaina royal palace and 13th-century Santa Maria Cathedral. Stone-built villages include Pollenca, with its art galleries and music festival, and hillside Fornalutx, surrounded by citrus plantations. The ever-popular star of the Mediterranean, Mallorca has a sunny personality thanks to its ravishing beaches, azure views, remote mountains and soulful hill towns. Mallorca tops Europe's summer holiday charts for many reasons, but one ranks above all others: the island's stunning coast. Beyond the built-up resorts, coves braid the island like a string of beads - each one a reminder of why the island's beaches have never lost their appeal. Go west for cliff-sculpted drama and sapphire seas, or head north for hikes to pine-flecked bays. Scope out deserted coves in the east, or dive off bone-white beaches in the south. Eating out has never been more exciting, with chefs - inspired as much by their Mallorcan grandmothers as Mediterranean nouvelle cuisine - adding a pinch of creativity and spice to the city's food scene. With so much to see, do, and taste, Mallorca is a great place to experience, and there are several options for exciting shore excursions to help you explore the area while in port.
With your City Sightseeing ticket in hand, head to Stop 12, conveniently located close to the port, and climb aboard a double-decker bus to begin your tour of Palma de Mallorca. Pass stretches of white sand and the impressive architecture of the historical quarter as you learn about the history of the area from commentary on board. Cruise past landmarks such as the Cathedral, the Palace of Almudaina, and the Plaza Mayor, hopping off whenever you'd like to explore an attraction further. Hop-off or hop-on as many times as you like within the 24- or 48-hour validity period of your ticket, and choose to rejoin the tour at any one of 16 stops. The entire route takes approximately 80 minutes to complete and buses depart every 20 minutes from each stop. For more adventure, add a boat ride or ticket for entrance to the Bellver Castle to your tour.

offered by Viator
Disembark your cruise ship and make your way to the conveniently located rental store to collect your scooter. Listen to a safety briefing, don your protective helmet and consult your complimentary map for route ideas. Jump onto your scooter and follow the gentle curve of the coastal roads, enjoying the seaside scenery and relishing the freedom independent travel affords. Visit impressive monuments like the Cathedral of Santa Maria, a fine example of Gothic grandeur, and marvel at the imperial majesty of the Royal Palace of Almudaina. Ascend the gentle incline to Bellver Castle and appreciate panoramic vistas of the sprawling city below. Venture to the popular tourist resort of Magaluf to sample traditional Spanish snacks and lounge upon the silken sands of the beach. Begin your scenic journey back to Palma in order to arrive in ample time for the departure of your cruise ship.

offered by Viator
Greet your guide at your disembarking point and don your protective helmet before climbing onto your modern bicycle. Set off at a leisurely pace down a picturesque path parallel to the harbor and admire the seaside scenery as you approach Palma de Mallorca Old Town. Absorb the charming elegance of the Basilica of St Francesco then cycle through the gorgeous greenery of Parc de la Mar. Listen to engaging tales of local legend and heritage then arrive before the Gothic glory of Palma Cathedral, a colossal construction built upon the foundation of an Arab mosque and partly designed by inspiring architect Antoni Gaudi. Continue through the ambient sprawl of Plaza Espaaa then stop outside of a beloved and bustling tapas bar. If you haven't upgraded to include tapas, return to the tour's original departure point, passing picturesque spots like Bellver Castle and the pretty port. If you have upgraded, venture within to tantalize your taste buds with three local delicacies such as crisp patatas bravas and delectable cured meat and cheese. Refresh with a drink of your choice then climb back onto your bike to return to the original departure point well in advance of your cruise ship's departure.

offered by Viator
After your cruise ship drops anchor in Palma de Mallorca's port, you'll greet your private guide and board an air-conditioned coach destined for Bellver Castle - a Gothic 14th-century fortress shrouded in history. From Bellver Castle's hilltop perch, you'll absorb beautiful views of the Mediterranean coast and Palma port before learning about the city's past and present in the City History Museum. Continue to Valldemossa, a picturesque village surrounded by the Tramuntana mountain range, to take a guided tour of the village. Houses and streets are swathed in flowers and plants, so spend some relaxed free time refreshing in a cafe. Then, venture to Sa Foradada rock, a magnificent rock that boasts an enormous incision in its center, to capture fantastic views of the UNESCO-listed Serra de Tramuntana mountain range. Following this, you'll enjoy a sightseeing tour of Dela, a quaint coastal village, and Llucalcari, a historical town surrounded by olive groves and pine trees. After relaxing among the natural splendor of the Soller Valley, you'll travel back to Palma de Mallorca to visit impressive landmarks such as Palma La Seu Cathedral and Almudaina Palace. Learn of the city's history from your guide before returning to your cruise ship well in advance of its departure.

offered by Viator
Share This Article