Cheap Tours and Activities in Mallorca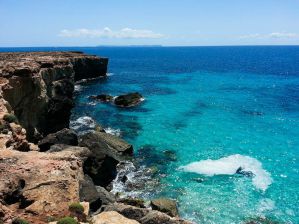 Mallorca is one of Spain's Balearic Islands in the Mediterranean. It's known for beach resorts, sheltered coves, limestone mountains and Roman and Moorish remains. Capital Palma has nightlife, the Moorish Almudaina royal palace and 13th-century Santa Maria Cathedral. Stone-built villages include Pollenca, with its art galleries and music festival, and hillside Fornalutx, surrounded by citrus plantations. The ever-popular star of the Mediterranean, Mallorca has a sunny personality thanks to its ravishing beaches, azure views, remote mountains and soulful hill towns. Mallorca tops Europe's summer holiday charts for many reasons, but one ranks above all others: the island's stunning coast. Beyond the built-up resorts, coves braid the island like a string of beads - each one a reminder of why the island's beaches have never lost their appeal. Go west for cliff-sculpted drama and sapphire seas, or head north for hikes to pine-flecked bays. Scope out deserted coves in the east, or dive off bone-white beaches in the south. Eating out has never been more exciting, with chefs - inspired as much by their Mallorcan grandmothers as Mediterranean nouvelle cuisine - adding a pinch of creativity and spice to the city's food scene. With so much to see, do, and taste, Mallorca is a great place to experience, and there are several options for exciting activities and tours to help you experience the area.
Locals in Mallorca love to gather with friends around a table and share some homemade Hierbas, a liquor made from anise and other local herbs. With this tour you're invited to come make your own bottle of Hierbas, just like a local. Your Mallorca tour will meet you at the Palma bus station, and from there you'll all head to your guide's home village of Esporles, a lovely community in the Serra Tramuntana mountains. Once in town, walk the hills and collect the herbs you'll need to make our Hierbas liquor. You'll get to learn about local plant life while taking in the spectacular natural landscape. Once you've gathered all the herbs, you'll start to prepare your bottles. You'll get to choose the herbs you prefer to put in your own personal concoction. After all that Hierbas brewing, take a break and indulge in a merienda - a light snack typical of Mallorca. You'll nibble and have time to chat and share stories as you watch a Spanish sunset. Your Hierbas will take three months to ferment, so it won't be ready to drink just yet. But don't worry, you'll get to take your bottle home with you. Serve it to some friends back home and savor the experience, just like a Mallorca local.

offered by Urban Adventures
Greet your guide at a central location in Palma de Mallorca and listen to a brief safety talk before hopping onto your sleek scooter. Don your protective helmet then follow your guide along the curve of the coast until you reach the charming fishing village of El Molinar. Admire scenic seaside vistas then venture to the majestic medieval quarter of the Old Town; glide past legendary landmarks like the Cathedral of Santa Maria, the Silk Exchange, the Royal Palace of Almudaina and the Roman Baths. Engage with entertaining tales of the city's rich history as your guide recounts anecdotes and legends. Drive parallel to Palma's picturesque waterfront then ascend the hill to the elevated perch of Bellver Castle, a foreboding 14th-century structure that gazes solemnly out to sea. Explore the interior and absorb gorgeous views of Palma Bay before taking a scenic route back to the city center. Bid your guide and group farewell and enjoy the rest of the day relaxing.

offered by Viator
Greet your guide at a pre-arranged location, and listen to a safety briefing before climbing onto your scooter. When you're ready, you'll follow your guide along the picturesque curve of Mallorca's southwest coast: admire a combination of gorgeous natural scenery, and landmarks such as Palma La Seu Cathedral and Almudaina Palace, as you drive through Palma de Mallorca city. Feast your eyes on both the Mediterranean Sea and lush forests as you travel towards Magaluf, a lively coastal resort famed for its magnificent beaches. Continue to El Mago Beach and spend some relaxed free time enjoying the secluded, white-sand spot. Throughout your tour, you'll listen to commentary and discover hidden gems far from Mallorca's tourist trail. Return back to your original departure point and bid your guide farewell at the end of the tour.

offered by Viator
At selected Mallorca hotels, you'll climb aboard an air-conditioned coach destined for Rancho Grande, a traditional ranch located in Son Serra de Marina. On arrival, you'll receive a refreshing glass of sangria and form groups according to your horseback riding ability. Then, saddle up and enjoy a 1.5-hour ride through rugged Majorcan scenery abundant with flora and fauna. Beginner and intermediate riders will explore the forest at a relaxed pace, while expert riders will gallop along the gorgeous curve of Mallorca's coastline. After your ride, you'll gaze at adorable baby animals at the ranch's farm and then revitalize with a well-deserved barbeque dinner. Feast upon grilled meat, bread and salad while sipping drinks such as sangria, orange juice or water. Sated, immerse yourself in the spirit of the ranch during a fun-filled line dancing session accompanied by country music. Dance, drink and be merry before returning to your hotel in an air-conditioned vehicle.

offered by Viator
Immerse yourself in the seaside splendor of Mallora's coast during a calming catamaran cruise. Select from two departure locations and enjoy a variety of natural landmarks on both of the visionary voyages. Choose to cruise from the Northern Part of Mallorca and after hotel pickup, relax during the scenic drive to Pollensa Port. Climb aboard your stylish catamaran then embark upon your journey through the blissful Bay of Pollensa; sail smoothly past beautiful beaches such as Mal Pas, Las Caletas and Barcarets and stop in order to plunge into the crystal clear water. Snorkel using the equipment provided and see a diverse tableau of marine life. Soak up the Spanish sunshine on the deck of the boat and sip a refreshing beverage from the onboard bar at your own expense. Arrive at the renowned Formentor Beach and admire the silken sands and gently curving coastline; stay aboard the boat to enjoy a delicious buffet lunch of grilled meat, fresh salads and sweet treats then wash it down with a glass of fruity Sangria. Enjoy the scenery during your return sail to the Alcudia port, where return transport to your hotel awaits. Or choose to cruise from the Eastern Part of Mallorca and climb aboard your catamaran at the picturesque port of Palmer, located in Colonia Sant Jordi, and admire the coastal beauty as you sail towards Es Trenc Beach. Splash and swim in the inviting waters during a relaxed stop then continue towards the silken sands of Es Cargol Beach. Enjoy an extended break in the warm water during a stop here and use the provided snorkel equipment to explore the shallows in search of marine life. Return to the boat and appease your appetite with succulent grilled meats, fresh salads and sweet treats. Sip cold water and refreshing soft drinks and relax during the picturesque journey back to the port.

offered by Viator
Share This Article