The Best Food and Wine Tours in Mallorca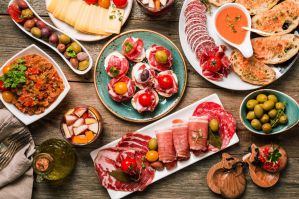 Mallorca is one of Spain's Balearic Islands in the Mediterranean. It's known for beach resorts, sheltered coves, limestone mountains and Roman and Moorish remains. Capital Palma has nightlife, the Moorish Almudaina royal palace and 13th-century Santa Maria Cathedral. Stone-built villages include Pollenca, with its art galleries and music festival, and hillside Fornalutx, surrounded by citrus plantations. The ever-popular star of the Mediterranean, Mallorca has a sunny personality thanks to its ravishing beaches, azure views, remote mountains and soulful hill towns. Mallorca tops Europe's summer holiday charts for many reasons, but one ranks above all others: the island's stunning coast. Beyond the built-up resorts, coves braid the island like a string of beads - each one a reminder of why the island's beaches have never lost their appeal. Go west for cliff-sculpted drama and sapphire seas, or head north for hikes to pine-flecked bays. Scope out deserted coves in the east, or dive off bone-white beaches in the south. Eating out has never been more exciting, with chefs - inspired as much by their Mallorcan grandmothers as Mediterranean nouvelle cuisine - adding a pinch of creativity and spice to the city's food scene. With so much to see, do, and taste, Mallorca is a great place to experience, and there are several options for delicious food and wine tours to help you taste the best in the area.
Throughout the evening on tapas nights, little bars offer up delectable tapas and pinchos (a slice of bread with vegetables, fish, or meat on top), paired up with a tasty glass of Spanish wine or ice-cold beer. On this Mallorca tapas tour, you'll walk the narrow streets of the old city center to find the best tapas bars of Palma. Each bar has its own specialty, and you won't stop until you've tasted the best of each place. You can try the biggest tortilla in Mallorca, taste some authentic Spanish jamon, try a few divine fresh fish pinchos, or the grilled rib lambs. For each tapas you order, you can choose a glass of local wine, cold beer, or soft drink. If you can't decide for yourself, you can ask your local guide for some recommendations to help you make the most delicious decision.

offered by Urban Adventures
Make your way to Plaza de Espana, where you'll meet a wine-loving local guide for the trip to a local bodega, or winery. Upon arrival at the winery, learn about the distinctive native varieties of grapes, including Callet and Black Mantle, which can only be found on the island. A host will walk you through the process of wine making from grape to glass, then finish the trip through the winery with a tasting of Mallorcan wines. Try three glasses with a selection of Mallorca-style snacks, including typical minced products. Following the tasting, you'll have time to shop for wine at discounted prices, with the option to ship the wine home. This 3-hour wine tasting tour concludes with drop-off at the original departure point.

offered by Viator
Meet your guide for your Mallorca cooking class in Plaza Espana, and from there head over to a local market in the city center that's over 60 years old. Buy the basic ingredients for your classic Mediterranean paella, and you'll get to browse the stands, chat with the vendors, and discover how to shop and where to eat if you decide to come back to the market later on, on your own. Once you have all the things you need, you'll hop on board the public bus and ride out to the Sierra Tramuntana mountains, a UNESCO World Heritage area famous for its beauty and panoramic vistas. It's here that your local guide will welcome you into his stone house, in a little village to prepare your meal. Your guide will give you some simple tasks as they explain to you the whole process of cooking paella from start to finish.
Once it's all prepared, dive into the best part: lunch. Honour the delicious results of your efforts with some local Mallorcan wine, and then enjoy a homemade dessert with coffee or tea. Finally, finish it all off with a typical tradition for after meals in Mallorca: a glass of hierbas, a local liqueur. Once it's all done, take the local bus back to Palma, and you'll have the afternoon to explore more of the city.

offered by Urban Adventures
Visit the following sights: Cathedral, Almudaina Palace, La Llonja, Consolat de Mar, Museum Es Baluard, Paseo de Born, Plaza Mercat, and Plaza de Cort. In this 3-hour tour including lunch. You'll discover imposing, impressive buildings and distinctive architecture of various eras and styles. Starting with Palma's landmark Gothic Cathedral La Seu, the tour continues on to Almudaina Palace and the former goods market La Llotja until you reach the Museum of Modern Art Es Baluard. Over the promenade Paseo des Born, which is lined with high-end brands, you will come across Fundacio la Caixa. Then you continue through the old town, crossing Plaza Mercat right up to the town hall square, Plaza de Cort. You finish your tour with a leisurely lunch in Palma's Mediterranean trendy culinary district.

offered by Viator
Share This Article