The Best Food Tours in Valencia, Spain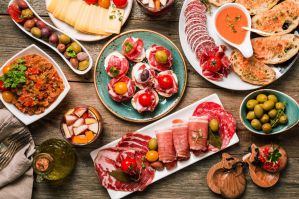 The port city of Valencia lies on Spain's southeastern coast, where the Turia River meets the Mediterranean Sea. Spain's third-largest city is a magnificent place, content for Madrid and Barcelona to grab the headlines while it gets on with being a wonderfully livable city with thriving cultural, eating and nightlife scenes. Never afraid to innovate, Valencia diverted its flood-prone river to the outskirts of town and converted the former riverbed into a superb green ribbon of park winding right through the city. On it are the strikingly futuristic buildings of the Ciudad de las Artes y las Ciencias, designed by local boy Santiago Calatrava. Other brilliant contemporary buildings grace the city, which also has a fistful of fabulous Modernista architecture, great museums and a large, characterful old quarter. Valencia, surrounded by its huerta, a fertile fruit-and-veg farmland, is famous as the home of rice dishes such as paella, but its buzzy dining scene offers plenty more besides. Valencia also has several beaches, including some within nearby Albufera Park, a wetlands reserve with a lake and walking trails. With so much to see, do, and taste, Valencia is a great place to experience, and there are several options for cooking classes and food tours in or near the area.
Enjoy an authentic Spanish Night in Valencia. Savor the most characteristic flavors of Valencia as they have been selected for you. Indulge in a typical Spanish dinner with a variety of tapas in an excellent restaurant with a warm and welcoming atmosphere. Then experience a live flamenco show by a professional company. The show lasts about 1 hour, without interruption, during which you may enjoy a refreshing beer or sangria. If you want to feel the real essence of Spain you cannot miss this great opportunity.

offered by Get Your Guide
Take a tour deep into the city's culinary traditions on this flavor-packed food tour.
Your gastronomic adventure will kick off in the Exiample district, at Mercado de Colon, a gem largely frequented by locals, and a market unlike the others in town. Once you finish gawking at its magnificent avant-garde structure, have your first sampling of an organic horchata - the most traditional summer drink of Valencia.
After this thirst-quenching round, the next stop on your Valencia tour will be Mercado Central, where a visit is always sensory overload but well worth the adventure. Amid the towering bags of diverse spices, you'll learn which ones are needed to make authentic paella. This is also where you'll stop for a yummy jamon tasting, and crack the mystery between jamon iberico and serrano. Once you leave the market behind, the next stop will bring you to a blink-and-you'll-miss-it little artisan chocolate shop. Handmade truffles, bonbons, and Cubanitos are among the treats that you'll find only in this shop. The next stop will involve some sampling of great locally produced olive oil, washed down with a good Valencian wine. Then the last stop brings you to one of the oldest restaurants in the Ruzafa area. Housed in a 200-year-old building and passed down from generations, it's a local favorite for authentic Valencian cuisine. This is where we'll finish our tour over some delicious tapas and wine.

offered by Urban Adventures
Start this experience with a hotel pick up and hop on your private vehicle to enjoy a panoramic tour of the city center passing by the America's cup area, Malvarrosa Beach and the City of Arts and Science, where you will stop for a picture. Continue with the panoramic views following the Turia riverbed, pass by Colon Central market, the bullring of Valencia, the train station, Town Hall and Valencia's Silk Exchange Building. After one hour of this panoramic tour, you will be continue the experience at a traditional restaurant where the cooking class will take place. In this cooking class, a local chef accompanied by an expert guide will introduce you into the paella world and will give you tips to become the master chef of this world-known dish. Paella is a perfect recipe as it combines ingredients from the sea and the mountain. There are so many types of paella that you can enjoy a different one every time you have this dish; even if you spend a long time in Valencia, they will always be different. Orange's wood fire will be the key point of your paella and so will be the local and fresh products used to prepare it. While you are cooking, enjoy some local tapas and Spanish wine. When the dish is finished, be ready to enjoy your own creation.

offered by Viator
Get the opportunity to taste some of the best Tapas in Valencia on this extensive tour and get a chance to know the city even better through your taste buds. A local guide will accompany you through-out small, hidden streets where you can also admire different architectural styles, dating back two thousand years. They have chosen three of the most authentic Tapas Bars in the city where you can try the most traditional Spanish Tapas as well as some common to the Valencia area. To help wash the Tapas down, you'll also be treated to a glass of wine or beer at each stop. In the last bar you will also be provided with very delicious Spanish Vermouth.

offered by Viator
Share This Article