Madrid Hostels Near the Prado Museum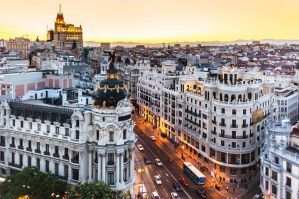 Madrid is the capital city of Spain and is a great place for visitors who are looking for a cultural or artistic experience. In particular, the Prado Museum is a favorite destination for art enthusiasts to the city. The Prado Museum is found in the Museum district which includes three major art museums that are found near Paseo del Prado, just east of the old city. The other two museums found in the area include the Thyssen-Bornemisza and the Reina Sofia.
How much do hostels in Madrid cost?
| | |
| --- | --- |
| Average Dorm Price | $23 ($11 to $176) |
| Average Double Private Room Price (in a hostel) | $49 ($20 to $109) |
Private Room:
$
31.39
Overall Rating:
87%
This hostel is close to many attractions in Madrid. In addition to being very close to the Prado Museum, it is also near Puerta del Sol, Palacio Real (the Royal Palace), Museo Thyssen, and Museo de Arte Moderno Reina Sofia. It is also near the Anton Martin metro station which is along line 1 and the Atocha Renfe train station which is a fifteen minute walk away. You can reach the hostel in twenty minutes from the airport.
Amenities at the hostel include satellite television, free wi-fi service, air conditioning, heating, and a safety deposit box. This is a comfortable hostel that is well reviewed by it's guests.
c/Atocha N 43, 2D
,
Madrid
,
Spain
,
Dorm Bed:
$
12.74
Overall Rating:
85%
This highly recommended hostel right in the middle of everything. It is very near the Prado, Thyssen and Reina Sofia Museums. It's also close to the Plaza Mayor and many different restaurants and bars, close to all of the action and sights of the city. If you're driving into the city, there are two public parking garages nearby (Plaza Santa Ana and Plaza Jacinto Benavente). The hostel also offers a transfer to the airport.
Amenities at the hostel include free breakfast, television, air conditioning, central heating, a safety deposit box, and free WiFi/internet. They also offer free walking tours of the city for guests!
Huertas 21
,
Madrid
,
Spain
,
Dorm Bed:
$
10.00
Private Room:
$
16.00
Overall Rating:
86%
With a bit of a party reputation, this hostel is also found in the Museum Triangle and is a great starting point for many different walking tours of the city. You can easily reach many different restaurants, shops, theaters, clubs, monuments, and churches. The hostel itself has a variety of rooms that each have all of the amenities that budget travelers would want. The building has air conditioning and safety deposit boxes.
The convenient location and comfortable setting make this a perfect base for exploring all that Madrid has to offer. It's conveniently close so you can access many different things simply by walking.
And in the evenings, the bar area becomes a popular spot for guests to have fun, kick back, and get to know one another.
Cañizares 6 28012
,
Madrid
,
Spain
,
Private Room:
$
27.93
Overall Rating:
91%
This hostel is located in Puerta del Sol, right in the cultural center of the city. You can walk to many different landmarks and easily reach the Prado museum, the Thyessen Museum and more. There are also many theaters, cinemas, and restaurants nearby as well. Some of the best shopping streets are found within walking distance and include Gran Via, Preciados, Fuencarral in Chueca and more.
This hostel has fifteen different rooms that have each been renovated and have modern decor and comfort. There are private bathrooms for each room as well.
If you need to access the subway, the nearest station is SOL and is just two minutes away by foot. With the subway you have easy access to the rest of the city.
Victoria,N 1 Planta 4
,
Madrid
,
Spain
,
Share This Article