The Best Hostels in Grindelwald for Backpackers, Families, Skiers, and Hikers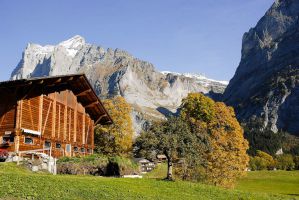 Grindelwald is a great ski destination in the winter and a terrific hiking area in the warmer months. Because of these year-round attractions, and also because of the views of the Alps, this town sees many tourists of all types and ages.
The hostels listed here are some of the better hostels in the town and surrounding area. Each has its own charm, and each also has a free breakfast to get your day started right. Although many hostels in this area cater to families, backpackers and younger solo travelers can also be found in large numbers, too. Don't let the vibe of a family oriented hostel scare you off if you're a younger solo traveler, and vice versa, because accommodation in Grindelwald can be expensive and somewhat scarce. So, read the reviews and make your decision wisely.
How much do hostels in Grindelwald cost?
| | |
| --- | --- |
| Average Dorm Price | $50 ($50 to $50) |
| Average Double Private Room Price (in a hostel) | $108 ($108 to $108) |
A quiet hostel for families, backpackers, groups, and couples
Dorm Bed:
$
49.10
Private Room:
$
55.91
Overall Rating:
74%
The self-proclaimed "largest lodge in Switzerland" is actually multiple buildings, and is appropriately named Downtown Lodge. It's located right in the middle of Grindelwald, just off of the main road and only a 5-minute walk from the train station.
A booking here also entitles you to discounts on various activities in town, such as on the funicular and at the climbing park.
Dorms and private rooms are available, all with shared bathrooms. The rooms are nicely decorated but simple and basic. Dorms have lockers for storage and other furniture such as tables and desks for your convenience.
A shared kitchen and multiple common areas are available. There's also plenty of outdoor seating so that guests can admire the terrific views of the surrounding mountains. Picnic tables and lounge chairs are set up in the summer months around a BBQ, and offer a great way to relax and socialize with your fellow guests. Access to a swimming pool is also available for guests, and in the winter there is an ice skating rink, too. The common areas have TVs with Playstations, a pool table, and other games. Free Wi-Fi is also offered. Parking is available as well.
The onsite restaurant and bar serves up the
free breakfast
along with other meals.
Guest reviews highlight the cleanliness of the facilities, great amenities, and friendly and helpful staff. Many families stay here, along with travelers of all types including backpackers and younger couples.
Dorfzentrum 3818
,
Grindelwald
,
Switzerland
,
A quiet hostel for families, groups, solo travelers, and couples
Dorm Bed:
$
49.50
Private Room:
$
53.83
Overall Rating:
88%
The Youthhostel Gindelwald is set in a beautiful, traditional Swiss building which has been refurbished so that the interior is modern and comfortable. A second building has been added as well. Featuring private rooms and dorms, both with and without ensuite bathrooms, there is a price range and room for every type of traveler. From large groups to solo travelers, to couples and families of all ages, this hostel sees many guests who all rave about the staff, amenities, and atmosphere. This beautiful building has a lot of history and charm, while also offering comfortable conveniences. (Check out the photos!)
Free breakfast, internet, hot showers, common areas, onsite meals, and more round out the list of amenities. Many rooms have balconies looking out onto the stunning view of the surrounding mountains. Dorms are simple but modern, offering a comfortable sleep under duvet covers and nice linens.
Reviews are consistently positive. However, many guests complain about the uphill climb to the hostel. However, buses are available (and the hostel offers free transportation passes). And once you're up on the hill, the views are terrific!
Geissstutzstrasse 12
,
Grindelwald
,
Switzerland
,
A social hostel for backpackers, skiers, and hikers
Dorm Bed:
$
31.20
Private Room:
$
40.50
Overall Rating:
80%
A bit of a walk from the center of town and the train station is this inexpensive hostel offering a free breakfast, free parking, and a long list of amenities. Dorms and private rooms are available, including an all-female dorm option. The rooms are basic but modern and comfortable, while the facilities are kept clean. Lockers are available for an extra charge.
A small communal kitchen is available. The onsite bar and restaurant serves up meals and drinks, and is quite active in the evenings.
Guest reviews are inconsistent, as safety and noise seems to be of concern. Also, the location is debatable - perhaps inconvenient for some guests, as it is not in the city center.
Grund 3818
,
Grindelwald
,
Switzerland
,
Share This Article