The Best Cheap Day Trips from Chiang Mai, Thailand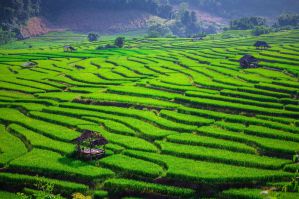 Chiang Mai is a city in mountainous northern Thailand. Founded in 1296, it was capital of the independent Lanna Kingdom until 1558. Its Old City area still retains ruins of walls and moats from its history as a cultural and religious center. It's also home to hundreds of elaborate Buddhist temples, including 14th-century Wat Phra Singh and 15th-century Wat Chedi Luang, adorned with carved serpents. Thailand's northern capital is an escape from the whirlwind pace of life of its southern rival. Despite the constant arrival of planes and trains full of sightseers, the city is still blissfully calm and laid-back. This is a place to relax after the chaos of Bangkok and recharge your batteries with fabulous food and leisurely wandering. If you don't want to participate in the vast array of activities on offer, just stroll around the backstreets, and discover a city that is still firmly Thai in its aspect, atmosphere, and attitude. A sprawling modern city has grown up around ancient Chiang Mai, ringed by a tangle of superhighways, but if you drive in a straight line in any direction, you'll soon find yourself in the lush green countryside of northern Thailand. A short ride by motorcycle or chartered rot daang ('red truck') will deliver you to pristine rainforest reserves, churning waterfalls, serene forest wat, bubbling hot springs and peaceful country villages - as well as a host of adventure camps, elephant sanctuaries and souvenir markets. With so much to see and do, Chiang Mai is a great place to experience, and there are several options for exciting activities and tours in or near the city.
Your day starts with being collected from your hotel at 8.30am and the short 45 minute drive north of Chiang Mai brings you to the beautiful Mae Ngat Valley. The amazing Ban Den Temple, located at the entrance of the valley, is hard to miss and makes a great starting point for your ride. Heading further into the valley you will pass through open rice fields with local farmers tending to their crops using traditional farming techniques. The ride is leisurely and the pace is just right, so when it is time to cool off, you will make a stop at a local produce market and see what is on the menu. Then you continue riding through the rural villages to the south of the valley where you can splurge on local fruits and snacks to re-energize for a change of pace with the kayaking leg of your adventure ahead. With help of the favorable current of the Mae Ping River you will be steering your kayaks into the Mae Taeng Jungle Reserve. Only accessible by boat, as a nature lover, you will find your peace in this serene, quiet setting. As bird life accompany you through the forest reserve, you will reach the far south end of the Mae Ngat Valley, where you may be greeted by a kayaking monk, and friend of your guide. From the river bank, in a beautiful plantation setting, you find a cozy restaurant with a well-deserved meal and a cold drink waiting for you. Nature lovers and sport enthusiasts of all levels, will thoroughly enjoy this biking and kayaking combination tour, in northern Thailand

offered by Viator
Meet your private guide at your hotel lobby in the morning for a transfer to the Chiang Mai railway station, where you'll board a local train for Lamphun, located a 30-minute ride away. A driver awaits your arrival in this ancient city of northern Thailand, whose temples you'll explore on a private sightseeing tour with your guide. Visit Wat Phra Yen, where you'll find four Buddha statues within a chedi (stupa). Make your way to the venerated Wat Phra That Hariphunchai, dating back to the Mon kingdom of the 11th or 12th century. Stroll to a nearby market where you'll find OTOP (One Tambon One Product) items for sale - made locally in village communities. For lunch, enjoy a bowl of khao soi, a Thai noodle dish in a curry sauce with coconut milk. Stop at a museum to see textiles made by Lamphun's inhabitants - mostly descendants of the Tai Yong, an ethnic group from northern Burma (Myanmar). Continue on to another Lumphun market for a snack of local specialties before a visit to Wat Chama Thewi (Wat Kukut), one of the oldest religious structures in Lamphun. Once you spot multiple standing Buddhas peeking from the niches of the temple's tall chedi, hop back in your private vehicle for the drive back to Chiang Mai. Along the way, you'll make a final stop at a longan plantation for a tasting of longan wine, made from lam yai, a lychee-type fruit. Then relax with views of the Ping River before drop-off at your hotel.

offered by Viator
As the world's top rice exporter, Thailand is the perfect place to gain a working knowledge of rice farming. With hands-on experience in a northern Thai community, you'll take part in the daily work of a rice farmer, helping to plant or harvest rice and learning about the many processes involved in reaching the final product. After hotel pickup in the morning, depart by private, air-conditioned vehicle to the Phrao district. Traveling north along a scenic route with your guide, you'll pass a teak forest and see other trees at Sri Lanna National Park and then arrive at a farm. Change into traditional Thai farm clothes and head out to a rice paddy, nestled against a forested mountain, where you will work alongside local farmers for approximately 1.5 hours. Discover age-old techniques for planting or harvesting rice grains on the plantation, learning under the supervision of a knowledgeable local. When your work is done, take a break for lunch featuring Thai cuisine, resting sore muscles as you appreciate what it takes to grow your grain. Then depart for Baan Thungdang, where your guide takes you to visit a typical farmer's home. Stop by for a cup of tea and chat with the residents (with translation by your guide) to learn about the different rice varieties and hear legends about this staple grain. Gain more insight into the processes involved in rice farming with a visit to Baan Patang, where you'll see how rice is stored and milled into rice powder. Before heading back to Chiang Mai, visit the villages of Baan Nameng and Baan Pa Ha, passing through more farmland and orchards along the way. Your full-day tour ends with drop-off at your hotel.

offered by Viator
Your full-day trip from Chiang Mai begins with hotel pickup in the morning. En route to the rafting point, you're driven through a village in Mae Taeng District, with a stop at Sai Nam Phung Orchid Farm. Meander the scenic farm on foot for an hour with your guide and learn about the great array of orchids in bloom. Visit the orchid nursery and gape in awe at the colorful varieties being raised. On the way to the Mae Taeng River, take in the beautiful surroundings of the northern Thai countryside, replete with quiet villages nestled in forested mountains. When you arrive at the camp, river guides offer instruction on river safety and basic paddling techniques to prepare you for the upcoming ride. First, enjoy a Thai lunch, with seasonal fruit and provided bottled water. Then slip on your life jacket and helmet to start your 2-hour whitewater rafting adventure. The fast-flowing Mae Taeng River provides a thrilling ride with unforgettable views of the jungle blurring past. This powerful river north of Chiang Mai travels through a mountainous landscape that's home to remote hill-tribe villages and terraced rice fields. The 6-mile (10-km) white-water rafting route winds through gorges and canyons featuring numerous waterfalls. Expect to get wet as you bump over class 2 to 4 rapids; usually the weather is warm, so you'll dry out soon, depending on the season and water levels. During the rainy season, from August to October, the fast-flowing river can get wild, guaranteeing an adrenaline-boosting ride over rapids that sometimes reach class 5. Complete your recreational tour with some time to refresh before you're driven past traditional villages, orchards, valleys and rice fields back to Chiang Mai, with drop-off at your hotel.

offered by Viator
Share This Article