The Best Snorkeling Trips at Koh Samui, Thailand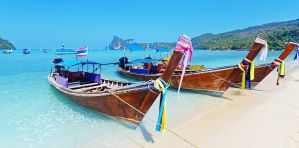 Koh Samui, Thailand's second largest island, lies in the Gulf of Thailand off the east coast of the Kra Isthmus. It's known for its palm-fringed beaches, coconut groves and dense, mountainous rainforest, plus luxury resorts and posh spas. The landmark 12m-tall golden Big Buddha statue at Wat Phra Yai Temple is located on a tiny island connected to Koh Samui by a causeway. Koh Samui been in the tourism business longer than almost any other Thai island, and has embraced a new generation of resort goers. Academy Award-winning holidays here include fine stretches of sand lined with beach loungers, rubbish-free roads, world-class international cuisine, luxurious spas, and beach bar parties that start as early as noon. Look for steaming street-side food stalls beyond the beach, backpacker shanties plunked down on quiet stretches of sand and secreted Buddhist temples along the backstreets. To really get away, head to the south or the west of the island where you'll find authentic Samui family-run seafood restaurants, tourist-free towns buzzing with descendants of the original Chinese merchant settlers and long stretches of refreshingly wild and shaggy coconut palms. As a tropical paradise destination, snorkeling and beach activities are also popular tourist attractions.With so much to see and do, Koh Samui is a great place to experience, and there are several options for exciting snorkeling trips and tours in or near the city.
Your friendly local guide will collect you from your Koh Samui hotel for this island cruise and snorkel full-day tour. Depart from Bug Buddha Beach and make your way past Tong Sai, Cheong Mon and Chaweng Beach as you make your way to Green Peace Island. Disembark from your boat for a snorkel, a swim or some time soaking up sun on the picturesque shores of this remote destination. Once you've worked up an appetite you'll enjoy a savory lunch and a bit of free time to enjoy the island before making your way back to mainland and your Koh Samui hotel.

offered by Viator
Set sail on the scenic Gulf of Thailand after your friendly driver collects you from your Koh Samui hotel. You'll head out on a 99-foot long yacht for this brunch and snorkeling cruise, which kicks off with a complimentary cocktail. You'll enjoy an endless brunch buffet as you cruise along in this iconic ship with Thai-style sails. Soak up the sun on the open-air deck with the option to enjoy whiskey, wine and a selection of cigars in the covered saloon. Make your way to Koh Phangan, where you'll disembark from the boat and make your way through the crystal clear waters for a truly memorable snorkeling experience. Swim through scores of brightly colored tropical fish and check out the beautiful coral reefs. Relax in the shade of a towering coconut tree or soak up the sun on the beach's white sandy shores. Between April and September you'll also have the option to hike to a secluded waterfall located in the Thailand rainforest on a real-life jungle adventure. Enjoy unlimited soft drinks throughout the day and enjoy the ease and comfort of round-trip hotel transportation as part of this Koh Samui brunch and snorkeling cruise.

offered by Viator
Your full-day snorkeling tour starts with morning pickup at your hotel and transfer to Thong Krut pier where you step aboard your longtail boat. Your guide provides a safety briefing, mask and fins, and outlines the day's schedule as you cruise for 20 minutes along the southwestern coast of Koh Samui, passing the fishing village of Taling Nam to reach Koh Tan (aka Coral Island). Hop off the boat with your snorkeling gear at Koh Tan and follow your guide into the warm tropical waters for an hour of snorkeling over the coral reef. Your guide leads you through a colorful underwater world of marine beauty populated with a variety of corals, giant clams and schools of fish swimming around the protected reef. After snorkeling at Koh Tan, return to your longtail boat and cruise the short distance over to the island of Koh Mudsum. Disembark at a secluded beach and enjoy about one hour free to explore the coastline, swim and lounge on the sandy beach, and snack on refreshments of sandwiches and drinks provided by your guide. Then head back to Koh Tan for another chance to snorkel before returning to a beach at Koh Samui where you have a set lunch of delicious Thai dishes at a local restaurant with a great view of the ocean. Enjoy free time at the beach after lunch before being transferred by minivan back to your hotel in the late afternoon.

offered by Viator
After pickup at your hotel, your day tour begins with the 45-minute speedboat ride from the Maenam pier in Koh Samui to Angthong Marine National Park, where you'll arrive in the mid-morning. Translating to 'golden bowl,' Angthong occupies nearly 95 square miles and includes 19 square miles of fascinating karst topography and limestone islands that rise from the sea. Known for its natural beauty and untouched conditions, the marine park is home to 42 islands, all of which are uninhabited and undeveloped except for one - Koh Paluay - which is inhabited by so-called 'sea-gypsies' who still earn a living from fishing. The island looks like Koh Samui did 40 years ago, prior to the arrival of tourism and modern infrastructure. During the day, you'll island-hop through the archipelago, visiting the park's principal islands (including Phaluai, Wua Ta Lap, Mae Ko, Sam Sao, Hin Dap, Nai Phut, and Phai Luak), where you can check out rock formations, lagoons, and caves. At midday, enjoy a Thai lunch at a local restaurant on the island of Woa Ta Lab, and spend the afternoon sunbathing, swimming, snorkeling, kayaking, or simply relaxing on the endless white-sand beaches of the islands.

offered by Viator
Share This Article