Quiet, Safe, and Affordable Hostels in Bangkok, Thailand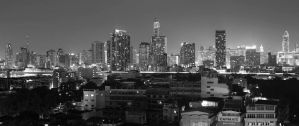 Bangkok is the capital of Thailand and the largest city in the country. It's an energetic place to visit with a vibrant, and often scandalous nightlife. It also has a rich history and a beautiful culture. For many visitors it is the point of entry into the country.
Bangkok has a wide variety of accommodation options to choose from. There is no shortage of hostels available and each has its own style and personality. The quality can vary widely, so it is best to research your options before making reservations.
How much do hostels in Bangkok cost?
| | |
| --- | --- |
| Average Dorm Price | $11 ($3 to $43) |
| Average Double Private Room Price (in a hostel) | $35 ($9 to $665) |
A good hostel for female travellers, couples, and small groups.
Dorm Bed:
$
10.76
Private Room:
$
18.44
Overall Rating:
95%
Good Day Hostel is a relaxing place to stay. It's located in a major shopping area in Bangkok and is very close to Platinum Fashion Mall, Siam Paragon, Central World, MBK, and more. It's also easily accessible on the Airport Rail Link and BTS, which makes most of Bangkok's sights and attractions easy to reach.
This is a clean and comfortable hostel. All of the rooms are air conditioned and have access to wi-fi. The rooms are also very safe and secure and are only accessible by electronic key card. There are private twin rooms available as well as four, six, and eight bed dorms (both co-ed and female only). If you're staying in a dorm then you will be given a security locker for your belongings. Every bed also has its own reading light and electrical outlet.
The hostel also has an on-site cafe, the Canary Cafe, that serves coffee and breakfast. There's also a common area with a television and movie selection and a public computer station with internet access.
This is a relaxing place to stay with a friendly staff and a welcoming environment. If you want a comfortable hostel that's affordable and safe, this is a good option.
1/13 Petchaburi soi 15 Petchaburi Rd. Rajthevee
,
Bangkok
,
Thailand
,
A good hostel for female travellers, couples, and small groups.
Dorm Bed:
$
18.51
Private Room:
$
28.59
Overall Rating:
93%
Feung Nakorn Balcony Rooms and Cafe is located on Rattanakosin Island. It's in an old part of Bangkok that has a lot of character and charm. The area is perfect if you're looking to escape the more touristy and modern areas and want to step back into a more historic part of the city. The Grand Palace is about a fifteen minute walk away and Wat Pho Massage School is about ten minutes away.
This is really part hostel, part hotel. It doesn't have the traditional backpacker ambiance, but it is a quiet and comfortable place for all types of visitors. The hostel is located in a four storey building the was originally a local elementary school. It still has the same layout, but it has been renovated and upgraded. Now it has a main lobby, an open air restaurant, and a peaceful outdoor garden. There's also a bar next to the Koi fish pond.
This hostel has all kinds of amenities for guests. Breakfast is included in the price of the room. There's free internet access, luggage storage, and all kinds of travel information available. The hostel also has both private and dorm rooms available that are comfortable and well furnished.
125 Trok Feung Thong Feung Nakorn Road,Pharnakorn
,
Bangkok
,
Thailand
,
Dorm Bed:
$
16.90
Private Room:
$
19.21
Overall Rating:
95%
The Yard Hostel is located in Ari Bangkok. It's removed from the tourist crowds and is in an area that has many boutique shops and great restaurants. It's also in an area where it's relatively easy to reach most of the city's main tourist attractions.
The hostel offers an "oasis of calm" that makes a peaceful setting where you can escape the chaos of the city. There's a nice backyard area where you can enjoy a cold drink, hang out in hammocks, or chat with other travelers from around the world. The hostel has private rooms available as well as four and six bed dorms. There are both female only and co-ed rooms to choose from.
If you want to be in the heart of everything then this isn't the place for you, but if you want to have a peaceful retreat where you can experience a genuine side to Bangkok, then this hostel is a good option.
51,Soi Phahonyothin 5,Phahonyothin Road Samsen Nai, Phaya Thai
,
Bangkok
,
Thailand
,
A good hostel for backpackers, couples, and small groups.
Dorm Bed:
$
349.00
Private Room:
$
550.00
Overall Rating:
94%
Smile Society is a boutique style youth hostel in the heart of Bangkok. It's conveniently located in the Business District and is on Silom Road near public transportation. It's just a five minute walk to BTS Skytrain and MRT Subway. It's also near several embassies, banks, the night market, and many different entertainment venues.
The hostel is comfortable and pleasant with a very friendly staff. It's a safe and secure place to stay. There is electronic key card access and security lockers available for guests staying in dorm rooms. There are also computers, luggage storage, bicycle parking, and laundry facilities available.
The hostel has twin, double, and triple private rooms as well as four and eight bed dorms.
If you want to be near everything, but also want a safe, secure, and affordable place to stay, then Smile Society is a good option.
130/3-4 Silom Soi 6 Silom Road, Bangkok
,
Bangkok
,
Thailand
,
Share This Article