The Best Hostels In and Around Krabi Town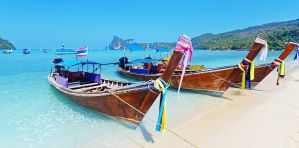 Krabi Province is a popular beach destination at the Andaman Sea in Southern Thailand. The administrative capital of the province is Krabi Town which, for many visitors, is also the entry point to the area. The entire province has a lot to offer visitors. There are impressive sandy beaches, clear water, colorful coral reefs, and unique caves and waterfalls. There are also some interesting islands in the area that make for nice excursions.
The area is probably most famous for its large limestone karsts, which climb vertically out of the flat rice paddies. The area is popular with outdoor sport enthusiasts because the scuba diving and rock climbing in the area is excellent.
Krabi Town has a population of about 25,000 and is located upriver from the coast, so it is not near the beach. If you end up staying in Krabi Town for a night or two, there are a few places to stay in the area that are fun and relaxing. The town can offer a nice alternative to the nearby touristy areas before you head to another beach resort.
How much do hostels in Krabi cost?
| | |
| --- | --- |
| Average Dorm Price | $11 ($6 to $45) |
| Average Double Private Room Price (in a hostel) | $36 ($6 to $299) |
A good party hostel for solo travellers and small groups.
Dorm Bed:
$
279.00
Private Room:
$
400.00
Overall Rating:
90%
Pak Up Hostel is the best party hostel in Krabi. If you've come to Krabi to have a good time with other backpackers, then this is the place to stay. If you want a place to sleep for the night, this may not be for you. The hostel is located in a former school and the rooms each have their own themes. There are also many outdoor terraces where guests enjoy hanging out and relaxing. There's an on-site tour desk that can help you organize any number of activities or excursions but it can sometimes be a bit difficult to get the staff to answer your questions.
If you're looking for a fun place to stay with a social environment, then this is it in Krabi. The "Playground" is the place that travelers go to socialize, drink, and play games. It won't be long before you've made some new friends or travel companions. There always seems to be something going on, and don't worry, it almost always involves a lot of drinking.
The hostel has double private rooms and four or ten bed dorms. Both co-ed and female only rooms are available.
87 Utarakit Rd. Paknam Krabi
,
Krabi
,
Thailand
,
A nice, family run hostel.
Krabi Life Homestay is not actually a homestay, but it is a family run hostel. It's located about a fifty minute drive from Krabi town in a small town. In the surrounding areas you'll find many interesting sights and attractions. Emerald Pond, Thara Park, and Chaloem Rattanankosin Stadium are all within about 20 miles of the hostel. The airport is about 30 miles away.
This hostel has all inclusive packages available that include food. It's really a self contained facility with a pool, hammocks, and air conditioned "igloo-like" rooms. It's kind of a bizarre and unique place to stay that is a fun place to completely relax and decompress for a while. The rooms are all located on the ground floor and are furnished with basic furnishings. Singles, twins, and three person rooms are all available. There are attached private bathrooms and simple showers. Free parking is also available.
If you want to get away from the touristy part of Thailand and still have fun in an interesting setting, then this is the place to stay. It's unique and not like any other place you're going to find.
142 M3 Klong Pon Khlong Thom
,
Krabi
,
Thailand
,
A good hostel for solo travellers, backpackers, and small groups of friends.
Dorm Bed:
$
10.88
Private Room:
$
11.81
Overall Rating:
80%
OYes Hostel is located in the heart of Krabi Province in Thailand. It's about 2.2 kilometers away from Krabi stadium and is five kilometers from Tiger Cafe Temple. The Krabi airport is ten kilometers away. The hostel is a bit outside of town, so if you want to be in the middle of everything, this probably isn't the best place to stay.
It's a fun place to relax after a long day of traveling. There's a nice rooftop terrace that has great views of the surrounding mountains and city. There's also an on-site restaurant and a beverage area. If you want to explore the outlying areas then there is a taxi service and motorbike and car rentals available. The staff can also help you organize tours of the area.
The hostel has dorms that are ideal for solo travelers or groups of friends. Dorms sleep four, six, or twelve people. There are also family and private rooms available that include doubles, twins, and a family room with one queen bed and a bunk bed. Both shared and private bathrooms are available as well depending on your travel preference and budget.
The hostel also has a coffee shop, common area, and outdoor terrace. There's free wi-fi throughout.
489/14, Utarakit Road
,
Krabi
,
Thailand
,
Share This Article