Best Party Hostels in Istanbul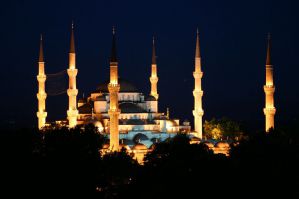 Istanbul, Turkey is a city where east meets west. Whether you're looking for culture, cuisine, art, or a lively city atmosphere it really has everything. It's a city where everyone seems to be going somewhere. It's active and vibrant and is a great place to linger for a few days, or even longer.
How much do hostels in Istanbul cost?
| | |
| --- | --- |
| Average Dorm Price | $11 ($5 to $55) |
| Average Double Private Room Price (in a hostel) | $48 ($4 to $405) |
Dorm Bed:
$
10.00
Private Room:
$
17.00
Overall Rating:
94%
Located near Istiklal Street, visitors to this hostel will find plenty to see and do nearby. At the many bars and restaurants nearby there is constant live music of every type including Turkish music, dance music, and international music. The staff is knowledgeable about the best places to hang out nearby and they can give you insight into where locals go for a good time. Despite its close proximity to all of the action, this hostel manages to stay relatively quiet, so if you're hoping to get some sleep then this is still a good option. It's the perfect combination of activity and partying in the nearby New Town and a mellow place to sleep at night.
The hostel itself is situated in a 150 year old building with a lot of history. There is a lot of character and impressive architecture to the building. It's a unique and fun place to stay and is highly recommended.
Sahkulu mah. Galip Dede cad. No:85 Beyoglu
,
Istanbul
,
Turkey
,
Dorm Bed:
$
13.00
Private Room:
$
20.00
Overall Rating:
94%
This hostel has become a favorite among backpackers. It's located right in the heart of the old city and is very close to the Hagia Sophia, Basilica Cistern, Topkapi Palace, and many of the area's other major attractions. It's also close to public transportation connections.
There are many ways to meet fellow travelers at this hostel. You can enjoy barbecue or drinks at the roof-top terrace while you take in the wonderful views of the city. There is plenty of common space that has traditional Turkish cushions and a free belly dancing show. There are also frequent movie nights.
The hostel offers other amenities including wi-fi throughout the facility, a fun, multilingual staff, security lockers, and 24 hour reception service. There's also a complimentary buffet breakfast.
Akbiyik Cadessi Bayramfirin Sokak No 7, Sultanahmet
,
Istanbul
,
Turkey
,
Dorm Bed:
$
8.19
Private Room:
$
11.70
Overall Rating:
94%
Located near the old city in Istanbul, this hostel offers guests plenty of opportunities to socialize and make friends. There's a lovely rooftop cafe bar where you can take in views of the city. During the summer months there are outdoor barbecues which include anything such as fish, meatballs, chicken, or steak. There's a popular open air terrace restaurant as well.
Amenities for the hostel include free wi-fi, DVD movies, a large screen television, a hookah (or waterpipe), and some of the area's best cocktails.
If you're interested booking transportation to elsewhere in Turkey, there's also and on site travel agency and there is free pick up from the bus station for domestic bus tickets.
Cankurtaran Mah. Akbiyik Cad. No:9 34400 Sultanahmet
,
Istanbul
,
Turkey
,
Dorm Bed:
$
12.05
Overall Rating:
96%
Located right in the heart of Sultanahmet, this hostel is just minutes from many of the city's most popular sights. They have a variety of events that allow guests to socialize and meet fellow travelers including affordable Turkish barbecues nightly on the rooftop.
The hostel itself is owned and managed by a group of young Turkish travelers who make a point of socializing with guests and getting the party started. This is the best place to socialize and meet new people.
The facilities themselves are clean and modern. There are dorm style rooms with plenty of amenities available.
Bestekar Osman Sokak,no :9 Divanyolu Cadeesi
,
Istanbul
,
Turkey
,
Share This Article