Popular Hostels in Istanbul, Turkey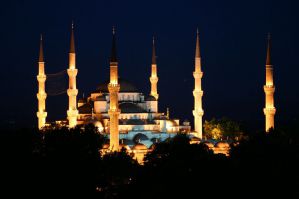 Istanbul is a city filled with energy. It's a popular destination for budget travelers because prices are dramatically less than most of Europe. There are many hostels spread throughout the city, and some have become favorites of independent travelers. Many offer a social setting where it's easy to meet other guests. They often include breakfast and have dorms where you can hang out with other backpackers. Below are some of the most popular you'll find in the city.
How much do hostels in Istanbul cost?
| | |
| --- | --- |
| Average Dorm Price | $11 ($5 to $55) |
| Average Double Private Room Price (in a hostel) | $48 ($4 to $405) |
Dorm Bed:
$
11.58
Overall Rating:
91%
This hostel is run by travelers for travelers. It is recently renovated and has an excellent atmosphere. It's located in the historical old city of Istanbul and is only a short walk from the Blue Mosque, Topkapi Palace, the Underground Cistern and more. It's also close to the Grand Bazaar and the Spice Bazaar.
There are four and six bed dorms available as well as double rooms for those who want more privacy. The hostel is very clean and offers a social atmosphere where you can meet visitors from all over the world. There are plenty of common areas including a roof top terrace which offers excellent views. The staff hosts weekly bbq parties on the terrace as well. This is often followed by a pub crawl.
This hostel is located near many forms of public transportation including the bus, tram, and train transport. There's also an airport pickup available for a small fee.
Makedonska 21/II
,
Belgrade
,
Serbia
,
Dorm Bed:
$
8.77
Private Room:
$
12.53
Overall Rating:
92%
This hostel is located between the new town area of Taksim and the old town area of Sultanahmet. It's just a five minute walk to the Blue Mosque, Hagia Sophia, and more. It's also just three minutes from the Sirkeci Train Station and the Gulhane Tramway Station. There are plenty of restaurants nearby and no shortage of things to do.
There are a range of room types you can choose from including single rooms (with and without private bathrooms), double rooms (with and without private bathrooms), twin rooms, triple rooms, family rooms, and dorms with either four or nine beds. The wide range of options means there's something available for all guests regardless of their travel style and budget.
Amenities available to guests include towels and sheets, central heating, air conditioning in the private rooms, a full kitchen, travel information and more. Internet access is available for an additional fee.
Hocapasa Mahallesi Ebussuud Caddesi No : 19 Sirkec
,
Istanbul
,
Turkey
,
Dorm Bed:
$
7.52
Private Room:
$
10.02
Overall Rating:
92%
This hostel is located right in the middle of Taksim. It's the perfect place to base yourself if you're hoping to be near the city's nightlife and clubbing scene. It's in easy access to many of the sights in the city and there are countless bars, clubs, and restaurants nearby. There is never a shortage of activities in and around Taksim.
The hostel is located in a restored 19th century building that now offers guests the opportunity to experience the Bohemian lifestyle. It has many modern comforts as well including a large common area and patio, an expresso bar, and a range of room types and sizes.
This is the perfect hostel to stay at if you want to base yourself in Taksim and meet a range of other travelers.
İstiklal Avenue, Kucukparmakkapi sokak No 13 Beyoglu
,
Istanbul
,
Turkey
,
Dorm Bed:
$
12.73
Private Room:
$
15.27
Overall Rating:
90%
This hostel offers guests the perfect place to hang out and get to know each other. There's a very comfortable commons room where visitors enjoy swapping travel stories. You can also enjoy a great buffet breakfast while taking in the views of the the water. The hostel also has a club and bar where there is music and dancing.
Included in the price of your room is a buffet breakfast, tea, coffee, wi-fi, towels, travel information, a safety deposit box, games, and security lockers.
There are both private rooms and dorm rooms available. Private rooms include a wireless connection, central heating, air conditioning, satellite television, and more. Dorms are either four or six beds and have air conditioning, reading lights, security lockers and more.
Kutlugun Sokak No: 51 Sultanahmet
,
Istanbul
,
Turkey
,
Share This Article