Best Hostels in Liverpool for Solo Travellers, Groups, & Couples
Liverpool is a large city with an impressive cultural and arts scene. It was actually awarded the European Capital of Culture in 2008 and the Pier Head Waterfront is a UNESCO World Heritage Site. The city has two cathedrals and many impressive museums. It's truly and fun and impressive place to spend a few days.
If you're on a budget or just want the social environment of a hostel, you won't be disappointed in Liverpool's selection. Many hostels offer a fun environment and attract a young, music loving crowd.
How much do hostels in Liverpool cost?
| | |
| --- | --- |
| Average Dorm Price | $17 ($9 to $30) |
| Average Double Private Room Price (in a hostel) | $61 ($23 to $153) |
A good hostel for small groups and solo travellers.
Dorm Bed:
$
10.30
Private Room:
$
8.41
Overall Rating:
91%
YHA Liverpool is located right in the heart of the city. It's just a short distance from the historic Albert Docks and is near the city center. It's an affordable option for travelers who want to be near everything but don't want to spend a lot of money. It's also a fun place to meet other travelers. There's a popular bar where guests like to hang out and swap travel stories. There's also a nice lounge area where you can relax as well as a game room if you want something mellow to do. The hostel has all of the standard amenities including free wi-fi.
If you're just in town for a short time or a weekend trip, this is a great hostel because it's near most places you might want to go. It's not far from the Tate and the International Slavery Museum as well as the Maritime Museum. It's also close to shopping and some of the most popular live music venues, bars, and clubs such as Cavern Club. The staff can also help you by offering suggestions for local events that might be going on while you're in town.
Small groups can use a six bed private room and there are also dorms that are available that sleep six or eight people. Dorms are split by gender.
25 Tabley Street, off Wapping Merseyside , L1 8EE
,
Liverpool
,
England
,
A good hostel for solo travellers, couples, and small groups.
Dorm Bed:
$
14.00
Private Room:
$
10.00
Overall Rating:
87%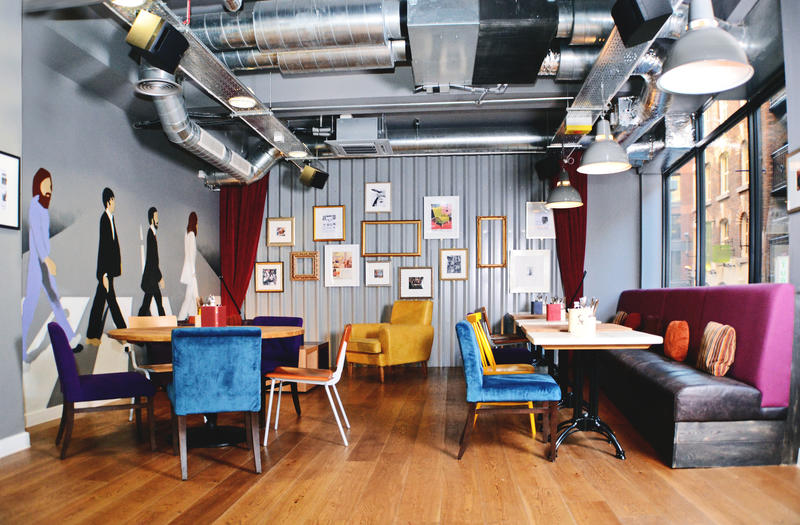 Euro Hostel is a chain of hostels in the United Kingdom. Euro Hostel Liverpool is a relatively new addition to the chain. It's conveniently located right in the heart of the city at the corner of Stanley Street and Mathew Street. This is an area that was made famous by the Beatles and is the perfect place to base yourself during your time in Liverpool. The hostel is modern and comfortable. It's reliably clean and has a relatively social atmosphere. The beds are comfortable and the private boutique rooms are pleasant. You can choose from double or twins, and there are dorms that sleep between four and eight guests. You can also choose between female only or co-ed dorms.
The hostel is a great value in a good location. It's steps from the Cavern Club and is a short walk from the main railway stations. There is also excellent shopping and restaurants in the area.
The staff is friendly and they can help you plan your itinerary. They can also help you book any tours or transportation that you might need while you're in the area. The hostel itself is social, and there's an on-site bar, The Hatch Bar, that often has live music. Whether you're in town for a festival or just a weekend away, this is a great place to stay.
Kansas Buildings 50-54 Stanley Street
,
Liverpool
,
England
,
A good hostel for solo travellers and small or large groups.
Dorm Bed:
$
12.00
Private Room:
$
2.00
Overall Rating:
82%
Another popular hostel in Liverpool, Hatters Hostel is also located in the middle of town. It is situated in an impressive Victorian building and is just a five minute walk from Lime Street Station. The hostel offers some good amenities including free breakfast and free wi-fi. There are also several good common areas where you can hang out with other guests. The staff organize regular events to encourage guest interaction. Examples of these include pub crawls and activity nights. There's also a free food night every Tuesday. If you want to just relax in the hostel, you can enjoy the game room or the barbecue area and courtyard. There's also a large shared kitchen where you can prepare your own meals.
The staff is friendly and can help organize tours and activities around the city including the Anfield Stadium Tour, trips to the Beatles Museum, and the Magical Mystery Tour.
Private rooms are available that sleep between two and eight people. Dorms sleep between four and fourteen people and both female only and co-ed rooms are available.
56/60 Mount Pleasant
,
Liverpool
,
England
,
A good hostel for groups and solo travellers.
Dorm Bed:
$
29.71
Overall Rating:
85%
Embassie Liverpool Backpackers is another popular hostel in Liverpool. It is located in an old Georgian building that is situated on a pleasant square. The building was actually featured in the Beatles video "Free as a Bird". It's a fun place to stay that regularly hosts events for guests. Every Thursday night is "Beatles Night" and the hostel organizes a guided Beatles tour for guests. It starts at 8:00 pm and ends at the Cavern Club, where it offers free entry.
The hostel is a great option for travelers hoping to meet other guests or enjoy a social environment. There are no private rooms available and dorms are large, sleeping either ten or twelve guests. Male only, female only, and co-ed rooms are all available.
1 Falkner Square Toxteth
,
Liverpool
,
England
,
Share This Article