Budget-friendly Cruise Shore Excursions in Key West, Florida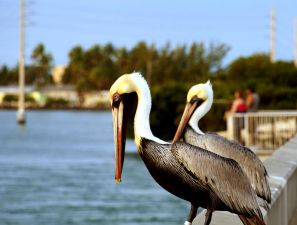 Key West, a U.S. island city, is part of the Florida Keys archipelago. It's also Florida's southernmost point, lying roughly 90 miles north of Cuba. Famed for its pastel-hued, conch-style houses, it's a cruise-ship stop also accessible from the mainland via the Overseas Highway. It's known more for its coral reefs - destinations for diving and snorkeling - than for its beaches. At its heart, this 7-sq-mile island feels like a beautiful tropical oasis. Key West offers something for a variety of interests. There are literary festivals, Caribbean villas, tropical dining rooms, lively bars, and expensive art galleries. With all that in mind, it's easy to find your groove in this setting, no matter where your interests lie. As in other parts of the Keys, nature plays a starring role here, with some breathtaking sunsets in the Caribbean atmosphere. With all of these fabulous attributes, Key West is a great place to experience, and there are several options for exciting shore excursions and tours for while you are in port here.
After arriving at the Port of Key West, hop on this 65-foot Gold Coast Yacht party boat and get ready for some excitement on the crystal clear waters off the coastline. The departure point is the Historic Seaport in Key West, located just a few blocks from the cruise port. Out on the water, select from jet-skiing, snorkeling, banana boating, kayaking, sailing, windsurfing, waterskiing and more - a total of 12 different watersports activities in all. Try one or try them all. Add an optional parasailing ride for the ultimate watersports adventure. Soak up the sun and watch the fun while floating on a raft. Or come inside and chill out in the air-conditioned cabin with a large plasma-display television. The on-board chef will prepare a freshly made lunch of BBQ pork sandwiches, hamburgers, hot dogs, chicken nuggets, veggies and dip, plus potato salad, French fries, chips and soft drinks. Beer will be available on the return trip only. Bring a swimsuit and a sense of adventure because the fun never stops on this watersports party boat.
After arriving at the Port of Key West, get to know this island city and its top attractions on an entertaining and educational Conch Tour Train excursion. The Conch Tour Train is a tribute to industrialist Henry Flagler's "railway over the sea," an engineering miracle when he brought the railroad to Key West in 1912. This tour has treated visitors to a detailed look at the island city's most historic and interesting attractions for more than 50 years. The train departs daily from the Front Street Depot and ends roughly 90 minutes later at popular Mallory Square, where everyone comes to hang out, eat and shop. Throughout the tour, see the area's top attractions and learn about its many residents, past and present. See some of the places Ernest Hemingway used to hang out and find out why Harry Truman spent so much time on the island. Listen to stories of pirates, Indians and wreckers and find out how they gave Key West its reputation. A sightseeing tour of Key West has never been easier - or more fun - than this Conch Tour Train view of the island. Experience Key West in this unique way.
After arriving at the Port of Key West, get to know this island city and its top attractions in convenient and economical fashion on an entertaining and educational hop-on hop-off tour. It all begins with a hop on, of course, at any of the 13 stops. Board one of the orange and green trolleys and enjoy the view with a live commentary of interesting facts and stories from an expert guide who knows the island inside and out. Learn about the history and happenings of Key West - stories of pirates, Indians, wrecking and the Civil War - as the trolley rolls along from one location to the next. Hop off at any of the attractions for a closer look, then hop back on when it's convenient. Visit popular sites like Mallory Square, where everyone comes to hang out, eat and shop. Be sure to make a stop at the popular Hog's Breath Saloon. There are the attractions near the historic seaport area, like West Martello Fort and Ripley's Believe it or Not. There's the Southernmost Point with the Key West Butterfly and Nature Conservatory. There's also the Ernest Hemingway House and Museum and Bahama Village Market plus Key West Aquarium and Key West Shipwreck Treasures Museum. It truly is a fun and fast way to get to know the island city of Key West and the many amazing attractions it offers. A sightseeing tour of Key West has never been easier than this hop-on hop-off trolley tour of the island. Experience Key West in this unique way.
Climb on board the catamaran and then embark on a journey into the crystal blue waters off the coast of Key West for this exciting 3-hour adventure. The first stop is a wild dolphin playground. Watch bottlenose dolphins swimming, feeding, jumping out of the water and following alongside the boat in their natural habitat. Then try a snorkeling session above a coral reef in the Key West wildlife refuge. Before diving in, get some simple instructions from the experts, then prepare to see more than 600 species of colorful fish, coral and other sea life that can't be found anywhere else in the world. All the equipment - a snorkel, mask, fins and vest - are included. The catamaran includes a large sundeck and a shaded lounge area. Be sure to bring sunscreen and a towel, plus a lunch or snacks if desired. Throughout the cruise and on the journey back to Key West, select from a variety of beverages, including beer and wine for those guests who are 21 and over.
Share This Article