Cheap Activities and Tours of Seattle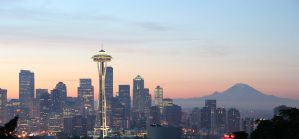 Welcome to Seattle, a city that pushes the envelope, embraces new trends and plots a path toward the future. There isn't just one Seattle, there are at least 10 of them - mini-cities personified in neighborhoods full of shifting moods and unique subcultures that satisfy pretty much every taste. If it's your first time in Seattle, cut to the chase and make a beeline for its proverbial pantry: Pike Place Market. It was founded in 1907 to fortify local inhabitants with fresh Northwest produce, and its long-held mantra of 'meet the producer' still echoes enthusiastically around the city. It doesn't take long to realize that you've arrived in a maelstrom of well-educated palates and wildly experimental chefs who are willing to fuse American cuisine with just about anything - as long as it's local. Seattle may have nurtured tech giants like Microsoft and Amazon, but it also has a surreal arty side. Crisscross its urban grid and you'll find all kinds of freakish apparitions: a rocket sticking out of a shoe shop; a museum built to resemble a smashed-up electric guitar; glass orbs in wooden canoes; a statue of Vladimir Lenin; a mural made of used chewing gum; fish-tossing market traders; and a museum dedicated to antique pinball machines (which you can still play). With all of these options it can be difficult to know where to start, but here are a few great tour options to help you get to know this great city!
Experience the food and culture at one of Seattle's most famous landmarks, Pike Place Market, on this 2-hour walking tour. This is the original food and cultural tour of Pike Place Market. Enjoy more than 16 diverse tastings, from fresh produce and crab cakes to local coffee, doughnuts, pastries and much more. Feel like a market insider on this behind-the-scenes adventure to savor the flavors of this historic attraction. The Market is a place to meet the farmers, butchers, bakers, winemakers and all those who bring their bounty to this nine-acre table day in and day out. The market also features one of the largest craft markets in the country, featuring all locally made, handcrafted goods. There are over 225 small, independent businesses and a diverse selection of restaurants here. Also included on this tour is a repeat visitor card, good for a 10% discount at all of the locations where you will have tastings, valid for up to 1 week after the tour.

offered by Viator
Enjoy the sights and sounds of Seattle from Elliot Bay and Seattle Harbor on this 1-hour narrated cruise. Learn about Seattle's historic waterfront and get an up-close look at one of the world's largest shipping terminals. Take in the view of the city's skyline with a spectacular panoramic background of the Cascade and Olympic mountain ranges, including majestic Mt Rainier. Food and beverages are available for purchase on board the ship. Depart from Pier 55 at Seattle's Central Waterfront. This is the Seattle sightseeing cruise that started it all. Since 1949, this narrated harbor cruise has been a favorite attraction for millions of people, both visitors from afar and locals alike. Enjoy this 1-hour sightseeing tour of Seattle's historic waterfront, with seemingly never-ending views of the city skyline, the Great Wheel ferris wheel, the Space Needle, the Cascade and Olympic mountain ranges and Mt Rainier. The ship typically features an enclosed lower deck with an open upper sun deck, certified for 250 travelers but generally accommodating between 75-150 guests.

offered by Viator
See the best of Seattle on this 6-hour sightseeing tour. The day begins with a hotel pickup by air-conditioned mini-coach before you venture to Seattle's main attractions and landmarks in and around the city. There's the famous Space Needle (admission included). Bring a camera to capture incredible views of Mt Rainier, the Cascade and Olympic Mountain ranges, Puget Sound and the Seattle skyline. Your knowledgeable and friendly guide will provide commentary on the city as you go. Travel to the Lake Union area, with a number of floating homes, including the one from the movie Sleepless in Seattle. Pass by the University of Washington and find the famous public sculpture called the Fremont Troll. Ballard Locks is one of Seattle's most popular tourist attractions, especially during the warmer months. Then there's historic Pioneer Square, the birthplace of Seattle and the city's "first neighborhood," with great restaurants, shops, night life and two pro sports teams. Also visit the Chinatown-International District, also known as ID, one of Seattle's oldest neighborhoods. Over in Belltown, the city's most populated neighborhood, is the famous Pike Place Market, one of the oldest public farmers' markets in the United States. Stop for lunch (own expense) and leisure and spend two hours wandering and welcoming the sights, sounds, smells and tastes of this remarkable nine-acre market. Coffee lovers will want the experience of stopping at the original Starbucks here, too. Feel free to stop and get out at any of the sites or attractions that look especially appealing. Conclude with a drop off back at your hotel.

offered by Viator
See where (and how) airplanes are built on this guided, 4.5-hour, small-group tour of the Boeing factory near Seattle. Following a hotel pickup, enjoy a 25-minute drive from Seattle to Boeing, the world's largest aerospace company, and their enormous factory north of the city in Everett. Upon arrival for the Boeing Future of Flight factory tour, explore the interactive exhibits and displays in the 28,000-square-foot Aviation Center Gallery. Then take a 90-minute tour with a Boeing representative who will uncover the inner workings of the assembly plant where Boeing airplanes are manufactured, the largest building in the world by volume. See planes like the 747, 767, 777 and 787 Dreamliner as they are being built and watch a short film that will further reveal how a plane is constructed from start to finish. Then stop at the Future of Flight Aviation Center, with interactive exhibits to not only build a plane, but also fly it in a simulator.

offered by Viator
Share This Article