Cheap Key West Tours and Activities for Budget Travelers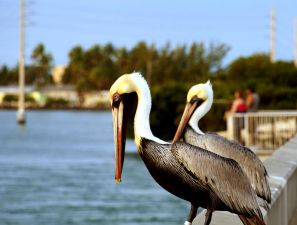 Key West, a U.S. island city, is part of the Florida Keys archipelago. It's also Florida's southernmost point, lying roughly 90 miles north of Cuba. Famed for its pastel-hued, conch-style houses, it's a cruise-ship stop also accessible from the mainland via the Overseas Highway. It's known more for its coral reefs - destinations for diving and snorkeling - than for its beaches. At its heart, this 7-sq-mile island feels like a beautiful tropical oasis. Key West offers something for a variety of interests. There are literary festivals, Caribbean villas, tropical dining rooms, lively bars, and expensive art galleries. With all that in mind, it's easy to find your groove in this setting, no matter where your interests lie. As in other parts of the Keys, nature plays a starring role here, with some breathtaking sunsets in the Caribbean atmosphere. With all of these fabulous attributes, Key West is a great place to experience, and there are several options for exciting activities and tours in or near the city.
Spend a day off the shore of Key West, in the blue waters of the Gulf of Mexico, on the Island T'ing adventure. Begin with a 1-hour sail through the sparkling waters of the Florida Keys, where the Atlantic Ocean meets the Gulf of Mexico. Look for wildlife like dolphins, stingrays, sea turtles, manatees and more alongside the boat. Enjoy a breakfast of quiche, muffins, fresh fruit and juice. Then it's time for some fun in the sun. After finding a great spot in the Florida Reef, join in on an optional 1-hour kayaking journey around a natural mangrove island. Glide across the warm, tropical water and enjoy the unique plants, marine life and birds that inhabit this area. Then try a 1-hour snorkeling session above a coral reef, the only living coral barrier reef in the continental United States. See more than 600 species of colorful fish, coral and other sea life. Otherwise, take a refreshing dip in the crystal blue water or simply relax on the boat and enjoy the sun and scenery. A buffet lunch including fried chicken, steamed shrimp and ready-to-make sandwiches with various salads is included. Beer, wine, soft drinks and homemade sangria are also included. Bring a sense of adventure, plus a swimsuit, towel, sunglasses, sunscreen and a hat.

offered by Viator
Climb aboard the spacious catamaran Echo, a quick and comfortable sailing vessel, on the water at the historic seaport at Key West Bight. Then embark on a journey into the crystal blue waters off the coast for this exciting 4-hour adventure. The first stop is a wild dolphin playground. Watch wild dolphins swimming, feeding, jumping out of the water and following alongside the boat in their natural habitat. It's an amazing sight. Next try a snorkeling session above a coral reef, shipwreck, or sponge garden. See more than 600 species of colorful fish, coral and other sea life in these shallow waters. All gear is included and is sanitized for your use. Or if you're not interested in getting wet, you can simply relax on the boat and enjoy the sun and scenery from a comfortable seat in the shade with a cool drink. On the journey back to Key West, enjoy a tropical fruit tray with light snacks and beverages, including beer and wine for those guests who are 21 and over.

offered by Viator
The idea of a relaxing and enjoyable sunset sail is what vacations are made of, and Key West's sunsets are well known for providing some of the best views in the world. That's why huge crowds gather in Mallory Square to see them each evening. Escape from all the craziness and experience the breathtaking view from the water on this 2-hour Key West sunset cruise. Step aboard the Appledore, a traditional two-masted schooner. Help hoist the sails and take a turn at the wheel. Feel the warm, tropical sea air and watch all the activity along the coastline's landmarks: the bustling Key West seaport, Mallory Square's comings and goings, plus Navy Mole, Fort Zachary Taylor Historic State Park and more. Then there's the sunset sky, as if from an artist's brush with its brilliant streaks of blue mixed with red, yellow and orange colors as dusk arrives and the beaming sun begins to fade and settle into the water. This tall ship will be perfectly positioned at the southernmost point in the United States, so bring a camera to capture this rare, incredible view. Enjoy fresh fruit and cheese with champagne, wine, homemade sangria, ice-cold beer and soft drinks on this delightful twilight trip.

offered by Viator
Catch up with your guide and group of fellow travelers at a central meeting point in Key West. Strike out on your 90-minute haunted walking tour of the town. Listen as your guide details the island's history, populated by smugglers, pirates and a cast of other shady characters. Stop at famously haunted Key West locations under the cover of night, wandering down eerie alleyways and dimly lit side streets to get there. Feel the hair on the back of your neck stand up as you hear legends and first-hand scary stories about the area's spookiest places. Visit St Paul's Episcopal Church, Marrero's Guest Mansion, Captain Tony's Saloon, the Eaton Lodge and the Banyan Resort, among others. Finish your creepy tour at your starting point after 2.5 hours.

offered by Viator
Share This Article