Quiet and Safe Hostels and Guesthouses in Vietnam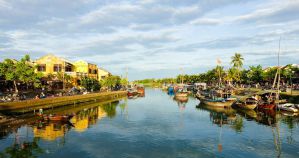 Vietnam has become a major travel destination for backpackers, budget travelers, and tourists who want to experience the country's rich culture, delicious cuisine, and impressive natural beauty. The country has an established tourist circuit that takes travelers through interesting cities such as Hanoi, Hue, Hoi An, Dalat, Nha Trang, and Ho Chi Minh City.
There is no shortage of hostels, hotels, and guesthouses in most Vietnamese cities. You can typically find the best deal at the newest accommodation. The newer establishments are trying to establish a reputation so their prices are often lower. They also typically have the newest and most modern facilities. Once a hostel or guesthouse is listed in a guidebook, they often raise their prices while the quality drops.
If you're looking for the newest and best deal, it's best to ask fellow travelers where they stayed. Many times, as you're traveling from one city to the next, guesthouse owners have connections and can make reservations for you in your next destination. Do be wary though, as they often get kickbacks and the quality of the facilities can't be confirmed until you arrive.
Like elsewhere in Southeast Asia, guesthouses frequently open, close, or change management in Vietnam. It can be difficult to predict how the quality of the facilities will change over time, but if you wish to make reservations in advance, the following hostels and guesthouses are of decent quality and listed on most booking websites.
How much do hostels in Vietnam cost?
| | |
| --- | --- |
| Average Dorm Price | $445 ($1 to $160,000) |
| Average Double Private Room Price (in a hostel) | $20 ($1 to $240) |
Dorm Bed:
$
7.50
Private Room:
$
8.00
Overall Rating:
95%
Hanoi Friends Inn and Travel is an affordable and reliable option in the middle of Hanoi's Old Quarter. It's a friendly place to stay that is conveniently located about a seven minute walk from the Night Market and a ten minute walk from Hoan Kiem Lake and Dong Xuan Central Market. It's also near many great restaurants and shops.
What really makes this hostel great is the staff. They're friendly and helpful and they really go out of their way to make sure everything goes smoothly. The hostel has a family atmosphere and it has a safe and relaxed feel. It's a quiet place to stay, but if you're traveling alone there are usually other solo travelers that you can hang out with.
The hostel has both dorms and private rooms available.
46 HangGa Hoan Kiem
,
Hanoi
,
Vietnam
,
Private Room:
$
9.90
Overall Rating:
95%
Diep Anh Guesthouse is a quiet and lovely place to stay right in the middle of the backpacker district in Ho Chi Minh City. It's a clean and affordable option that is run by a lovely couple who work hard to make sure your stay is pleasant. If you're looking for a quiet retreat within the chaotic city, then this is a good option.
The hostel has two private twin rooms and five private double rooms. Three of the rooms even have their own balcony. If you have a slightly larger group, there's a family room available with two double beds.
All of the rooms are air conditioned and have cable television, a mini bar, and private bathrooms.
241/31 Pham Ngu Lao str. District 1, Ho Chi Minh
,
Ho Chi Minh
,
Vietnam
,
Dorm Bed:
$
5.00
Private Room:
$
5.00
Overall Rating:
92%
Backpackers Home Homestay is a reliable and comfortable place to stay in Hoi An. It's actually located outside of the central part of town, so if you're hoping to go out at night, this probably isn't your best option. The rooms are clean and comfortable and the atmosphere is friendly and welcoming. You can be assured a good night's sleep here for a very reasonable price. The guesthouse has dorm rooms that have four beds each. The rooms are air conditioned and cleaned every day. There are also private rooms that have televisions, a mini bar, and air conditioning.
If you're looking for a comfortable place to stay that is affordable and clean, then Backpackers Home Homestay is a good option.
To 6 -Son Pho 2-Cam Chau
,
Hoi An
,
Vietnam
,
Dorm Bed:
$
5.00
Overall Rating:
92%
FA Backpackers Hostel is an affordable hostel in the heart of Hue. It's a very basic and simple place to stay but it has a good location and there are dorms available. The hostel offers easy access to the tourist bus, the Vietnam airline offices, and a number of bars and restaurants. It's about a five minute walk from Perfume River and is ten minutes from Trang Tien Bridge, the Citadel, and Dong Ba Market.
The hostel is also part of a travel agency and they can help you arrange all kinds of tours, transportation, and motorbike rental.
19B Nguyen Thai Hoc
,
Hue
,
Vietnam
,
Dorm Bed:
$
5.00
Overall Rating:
94%
If you're looking for a more traditional homestay atmosphere, then Dalat Friendly Fun Hostel is a good option. It's a family run hostel that has a great atmosphere where you can interact with the Vietnamese family that runs the place as well as other guests. There are four dorms in total that sleep up to eight people. The accommodation is quite basic, but the authentic feel of the place is why people stay here. The family really wants to make sure every guest feels comfortable. They even offer a "family" dinner that is a traditional Vietnamese meal that guests can enjoy for just a small price.
The hostel also has a common kitchen and a communal area where guests can hang out. The staff can help you organize any number of tours including mountain biking, elephant riding, jungle trekking and more.
F 18 Mac Dinh Chi District 4
,
Da Lat
,
Vietnam
,
Dorm Bed:
$
6.00
Overall Rating:
94%
Backpackers don't go to Nha Trang for a quiet and relaxing trip. This is a party destination, and most of the hostels and guesthouses reflect that. Mojzo Inn is a good option in the area. It's clean and comfortable, but the staff are what really make the place. They pay attention to the details and they offer all kinds of amenities for guests. There is free breakfast, free fruit, and even free beer (between 5 pm and 6 pm every day).
Mojzo Inn is located in a quiet part of Nha Trang but is still close to everything you might need including the beach, restaurants, and nightlife.
120/36 Nguyen Thien Thuat Street
,
Nha Trang
,
Vietnam
,
Share This Article