Task Tracker
Stay on task and never miss an important deadline with our easy and efficient Task Tracker. Designed specifically for travel agents, and integrated with our Client Manager, the Task Tracker can keep your To Do list up to date and remind you of important upcoming events.
Quickly add new tasks to your list with just a few clicks.
Get an overview of what needs to be completed now, allowing you to focus on your clients instead of your workload.
Prioritize your important upcoming tasks for key deadlines so that you never miss an important event.
Mark tasks as completed in an easy an intuitive manner.
As a travel agent, the more clients you have, the busier your life can become. But now you will be able to move through your work quickly and effeciently, because our Task Tracker was designed to keep you focused on your clients.
The Task Tracker is included in our Free plan. As a travel agent, you can simply sign up and get started right away.
Supplier Reviews
Client Manager
Task Tracker
Travel Cost Research
Invoicing
-
Itinerary Builder
-
Group Trips
-
Free
Sign Up
$15 per month
14-day free trial
Sign Up
Stay on Task
Our task tracker will keep you on top of all your deadlines and events. Create a friendly reminder to send that itinerary or invoice to a client, or long-term follow up reminders. Just like everything else, adding and editing tasks is a breeze.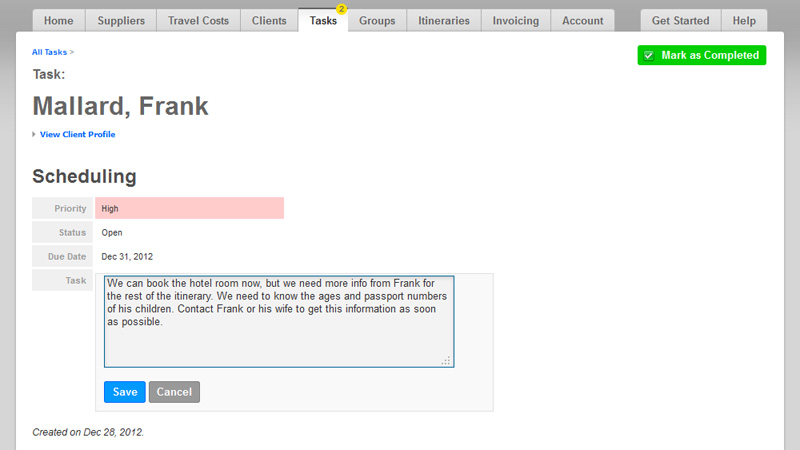 Learn More
Get Started
Multiple Agents?
BYT Agent can be set up for a team. Share important information across all of your agents, and have your agency work together as one.
Share clients, invoices, and itineraries
Assign tasks to teammates
View summaries across your entire agency
For team pricing and more information:
Share: