Bilbao On a Budget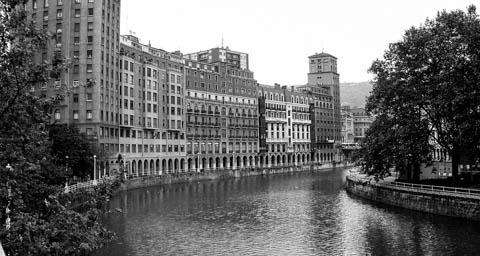 The industrial city of Bilbao is located on a port of the Nervión River in northern Spain, an important location of Basque country. While the downtown is filled with skyscrapers and innovative architecture, it sits between a river and mountains of natural allure. A city of hard-workers to the core, Bilbao displays remnants of its industrial past, though in more recent years it has transformed into a center for art. It is now a popular location for visitors looking to experience art galleries and museums.
Sights
Bilbao is famed for the Frank Gehry–designed Guggenheim Museum Bilbao. While the museum interior houses modern and contemporary works from prominent artists, its titanium curvy exterior is a sight to see in itself. It is representative of a new age, where Bilbao has evolved from a city of industry to one of art and culture. The museum holds exhibits that are always changing as well as a world class restaurant for one seeking a unique dining experience. The nearby Museo de Bellas Artes is also worth a visit, with a collection that includes works by Velázquez, Goya, and Picasso. It is also known for its fine art pieces by Basque artists from the 12th century up until the present. Other museums include the Basque Museum of local history, La Ría Maritime Museum, the Bullfighting Museum, Museum of Sacred Art, and the Museum of Artistic Reproductions.
The architecture of the city is a sight to behold as well, laid out with many beautiful parks and plazas amongst towering churches like the Cathedral of Saint James, Iglesia de San Antón, Basílica de Begoña, Iglesia de San Nicolás, and Iglesia de San Vicente Martir. Each one stands enchanting onlookers with their renaissance, baroque, and gothic influences.
Neighborhoods
The modern downtown of Bilbao consists of the area that surrounds the city's Guggenheim Museum. It is very walkable with plenty of sidewalks that lead through pleasant plazas and parks and past examples of historical architecture. It is also a good location for shopping and dining. Just across the river, over the Puente del Arenal bridge, is the "Casca Viejo," Bilbao's old town. This part of the city also has much to see down its narrow streets filled with boutique shops, restaurants, food, gelato, and more. The beautiful plazas are lined with stunning architecture and it is also home to the Ribera Market, an indoor market where vendors sell fresh produces, meats, cheeses, and fish. The Plaza Nuevo in the old town is a hot spot for pintxos.
Activities
Bilbao is a great city for walking. Visitors can walk amongst the many museums and galleries, past churches and statues along charming narrow streets, walk amongst the bustle of the old town, through scenic parks, or stroll along the riverside that the city hugs. Sight-seeing, shopping, and dining can occupy much of one's days in Bilbao and it can all be done on foot.
As far as seasonal activities go, visitors can rent kayaks from Bilbobentura along the River Nervión, or even find yacht charter and sailing from International Charter Group. In the summer time, the Kiosko del Arenal El Arenal Parque (across from Plaza Arriaga) houses a stage that holds outdoor concerts. There is also a grand festival in August called the Aste Nagusia / Semana Grande which features music, street theater, and events with firework displays in the evening. Details on the event can be found at the tourist office in Teatro Arriaga.
Food and Dining
As is with many Spanish cities, Bilbao has its own version of tapas that are typical of the region. By the Basque name, they are called pintxos and consist of a variety of samplings from the local cuisine. Fridays and Saturdays are the most popular days for eating pintxos and visiting bars. The local custom for enjoying pintxos with a drink before sitting down to a meal is called "chiqueteo" and is available at many locations-kind of like happy hour. Bilbao is also known as the cod capital because some of its most famous culinary creations are made with the fish and many other mouth-watering ingredients. The downtown area has a great selection for Basque cuisine, while the Plaza Nuevo in old town is a great spot for trying Bilbao's pintxos small plates.
Transportation
Bilbao Airport, the nearest international airport is served by Lufthansa, Air France, Air Berlin, TuiFly, AerLingus, Iberia, Air Europa, Vueling, Norwegian, and several other airlines. The downtown can then be reached by bus (for € 1.45) or by taxi (for € 25-30).
Regional buses leave from the TermiBus terminal with regular connections to Santander (75 minutes), San Sebastian (60 minutes), and Madrid (4-5 hours), amongst others.
By train, RENFE leaves from Abando Station with intercity routes to Madrid, Barcelona, and Vigo (Galicia). FEVE leaves from Santander Station with regional trains to Santander (3 daily), and Leon (1 Daily). EuskoTren runs a local service from Atxuri Station to San Sebastian, with connections there for Irun (on the Spanish-French border).
By boat, there is also a direct car ferry between Bilbao and Portsmouth, England. (Plan in advance)
Related:
Looking for a party in
Barcelona
or
Madrid
?
Traveling alone to
Granada
or
Seville
?
Find a
Contiki tour
to Europe.