Tulum On a Budget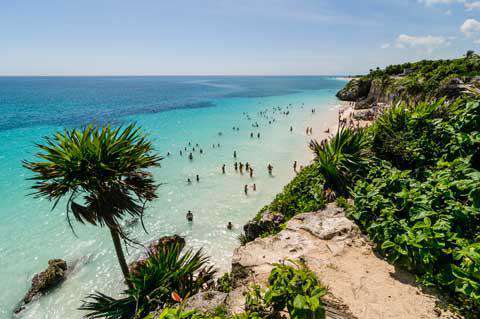 When you think of ancient ruins you probably picture dusty archaeological digs surrounded by sand and professors in khaki shorts. What if I told you there is a way to see ancient ruins and visit a tropical beach? That's exactly what you find in Tulum, Mexico.
Built near the end of Mayan era, the
ruins of Tulum
served as a port before the arrival of the Spanish. It may have been called Zama, meaning City of Dawn, given that these ruins face the sunrise. Because of Tulum's access to both land and sea routes, this spot was an important hub for the trade industry. It may have had another claim to fame, too. According to some murals and other works around the site, it seems this spot was an important site for the worship of the Diving or Descending God. Today, the area is the third most visited archaeological site in all of Mexico with daily tour buses dropping off visitors.
This area is usually packed with people looking to get a glimpse of the seaside ruins. To avoid crowds and capture the best view of the day, try to arrive as early as possible. Of course, Tulum is only one of several archaeological sites in the region, and you can see
a comparison of Mayan Ruins in the Yucatan here
.
Sights
Once you've visited the ruins of Tulum, there are other things to see and do in this area. For example, the Coba Ruins are not far. These ruins may not be as cleaned up as Tulum, but it is home to "El Castillo," the tallest Mayan ruin. Climb to the top of this ruin just above the treetops of the jungle for a magnificent view.
The Sian Ka'an Biosphere is acres of wetlands and swamp for a tour of some of the native flora and fauna. Ask about a guided tour of the area - especially later in the afternoon.
Neighborhoods
Before visiting travelers should know that there are actually three different sections of Tulum. The Tulum Pueblo, also known as "El Pueblo" to the locals, is where most of the workers and stores are located. Here is where you'll find the bus stations, hotels and hostels. Don't expect to find much local culture, as this section of town feels like it only exists to serve the tourists.
The Tulum Playa is for those seeking a more chic getaway. It's nestled right along the coastline of white Caribbean beaches, and includes the fancier boutiques in town. This is also a great area to find places to stay, such as a
great Airbnb in Tulum
.
The Tulum Ruinas is the archaeological site where the actual ruins are. There are a handful of hotels, restaurants, a small bus station and one huge parking lot.
Activities
It's not difficult to find your typical Caribbean activities in Tulum - snorkeling, kite surfing, sunbathing, jet skiing, etc. - but a popular activity in this area involves cenotes. As rainwater collects in underground caves and tunnels, it reaches the surface and forms what is known as a cenote. Take a dip or a dive in one of these freshwater pools for a close up look at fish, turtles and even bats. With some more open surfaces and others under the rock covering, there's a cenote for every level of adventure. Some of the more
popular cenotes in Tulum
include El Gran Cenote, Casa Cenote, Cenote Calavera, Cenotes Cristal and Escondido, Dos Ojos Cenote and Zacil-Ha. Plus, if you'd rather not dive under the rock formations, there are diving, snorkeling and eco tours available around the coast of Tulum.
Food and Dining
Given that this area caters very much to the tourists visiting the ruins, there is every type of food you could crave. While a pizza may look appetizing, try to sample the tastes of Mexico while you're there. Try a tamale from a street stand or some chicken and rice for dinner. It's also advised that if you want to keep your meal under your budget, avoid the beachside resorts. If you do find yourself beachside,
find a restaurant in Tulum
, or visit one of the two big supermarkets to pack your own cooler for a day in the sand.
Transportation
If you plan on staying within the Pueblo, walking the most convenient and efficient way to get around. However, when traveling between the beach, the pueblo and the ruins, a taxi is the best option. Bikes are also a convenient way to get around. Be sure to use extra caution if riding on the highway, and bring a headlamps if you're going to ride at night.
Related
Looking for a
party hostel in Mexico
? Heading to
San Diego
or
LA
?