Japan On a Budget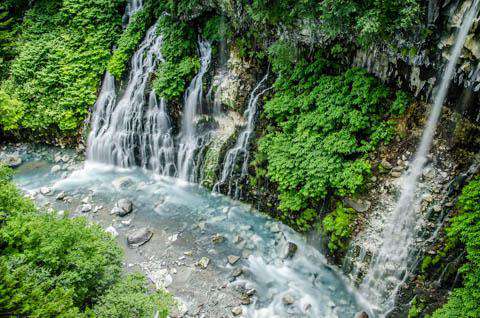 Japan is a unique country to travel to because of the wonderful mix of culture, diversity, modern technology, old world character, and eastern charm. The modern comforts of home are always available, but its never surprising to find yourself in a confusing social or cultural situation. The colors, sights and sounds of Tokyo keep you filled with adrenaline late into the night, but if you wake up early in the morning you can find the character and charm of a city that is cloaked in history. It's easy to fill many days in Tokyo or elsewhere. Find a place for karaoke, dine on some udon noodles, wander through a park, or shop. The energy of Japan's cities truly keep you up all night. Allow yourself to step outside of your comfort zone. Make sure to soak up both this modern, technology driven country, but also get lost in the old alleyways of the old towns. Step into a shop and meet the old man selling teapots. Grab a snack from a street stall or enjoy conveyor belt sushi with businessmen at lunch.
Throughout the country you'll find places where modern technology is right next to old world charm. This is a technology driven economy, but it holds tight to traditional values. It manages to simultaneously embrace western influences, while remaining steadfastly isolated in its culture and customs. It's a unique and eyeopening country that still offers all the comforts of home.
Japan is an expensive country to visit in general, but there are some strategies you can use to save money. This is a great country to try couchsurfing. If you find a host who speaks English and is eager to show you around, you'll gain an insider's perspective on the country and be able to sample food at restaurants you may otherwise have missed.
Dining out can also be expensive, particularly in the larger cities. Lunch is usually the cheaper option, so if you can cook your own dinner and eat lunch out you'll be able to have the best of both worlds. Also remember, tipping is
not
a custom in Japan. Even if you plan to leave a few dollars, your waiter will likely be confused, or possibly even offended.
At A Glance
Japan is recognized for its strikingly different culture from the west. If you do some research on this country's interesting customs before your trip, you will find your experience all the more enlightening. You will also better understand how to handle different situations as they arise.


This is a complex country with a diverse and rich history. A great way to familiarize yourself with the region is to read any number of books on the country, fiction or nonfiction, before you begin your trip. You'll be able to see the people, customs, and cultures through different eyes, and your experience will be even more meaningful and memorable when you can put it in context.


Japan is a great country for cyclists. If you're comfortable on a bicycle head to the countryside and find a good route. You'll pass through beautiful landscapes, picturesque towns, and meet some friendly people. It's a wonderful and unique way to experience the country. It will also help you cut down on transportation costs which can be quite high throughout Japan.


Make sure you keep your passport on you at all times. Police can question you and will often fine you if you do not have it on you. Some first time offenders get off with just a warning. In particular, nightclub raids are common, so if you're going out for the evening, don't leave home without your passport.


Public transportation in Japan is excellent but expensive. There are many different types of transportation passes that offer any number of ticket combinations and various discounts. Make sure you fully research and understand your options before you purchase a ticket. Some passes have stricter limitations than others so make sure you look into this before buying a pass.
Related
Looking for a
hostel in Japan
? In search of a
party in Tokyo
? Traveling alone to
Osaka
or
Tokyo
?
Top Tourist Attractions
Ginza District:
This popular area is an upscale neighborhood in Tokyo that is a great place for shopping or night life. It's one of the flashier neighborhoods in Tokyo and has some high end shops and many excellent restaurants worth trying. It's a great area to enjoy a nice meal out.
Tokyo National Museum:
This is one of the best and largest museums in Japan. You'll find it just inside
Ueno Park
, which is a pleasant place to explore as well. The museum has many items on display, many of which are famous pieces of art or objects from Asian archaeology.
Tokyo Imperial Palace:
This is the main residence of the emperor of Japan. It is a fascinating and popular spot in Tokyo that reflects the areas history. It's located in the city's Chiyoda area near the Tokyo Station. It's surrounded by nice gardens and has several buildings including the main palace.
For even more information on this amazing country, see this article on
how to plan a trip to Japan
.
Transportation
In Japan, trains are one of the fastest and lowest cost means of transportation. Getting a
Japan Rail Pass
can save you money if you plan to stay for several days or more. Regional and nation-wide passes are available, usually for the number of days of your choice.
Popular Foods
Japanese food combines rich flavors in unique ways. Many restaurants in Japan can vary dramatically from Japanese restaurants found in western countries. Sushi in particular is quite different in Japan. You can expect simpler sushi dishes that focus on quality ingredients instead of complex combinations. It's important to step outside of your comfort zone when you're sampling Japanese food and you'll likely be surprised by what you enjoy.
Tempura:
This style of cooking involves battered and deep fried seafood or vegetables which are typically served with rice and a soy based dipping sauce. It's grown in popularity in western cultures as well so you are likely to find it on menus around the world.
Sashimi:
Sashimi is thinly sliced raw meat served with a dipping sauce. While it's typically made from seafood and often associated with sushi, that is not always the case.
Gyoza:
(
recipe
)This is a Japanese version of pork or vegetable filled dumplings that are either steamed or fried. They're often served as an appetizer with dinner and are available at most Japanese restaurants throughout the country.