Serengeti National Park On a Budget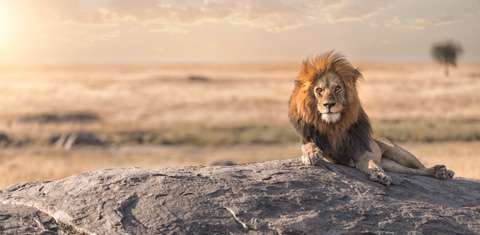 Sprawling across 5,700 square miles of northern Tanzania in East Africa, Serengeti National Park makes up one of the oldest ecosystems in the world-one whose climate, vegetation, and fauna has barely changed over the past million years.  Today the park is a major wildlife destination, especially during the Great Migration when over a million hoofed animals are on the move.
Sights
Serengeti National Park is best known for its wildlife population. It is home to the highest concentration of large mammals in the world-including, but not limited to, giraffes, elephants, wildebeests, hippos, and lions.  There are populations of primates like bush babies and baboons, and over 500 species of birds including ostriches and flamingos. The park is especially popular during the Great Migration when over one million grazers, hoofed animals like zebra and wildebeest, make their way north as the rains change. A community of about 200 hippos can be spotted in the deep waters of the Retina Hippo Pool, while Moru Kopjes is home to Serengeti National Park's only black rhino population. For those interested in the park's ties to the indigenous Masai community, check out Gong Rock and the region's famous Masai rock paintings located in Moru Kopjes.
Neighborhoods
Naabi Hill
serves as Serengeti National Park's main entrance, situated in Eastern Serengeti by the Ngorongoro Conservation Area. Visitors can pay their entrance fee here and stretch their legs along a walking trail that offers striking views and vistas of the Serengeti's landscape. Each area of Serengeti has its own unique features. The park is generally divided in North, Central, and South.
North Serengeti
encompasses the Lobo Valley, where few species stay year-round. The animal population is at is smallest during wet season, so it is best to visit this part of the park in the dry season when millions of wildebeest, gazelles, and zebras travel north for the Great Migration. Typically this area is less frequented by tourists, though it is a more affordable location than the rest of the park during the migration season.
Central Serengeti
is largely composed of the Seronera River Valley.  Here visitors can experience the circle of life at its finest-a gathering spot of herbivores (wildebeest, zebras, elephants, giraffes, gazelles) as well as predators (lions, cheetahs, hyenas, leopards). There is also a population of hippos here at the Retina Hippo Pool. Most of the park's permanent lodges are located in Central Serengeti due to the abundance of wildlife that many come to see.
South Serengeti
has bases on Lake Masak and Lake Lagarja.  It is most popular from December to May, when species are most likely to be concentrated here depending on the rains. It is a great place to experience the lesser known areas of the park, away from the tourist bustle of Central Serengeti.
Activities
As the main attraction of Serengeti National Park is its wildlife, most visitors book safaris to see the best of the landscape and its features. Park fees and permits to the park can be very expensive and so these are often included in the overall travel cost if booked with a travel agent. Generally, fees can be up to $60 US per person per day. The park is also a major draw for wildlife photographers, as well as those interested in birding. Another unique way to safari is via hot air balloon, where visitors can get great views of the Serengeti from above. Since many of the animals can be dangerous it is important not to venture off without a guide, especially at night.
Food and Dining
For visitors planning to visit the more remote areas of the park, it is best to stock up on food and beverages at the convenience store located at the Naabi Hill entrance gate. The main lodges in Central Serengeti typically have options for dining as well. Typical Tanzanian cuisine varies depending on the region, though one favorite includes mishkaki, or skewered meat, usually chicken or beef marinated in spices and tomato sauce, cooked on hot coals, and then served with hot chili and lime juice. Other favorites include roasted cashews, watermelon juice, and a variety of small sweet bananas.
Transportation
The nearest international airport to the Serengeti is Kilimanjaro Airport, located near Arusha.  Qatar Airways offers daily flights from Amsterdam and Doha, while Swiss Air will fly into Nairobi, Kenya, or Dar es Salaam, from where you can get a connecting flight to Arusha. There are a few additional international flights (like Turkish airlines to Istanbul), but most others are regional.  From Arusha, the drive to Serengeti is about 6.5 hours to reach the park's main entrance at Naabi Hill Gate.