Kyoto On a Budget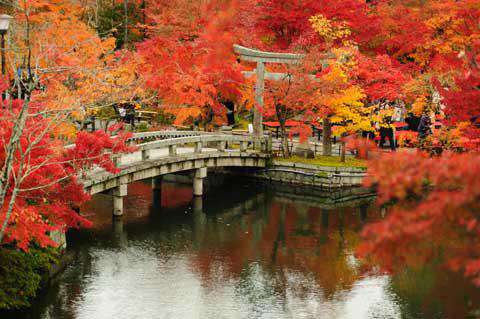 Kyoto is a larger city of Japan, though it is very much set in the old ways. With quiet temples, sublime gardens, colorful shrines, and geisha walking amidst a city surrounded by stunning mountains, Kyoto feels like a world of another time and place. True to ancient Japanese tradition, most aspects of daily life are tied closely with the changing of the seasons.
Sights
Being a large and ancient city, Kyoto has an incredible number of sights to see, with a total of 17 historic locations on the UNESCO's World Heritage List. 14 are located in Kyoto itself, with two in neighboring cities. Kinkaku-ji, Ryoan-ji, Ninna-ji, Kozan-ji, Shimogamo Shrine, and Kamigamo Shrine are all in Northern Kyoto, Nijo Castle, Nishi Hongan-ji, and To-ji are in Central Kyoto, Kiyomizu-dera and Ginkaku-ji are in Eastern Kyoto, Tenryu-ji and Koke-dera are in Western Kyoto, and Daigo-ji is in Southern Kyoto.
There are also a handful of Imperial Palaces and Villas open to the public in Kyoto. These include the
Imperial Palace
and
Sento Imperial Palace
in Central Kyoto, as well as the Katsura Imperial Villa in Western Kyoto, and Shugakuin Imperial Villa in Northern Kyoto. Admission is free, though reservations need to be made with the Imperial Household Agency. The gardens of each location are most enchanting during cherry blossom season and autumn when colors are vibrant and beautiful.
And don't miss the Fushimi Inari Shrine, which is one of the most photographed places in the city. It should definitely be on your list of
things to see with 2 days in Kyoto
.
Neighborhoods
Downtown Kyoto is located at the heart of the city with the bustling streets of Nishikikoji, Teramachi-dori, Shinkyogoku, and Kawaramachi at its center. It is a place where the modern mixes with the old-department stores and banks standing side by side with old book shops and printmakers. Shijokawaramachi is the main place in Kyoto for restaurants and shopping, while Gion is another center where old townhouses have been converted to stylish boutiques. There is also a stage on Gion Corner for the traditional arts where performances are held twice daily in the evenings. Along the narrow backstreets of Ponto-cho, Hanamikoji-dori, and Miyagawa-cho you might catch sight of a geisha, and see the quieter, simpler side of life when traditional lanterns light the paths at night in contrast to the glowing modernity of the main street.
Activities
Another homage to tradition, Kyoto's public baths, or sento, date back to the 13th century. Today, about 140 bath houses remain in the city.
Funaoka Onsen
is the oldest of these, though all of them are true to Kyoto culture.
Buddhist meditation sessions are another cultural activity that many visitors seek during their stays. In Northern Kyoto, the Taizo-in and Shunko-in temples offer authentic Zen meditation sessions, complete with explanations of the meaning and significance of such meditation. Reservations are required.
One of the most popular activities in Kyoto is definitely the viewing of cherry blossoms. On a list compiled by the Japan Cherry Blossom Association, three of the best spots for viewing are located in Kyoto (Arashiyama, Daigoji, Ninnaji). The striking colors and softness of the petals set against mountain scenery and temples overwhelms the viewer with an air of serenity and peace that is so inherent to Japanese culture. Eastern Kyoto is the most popular, especially for walking from Nanzen-ji to Ginkaku-ji along the Philosopher's Path.
Plenty of other fun activities can be found in this dynamic city. Kyoto is a very family-friendly destination, too. Check out this list of
things to do in Kyoto with kids
, for example. From cooking classes to exploring the temples and shrines mentioned earlier, a child of any age will find exciting new things here.
Food and Dining
Kyoto is well known for matcha, or green tea. While it is very popular to drink the matcha flavor can be found in just about any flavor from ice cream to yatsuhashi, another kind of local snack. Yatsuhashi can be baked or raw - the original was a type of crunchy biscuit with cinnamon flavor. Today the baked biscuits remain the same, though you have the option for matcha and strawberry-flavored glazes. The raw yatsuhashi, also known as hijiri, was also made with cinnamon, but the cinnamon is mixed with bean paste and then folded into the hijiri to make a triangle-shape. Today flavors range from chocolate or banana to matcha or poppyseed. There are even seasonal flavors like the sakura (cherry blossom) yatsuhashi in the spring and mango, peach, blueberry, and strawberry, available from May to October. These are available nearly everywhere, though Honkenishio Yatsuhashi is the most famous.
Other specialties of the region include a white fish served with ume as sushi called hamo, tofu at places around Nanzenji temple, an expensive turtle dish called suppon, vegetarian dishes, ramen noodles, and a multi-course chef's choice called kaiseki-ryori. Sake is another thing, an alcohol, which cannot be missed during your visit. Some of Kyoto's most famous sake comes from Gekkeikan Brewery in the Fushimi area of Southern Kyoto. The brewery is about 400 years old and offers tours of its facilities.
Transportation
In Japan, trains are one of the fastest and lowest cost means of transportation. Getting a
Japan Rail Pass
can save you money if you plan to stay for several days or more. Regional and nation-wide passes are available, usually for the number of days of your choice.
By air, Kyoto is served by Osaka's two airports: Kansai International Airport and Osaka International Airport (a.k.a. Itami Airport). There is a good road and railway network between Osaka and Kyoto.
By train from Kansai, the Kansai Airport Station is located opposite the arrival lobby where the Japanese Rail (JR) West Haruka Kansai Airport Limited Express Train can be caught.
By bus from Kansai, comfortable limousine buses run from the airport to Kyoto Station, twice an hour, stopping at some of the major hotels along the way.
From Itami Airport, the easiest way to get to Kyoto is by limousine bus No. 15.
Once inside the city, the best way to navigate is by public transportation via bus, subway, bicycle rental or train.
Related
Looking for a
hostel in Japan
? In search of a
party in Tokyo
? Traveling alone to
Osaka
or
Tokyo
?