Krakow On a Budget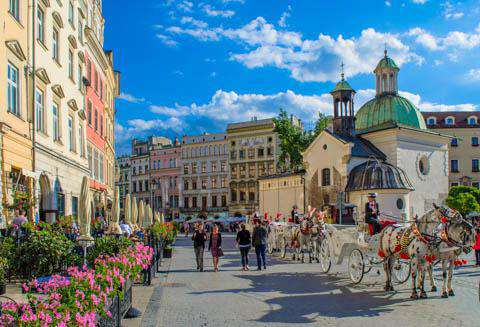 Krakow is Poland's second largest city. It sits on both sides of the Wisla River at the foot of the Carpathian Mountains. There are more than 1.4 million residents in the metropolitan area. Krakow is known as a historical and beautiful city that is one of the country's most popular tourist destinations. Tourism makes up a large part of the city's economy, but there is also a university and several local colleges which are major employers as well. Technology has grown in recent years and the city has some notable employees including Google, IBM and Motorola. Other important industries include steel, pharmaceuticals and tobacco.
Krakow's year is divided into four distinct seasons. Summer is hot and humid and temperatures range from 30 to 35 degrees Celsius. Snow is very common during the winter months and the temperature is very cold, between -5 and -20 degrees Celsius.
Sights
You'll find most of Krakow's sights in the Old Town. These include
Wawel Castle
, Sukiennice, Town Hall Tower, Barbakan and Florian Gate. Interesting squares include Rynek Glowny, Maly Rynek, Plac Mariacki, Plac Wszystkich Swietych amoung others.
The district of Kazimierz is interesting for its Jewish heritage and the district of Nowa Huta has some socialist style architecture. A Nazi concentration camp is located in Podgorze where you will also find Schindler's Factory.
Neighborhoods
As of 1991, Krakow was officially divided into 18 different dzielnica or boroughs. There are four main districts that tourists usually visit. These are Podgorze, Nowa Huta, Kazimierz and the historic town center of Krakow, Stare Miasto. Stare Miasto is the Old Town and technically includes a district called Kazimierz but most people are referring to the area within the old walls. At the center of this neighborhood you'll find the Main Market Square. Kazimierz was once an independent town but in recent years has become a favorite neighborhood for locals and tourists alike. The atmosphere is comfortable and relaxed with many cafes and restaurants. Podgorze has the Podgorze Market as well as a beautiful neo-gothic church. This neighborhoods was the ghetto for the Jewish community during World War II. Nowa Huta has a lot of socialist and communist style architecture. The main area is the Central Square but a popular place to visit is also the Steel Works Factory of Sendzimir.
Activities
Popular activities in Krakow include walking tours such as the Royal Way, cruises down the river, shopping at flea markets, and taking a dorozka horse carriage. Events and festivals include the Jewish Culture Festival during the summer, Bajit Chadasz in November, the Krakow Film Festival, and Coke Live Festival among others.
It's also quite easy to get to Auschwitz, the infamous World War II concentration camp. If you're interested, read
How to get to Auschwitz from Krakow
.
Food and Dining
Meal time in Poland includes a large breakfast, a large meal between 3pm and 4 pm that is considered dinner, and a small supper between 7pm and 8pm. Lunch is available, but less common. Dishes are heavily influenced by the cultures around central Europe. One of the most common dishes is the obwarzanek, or bagel. It's available in street stalls around town and is a great snack. A good budget option for a filling meal at a cheap price is to go to a "Bar Mleczny" or milk bar. This is similar to a cafeteria and was established during the Communist period. They sell typical Polish food including "kroketka". The decor is basic and the service is decent, although you likely won't find much English.
Street food is common and affordable in Krakow. One of the most popular options is zapiekanka, which is a large open faced baguette that is served hot with toppings such as cheese, mushrooms, or garlic sauce. Another affordable option is to try one of the several Chinese-Vietnamese restaurants. They are cheap, but far from authentic, and usually not very good. Other international options include Italian, Greek, French, Argentinian or Georgian. Fast food restaurants are common as well.
Transportation
It's possible to walk around the entire city center of Krakow, but if you're short on time or energy, it may be helpful to take some public transit. There are some nice walking routes such as the Royal Way or the Planty Park that is outside of the old city between Florian's Gate and Wawel Castle. The public transportation system in Krakow includes both buses and trams. It's an affordable system that offers decent coverage of the city. Taxis in the city are best organized in advance to ensure that you get a fair price. All taxis are marked with a "taxi" sign on the roof and a sticker on the rear passenger window that shows prices.
In 2008 Krakow established its municipal bike system. There are 15 stations where you can rent a bike and return it to a different station. The stations are spread throughout the city center. You must register for the system in advance.
Related:
Traveling alone to
Prague
or
Budapest
?
Looking for a party and need a
hostel in Prague
or
Budapest
?