Belize City On a Budget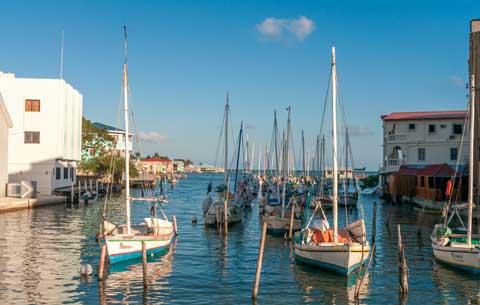 Belize City is the largest city in Belize. It was once the capital of the country, but due to massive hurricane damage in 1961, the country decided to relocate it capital. With a population of 57,000 people, Belize City is located right at the mouth of the Haulover Creek.
This gorgeous tropical city experiences a monsoon climate – meaning there are warm and humid conditions throughout the course of the year. There is a wet season from May to January, so plan for a little bit of rain in that time.
Sights
To ensure you see everything this gorgeous city has to offer, catch a guided tour. You'll see the scenery, learn about the culture, history and architecture, and grab lunch among some of the island's most historical buildings. You can take these tours by foot, van, or horse and carriage – if you're feeling fancy.
If you're more interested in visiting the animals of the island than the sights, head over to the Belize Zoo. This family-friendly zoo, isn't like the other zoos you've visited. The Belize Zoo only houses rescued animals native to the island. You won't feel uncomfortable watching big animals in tiny cages here. This zoo lets their animals roam free in large areas that replicate their natural homes. Spend an afternoon here and learn more about conservation and wildlife rehabilitation.
Another great spot for animal lovers is the Crooke Tree Wildlife Sanctuary. Approximately thirty miles from Belize City, this spot is perfect for those who particularly love birds and fish. This area is a refuge for thousands of migratory and native birds. This sanctuary is located on the marshland so expect a large number of wetland birds.
To see one of the island's most preserved colonial buildings, take a tour of The Government House. It was once a place for foreign dignitaries to stay, and now it serves a house of culture for the area. Take a tour and see the vintage furniture and historical documents.
Neighborhoods
Belize city juts out Eastward into the sea at the tip of a peninsula. The old town and most of the interesting sights sit at the far Eastern end of this small piece of land surrounded by the sea. Boats to various islands off the coast can be hired on the shore or in the small river that runs through the center of the town.
The airport is at the north side of the peninsula, near St. John's College.
Off the shore and directly East are multiple Cayes and islands, some large, some small.
Activities
If you'd like to escape the tourism of the city, spend an afternoon in Old Belize. In this popular location you'll find an old marina full of yachts, a man made beach, zipline, and waterfall all ready for you to tackle.
Another popular activity just outside of Belize City is Goff's Caye. This is the perfect spot to spend the day eating a lobster picnic, drinking rum punch, and enjoying the underwater life. An afternoon of snorkeling gives visitors a memorable experience interacting with countless species of fish and colorful corals.
But if you're really ready for some snorkeling action, you'll want to visit Hol Can Marine Reserve and Shark Ray Alley. Here you'll see stunning coral gardens, and spend time with sea turtles, nurse sharks, stingrays and dozens of colorful fish.
One of the most popular excursions in the whole of Belize is cave tubing. It's an intriguing mix off swimming and cave exploring, and is a welcome trip for anyone looking for a unique adventure.
By far, one of the most amazing excursions you can find is just outside of Belize City. The Actun Tunichil Muknal is a cave and Mayan archaeological site. Your guided tour involves a journey through the jungle and rivers to the entrance of the cave. Once there, you have to swim through the entrance and work through obstacles to get to the "dry chamber." Here you'll find a site including skeletons, ceramics and more. Try to get a good look at "The Crystal Maiden." This sacrificial victim's bones have calcified to give a sparkling, crystallized appearance.
Food and Dining
Like anywhere in the Caribbean, Belize City is going to have cuisine based on all of their visitors – especially those from North America. It shouldn't be difficult to find any dish you crave. However, while visiting this city, be sure to take advantage of the delicious fruit and fresh seafood – especially the conch soup!
Transportation
The most convenient and cost efficient way to get around the city is by taxi. If you want to travel outside the city, you can also use the bus or even the little airplanes to get to other Belize destinations. There are also water taxis available to take you between the most popular destinations around Belize.
Related:
Looking for a
party hostel in Costa Rica
or
Cancun
? Looking for a
budget hostel in Mexico
or
Costa Rica
?