Daytona Beach On a Budget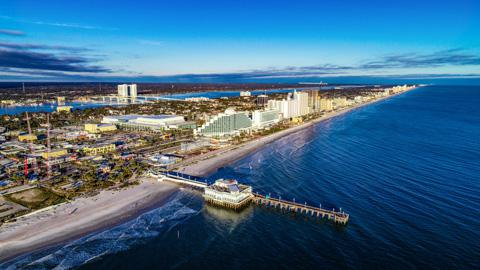 Daytona Beach, Florida, located on the Atlantic coast, is a wildly popular tourist destination for people from all over the world due to great beaches, spring break fun, and NASCAR races. Tourists come to enjoy the warm Florida weather, the beautiful beaches, the activities, the boardwalk, the nightlife, and many other things the city has to offer. The beaches around Daytona are famous for their hard-packed sand, which makes them easy for cars to drive on. For this reason, Daytona has a history of automobile racing, and is home to dozens of races that take place throughout the year, the most famous of which is the Daytona 500. Naturally, Daytona is also home to NASCAR headquarters. But it's so much more than just a race destination, as it's also a fun and family-friendly destination that attractions a wide range of visitors.
Sights
Daytona Beach is full of sights for everyone to enjoy. The aforementioned beach that made the city a popular tourist destination in the first place is obviously the most popular place for tourists to go. One of the many perks of the beach is that it's free. Other popular sights include the Howard Thurman House, which was the first home of renowned Civil Right Activist Howard Thurman, the Angell & Phelps Chocolate Factory, where free tours take place Monday through Friday, the Casements, which is the former home of John Rockefeller and has free exhibits on display, and Sun Splash Park, which is free and has several family-friendly things to do.
Neighborhoods
A number of historic neighborhoods in Daytona Beach can be explored by visitors. In the past decade, there have been over a dozen districts added the National Register of Historic Places. These neighborhoods all have significant historic value for various reasons. Among them are the Bethune-Cookman College Historic District and City Island Ballpark, which is home to the historic Jackie Robinson Ballpark. Main Street Pier is another popular place for tourists to go while in Daytona Beach. The pier and boardwalk are home to a number of restaurants, shops, and amusement park rides. During the summer, there is also a free fireworks show every Saturday.
Activities
Part of what makes Daytona Beach such a popular tourist destination is all of the events that take place year after year. The most famous of these events is the
Daytona 500
NASCAR race, which takes place in February. A number of other car races are hosted in Daytona Beach, such as the Coke Zero 400, which takes place in July, and the Rolex 24, which is a sports car race. There are also several well-known bike races, such as Biketoberfest, which takes place in October each year along with a large gathering of visitors with their motorcycles. And of course, the spring season will usually bring many students, college-aged visitors, and younger travelers for Spring Break festivities.
Food and Dining
Being a coastal city, and with many tourists, Daytona is known for seafood. Daytona is home to many restaurants enjoyed by both locals and visitors alike. The Charlie Horse restaurant has an incredibly diverse menu, has a family-friendly setting, and serves everything from Alaskan snow crab to buffalo wings. Caribbean Jack's Restaurant and Bar is another local favorite. Located right next to a marina, the restaurant constantly has live musicians performing for the entertainment of their guests and they serve food that is inspired by the Caribbean.
Transportation
Daytona has multiple transportation options for visitors to take advantage of. The Daytona International Airport is located in the middle of the city and is next to the Daytona International Speedway. It has hundreds of flights that arrive and depart each week, so visitors have a variety of options when it comes to arriving and departing flights. Daytona Beach also has an efficient bus system, which is run by Greyhound Bus Systems. The buses in Daytona Beach also have routes to Jacksonville and Orlando. Daytona Beach is also easily accessible by car, as there are a number of highways that run through Daytona.
It is generally recommended that you have a car to get around in Daytona Beach and the surrounding areas.
Related
Looking for a
party hostel in Hawaii
or
Miami
? Traveling alone to
LA
or
New Orleans
? Want a budget hostel in
NYC
?