New Orleans On a Budget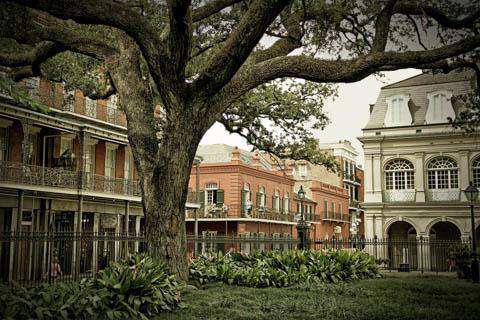 New Orleans is the largest city in the state of Louisiana, and it is a cultural city that is the home of jazz, unique cuisine, and Mardi Gras in the U.S. It was established in 1718 and is one of the oldest cities in the country. The culture of the city has a mix of French, Creole, African American, Caribbean, Irish, Haitian, German and Vietnamese. There's an energy and atmosphere that is unlike any place else.
The city's climate is humid subtropical with short and mild winters and hot and humid summers. Summers can be quite hot and oppressive while winters are comfortable and pleasant. Snow is very rare but does occasionally occur. Hurricanes are a significant risk in the area and the city's low elevation makes it particularly vulnerable to damage. It is also surrounded by water from the north, east and south. Hurricane Katrina devastated the city in 2005 but the city continues to rebound to this day.
Sights
New Orleans is a city that is really about atmosphere. The city's rich history means that it has a lot of historical architecture that is fun to explore. There are many old cemeteries throughout the older parts of town as well. Popular sights in the
French Quarter
include Bourbon Street, Royal Street, Jackson Square, the Moon Walk, Chartres Street, the Old French Market, and Lower Decatur Street.
Other sights include the Superdome, the Audubon Zoo, the New Orleans Museum of Art and the Mississippi River.
Neighborhoods
New Orleans can be divided into seven districts. The French Quarter is the most notable area for tourists. This is the oldest part of the city and there are many restaurants, music clubs and bars in this area. The Central Business District is next to the French Quarter and also has many attractions. It's the city's financial district and has both skyscrapers and high rise hotels. Downriver refers to the older neighborhoods that are located "Downriver" from the French Quarter. This is where you'll find Marigny's Frenchmen Street which is the main drag in the music district. Uptown is upriver from the central business district and has beautiful old architecture. Other districts in the city include Middle, Lakeside and Algiers.
Activities
New Orleans is at its peak during Mardi Gras. During this time there is no shortage of parades, balls, events, and festivities that you can enjoy. Other festivals around town include the New Orleans Jazz and Heritage Festival (or Jazz Fest), the French Quarter Festival, the Essence Festival, Southern Decadence, Satchmo Summer Festival, and San Fermin en Nueva Orleans.
But Mardi Gras is not everything. Penty of other
things to do in New Orleans
include riverboat cruises, riding the streetcar, exploring the historic neighborhoods, taking a carriage ride, taking a walking or bicycle tour, shopping, or taking a cooking class.
Food and Dining
New Orleans truly is a culinary capital of the country. There are many regional and local specialties that are available at the restaurants throughout the city. Fresh seafood is commonplace in many of the dishes. Oysters and crawfish are particularly popular. Po-boys are a local sandwich that are made with a po-boy loaf and fried shrimp or oysters. The Muffaletta is also a local sandwich that is made on a large, round Italian loaf with sliced meats like salami and capicola, cheeses, and olive salad. For some great restaurant suggestions, see
where the locals eat in New Orleans
. Other local dishes include gumbo or red beans and rice. Bananas Foster is a well known, local dessert that is made with warm bananas mixed with brown sugar, cinnamon, butter, rum and ice cream (
recipe
). Other sweets include beignets and pralines.
Transportation
If you plan to spend all of your time in the French Quarter, then a car is not necessary for your trip to New Orleans. Finding parking, even at your hotel, may be difficult. There is a rapid transit system, streetcars and buses that run throughout the day. It's also possible to walk through most parts of the French Quarter. During the late night time hours you're probably better off calling a taxi, but the prices are reasonable. It's also possible to rent a bike and explore the city.
The Riverfront, Canal Street and St. Charles streetcars all travel past many of the most interesting sights. There is also a new streetcar line that opened in 2013 along Loyola Avenue that connects Canal Street to the main public library and Union Terminal. Fares are cheap.
Related
Looking for a
party hostel in Hawaii
or
Miami
? Traveling alone to
LA
or
New Orleans
? Want a budget hostel in
NYC
?