Austin On a Budget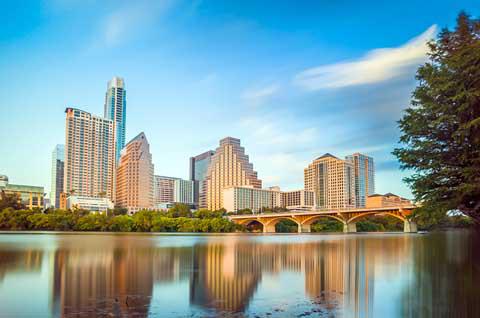 Located in the Texas Hill Country, Austin is the capital city of the state. It is a relatively small city with a compact downtown area and many sprawling suburbs stretching out along the interstate. Austin prides itself on its eclectic culture and alternative vibe which is epitomized by the city's unofficial slogan "Keep Austin Weird." The University of Texas at Austin is also located downtown. The school's large student population helps give the city a youthful feel with a lively nightlife and no shortage of activities on weekends. The city is also the self proclaimed live music capital of the country. As such, it has many music venues and bars, most of which are clustered around the 6th Street area downtown. There are also many free outdoor concerts, particularly during the summer months.
Austin's climate is humid subtropical. The summers are very hot and the winters are mild. Average high temperatures during the summer months often reach into the high 90s and winter lows occasionally fall below freezing. Winter is typically dry and snow is very uncommon.
Sights
Visiting Austin is more about taking in the city's atmosphere than it is about seeing specific attractions. Make sure you visit some local bars and head to an outdoor festival if there are any while you're in town.
Specific sights in the city include several museums as the University of Texas at Austin such as the Blanton Museum of Art, the Harry Ransom Center, and the Texas Memorial Museum of Science and History. The LBJ Presidential Library also has interesting exhibits as well. Austin is also famous for the beautiful Texas State Capital Building. The building is covered in pink granite and is actually fourteen feet taller than the U.S. Capital Building in Washington DC. The building is open to the public seven days a week.
Many people make a point of seeing the Austin bats while visiting the town. Along Congress Avenue bridge there are more than a million Mexican free-tailed bats that are most active at dusk between the months of March and November.
Neighborhoods
As a tourist, the most interesting part of Austin is the downtown area. This is the central business district and also where you'll find most of the city's live music venues, bars and restaurants. The area around the University of Texas is where you'll find the highest concentration of students. There are also some museums and cheap places to eat. North Central Austin has historic residential neighborhoods and East Austin is a diverse area with a mix of cultures and a vibrant art scene. Most of the city's tech businesses are located in Northwest Austin. South Austin is worth a visitor and you should make a point of visiting South Congress, with its eclectic shopping and eateries.
Activities
There are many festivals in Austin throughout the year, but the two largest events are South by Southwest (SXSW) in March and Austin City Limits in October. SXSW has both a film and music component. Austin City Limits is a three day outdoor music festival that brings many people to town.
Other activities around town include swimming in the spring fed pool at Barton Springs in South Austin, seeing a show, or going to a music concert. The area around Austin also has many outdoor activities including swimming, rock climbing and hiking.
Food and Dining
Most of the food culture in Austin is based on either Tex Mex or barbecue, both of which are ubiquitous and delicious. Favorite restaurants around town include Franklin Barbecue, Garrido's, and Chuy's Restaurant. If you're looking for other food options however, they may be more difficult to come by. This is particularly if you're looking for ethnic food besides Tex Mex.
Austin is also credited with bringing trailer park eateries into popularity. There are many trailers around town that sell any number of food options from tacos to sushi to snow cones.
Transportation
Downtown Austin is easily covered by walking. It is compact and really only stretches over a few blocks. If you're hoping to visit any other neighborhoods, which you should, you really need to have access to a car. There is a bus system in Austin but it is not efficient and is quite slow. There is also a light rail system, but it does little more than connect the suburbs to the downtown area. To fully explore Austin and the surrounding hill country, a car is an absolute must.
Related:
Looking for a
party hostel in Las Vegas
or
San Diego
? Traveling alone to
NYC
or
LA
? Want a budget hostel in
San Francisco
?