Bucharest On a Budget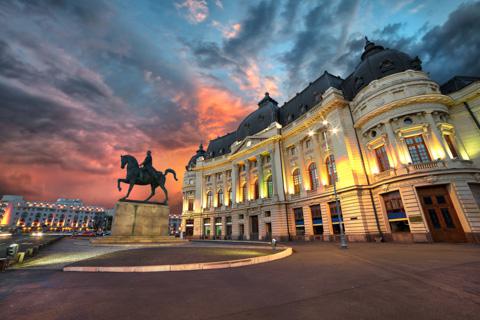 Bucharest is the capital and largest city in the country of Romania. With about 2 million residents living in the city and about 2.4 million in the surrounding urban area, it is also one of the largest cities in Southeastern Europe. As such, it is the economic, industrial and commercial center for the country. As a visitor, you will likely enter Romania by arriving in Bucharest. The city continues to grow and change, and there are ongoing infrastructure projects that continue to modernize the city. It is not uncommon to find historic churches on the same block as modern office buildings and Communist style apartment buildings. There are also many sights around town and the city continues to grow as a trendy and fascinating city.
Bucharest has a temperate continental climate that is similar to that found throughout Romania. There are four seasons with hot summers and cold winters. The spring and fall seasons are quite short. Summer high temperatures average about 29 degrees Celsius and winter high temperatures are around 2 degrees Celsius. Winter temperatures have dropped to -20 degrees Celsius before, although it rarely falls below -12 degrees Celsius. In general, the best times to visit the city are April through June and September through October.
Sights
Major landmarks in Bucharest include Parliament Palace, Lipscani, Revolution Square, the Arch of Triumph, Romanian Atheneum, and the WWII American Memorial. Museums include the Village Museum, the
Museum of the Romanian Peasant
, the Art Museum, the
National Museum of Contemporary Art
, the Old Court Museum, Cotroceni Palace Museum, and the Bucharest History Museum, among many others. There are also many churches and monasteries in the city. These include Curtea Veche Church, Pariarchal Cathedral, Stavropoleos Church, Coltea Church, New St. George Church, Kretzulescu Church, Plumbuita Monastery, and Otetari Church.
Neighborhoods
Bucharest is very much a mix of the old and the new. It is not uncommon to see old buildings next to new ones. Neighborhoods throughout the city continue to change and modernize. The downtown area has most of the city's more visited attractions including Parliament Palace, the Bucharest University, and most of the museums. There are also many bars and an active nightlife.
Most of the city's neighborhoods are referred to by the nearest metro station. Neighborhoods without metro stations include Dorobanti in the northeast, Drumul Taberei in the west, Rahova and Ferentari in the southwest and Lipscani, or the old city center which is located between Unirii and Universitate Square.
Activities
There are some good walking tours of the city center, some of which are even free. During the peak season you may have to book in advance. Ask for information at your hotel or a tourist information center.
Another interesting activity is to tour the many old urban buildings that have been left over from the Communist era. They can be a fascinating look into the past. Check out this
guide to Urban Ruins in Bucharest
for more details.
Parks are popular places to relax in the city as well. Cismigiu Garden is a small park near the center of town. It's also the oldest park in the city and has boat rental in the summer or ice skating in the winter. Other parks worth visiting include Herastrau Park, which is one of the larger parks near a lake on the Colentina River, the Botanical Gardens, Carol Park, Tineretului Park, and Titan Park. If you want to see a concert, some of the best venues are Opera Nationala, Filarmonica George Enescu, and Teatrul National de Opereta Ion Dacian.
Food and Dining
Eating out in Bucharest is cheap by European standards. There are restaurants that range in price and style and you can usually find something you like whether you're looking for fine dining, are quick and cheap. Many restaurants have a menu option that includes an appetizer, main dish, dessert and drink for about 7 euros. There are popular fast food places and Shaorma is availabe everywhere. It's possible to find traditional Romanian food as well as international options such as Turkish, Italian, French, Chinese, Spanish, Indian, Greek, and Japanese.
Transportation
Public transportation in Bucharest is very comprehensive, although it is often crowded and chaotic. The
metro
has four lines and covers most areas in the city. It's very cheap and is a relatively easy way to get around. There are fewer stops in the city center than you might expect but it is still a great way to get around, particularly if your hotel is in an outlying area.
There is also a very elaborate network of buses, trams and trolleybuses. It can feel confusing at first, simply because it is so large, but once you've figured out where you're going, it can be a great way to travel. The vehicles are very frequent and there are stops almost everywhere. It can be crowded, particularly during rush hours, but the prices are good and the travel times are relatively fast.
It's also easy to find a taxi in Bucharest, but you should avoid any independent cab drivers and stick with the major companies. The rates should be displayed on the door and read these numbers closely as the prices can be somewhat misleading.
Related
Traveling alone to
Prague
or
Budapest
?
Looking for a party and need a
hostel in Prague
or
Budapest
?