Belgrade On a Budget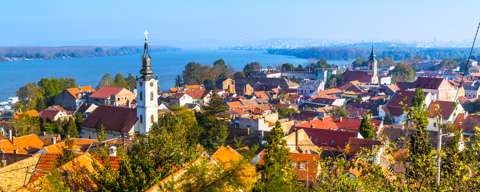 Belgrade is the capital city of the Republic of Serbia. Dating back to the 4th Century BC, is has seen many changes from Celtic tribes at its earliest beginnings to Roman rule, the Ottoman Empire, and Serbian independence. Relics of its past can be seen today in Belgrade's architecture and museums, while there are also a host of contemporary activities like nightlife, clubs, cafes, and concerts.
Sights
Most of Belgrade's sights can be easily seen on foot. Just walk to the end of Knez Mihailova Street to see one of its greatest landmarks, Kalemegdan or the Belgrade Fortress. Once an important military fortification, it now serves as the central park of Belgrade with beautiful views of the Sava and Danube rivers, especially during sunset. In addition to the fortress walls and a statue of Pobednik, a symbol of Belgrade, the park also has several cafes, basketball courts, museums, and an observatory. Srpskih vladara or Kralja Milana Street connects Belgrade Fortress, Knez Mihailova Street, and Republic Square with Slavija Square. From here you can wander and admire attractions like the Old Royal Palace, the New Palace, and the Saint Sava Temple-the largest Orthodox church in Serbia. Other important churches include the Belgrade Cathedral, Ruzica Church, and Church of Saint Petka.
There are also a number of museums dedicated to exhibiting the history and culture of Belgrade and the surrounding area. The National Museum of Serbia, for example, is the oldest and largest in the country with over 400,000 objects that range from archaeological artifacts, to medieval findings as well as collections of Italian, Dutch and Flemish, French, Russian, English, Japanese, Austrian and German, and Serbian and Yugoslav art. You can also visit the Nikola Tesla Museum to learn all about the life and work of the pioneering scientist in electricity and magnetism. Other museums include the Ethnographic Museum, Museum of the Serbian Orthodox Church, Museum of Roma Culture, and the Aeronautical Museum.
Neighborhoods
Skadarska Street or Skadarlija is the old bohemian quarter of Belgrade. Here, the quaint cobbled streets are bustling with restaurants, cafes, musicians, and galleries. What began as a Gypsy hovel in the 1830s has now become a hub for the youth and bohemian artists of Belgrade-writers, actors, painters, and more. Skadarlija today is a big tourist draw for Belgrade. The short, curved street is completely pedestrian with a replica of the Sebilj fountain and a number of souvenir and antique shops in addition to the well-known restaurants and galleries. You might also come across actors in traditional Serb costumes performing on the street or groups playing Serbian brass and other traditional music. Another pedestrian street in Belgrade is Knez Mihailova Street, busy day and night with opportunities for shopping and dining, while the Republic Square is the best meeting place in the city. And then there is Gardosh-a historic neighborhood that exhibits a cultural environment with narrow streets, old houses, and churches.
Activities
Once you've explored the sights and museums mentioned above, Belgrade has even more for the tourist to do during his or her visit. During the summer season you can visit Ada Ciganlija, a river island on the Sava, which has a gravel beach and opportunities for water skiing, bungee jumping, football, basketball, beach volley, golf, and tennis. You can also visit the Observatory at the Belgrade Fortress for panoramic views of the city, see an opera, ballet, or play at the National Theatre, visit the Zemun Quay waterfront, or ride up to the viewing platform on Mount Avala. If that isn't enough, Belgrade even has facilities for bowling, ice skating, and a zoo. And if you are up for some more history, take a ride to the White Palace, a mansion that is a part of the Royal Compound featuring royal residencies and parklands in the Dedinje area of the city.
Food and Dining
Serbian cuisine can be found throughout the city, though there are also a number of international options as well including Chinese, Japanese, Mexican, and Italian. A few traditional dishes include a ground beef or pork patty called pljeskavica, a grilled minced meat on a flatbread called cevapi usually served with onions and sour cream and other dressings, as well as the Karadordeva snicla which consists of breaded rolled steak stuffed with kajmak (a dairy product similar to clotted cream) and occasionally sliced ham and cheese. The national drink of Serbia is the plum brandy sljivovica or homemade rakija . As one of the Balkan countries, Serbia takes culinary influence from the surrounding area as well Middle Eastern and European cooking to include a full range of rich meats, cheese, fresh pastries, and desserts.
Transportation
By plane, the nearest airport is Belgrade Nikola Tesla Airport, located 18 kilometers west of the city center. It is the home base of Air Serbia, which flies to nearly 40 destinations worldwide. Other major airlines that fly to Belgrade are Aeroflot, Qatar Airways, Turkish, Lufthansa, Austrian, Alitalia and Swiss, as well as a handful of discount carriers. There are buses and taxis that operate between the airport and Belgrade-see airport website for details.
Serbian Railways operates trains in Serbia. Most international and national trains stop at the Belgrade central station located 1-2 kilometers downhill from Republic Square. Tickets are available at the station.
Belgrade's central bus station is located right next to the train station on Karadordeva Street. Services are available to national and international destinations.
As Belgrade is situated where the Sava and Danube Rivers meet, the city can also be reached by passenger ship, though the journey is usually longer and more expensive.
Related:
Looking for a party in
Croatia
?
Traveling alone to
Split
or
Dubrovnik
?