Choosing a Travel Destination
Travel Cost Guides
Download our new travel cost guides before your next trip!
For many first time travelers, settling on an itinerary can be one of the first challenges they face. Regardless of the length of your trip, you'll have to decide where to go, how long to stay, and how to travel between destinations. Guidebooks can be particularly helpful when you begin planning your trip, but they can also be overwhelming. When you are narrowing down your list of destinations, consider what you enjoy doing at home. While this may seem like an obvious statement, it's surprisingly easy to be influenced by other people's opinions and lose track of your own personal interests when you're planning a trip. If you're not interested in partying, consider this when you choose places to visit. If you're an outdoor enthusiast, then cities that are world renowned for their museums may not be your favorite. Consider yourself and your personality when you choose where you go. Your personality and preferences won't change dramatically when you're on the road. If you're not interested in museums, don't plana trip where you spend days looking at art. That being said, travel is also a time to step outside of your comfort zone. If you're going to a country that is famous for your white water rafting, consider giving it a go, even if you're nervous and uncomfortable with the idea.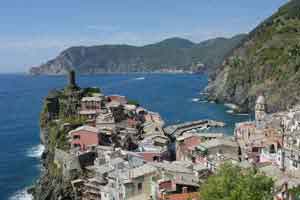 Many countries, particularly those that attract the greatest number of tourists, have a handful of destinations that are famous and "world-renowned". These destinations are often considered "not to be missed." Sometimes the reputation overstates the actual experience. Do some research and don't be afraid to skip a popular sight if it doesn't appeal to you. Instead, think outside the box and find a smaller town or park that may be overlooked by most visitors. These off the beaten path destinations often prove to be people's favorites. A good mix of tourist spots and off the beaten path towns can make for a fun and well rounded trip.
Traveling Overland Through Countries
Depending on the length of your trip, you may choose to visit several countries or just one. For inexperienced travelers, this may be their first time crossing a border over land. Land border crossings are generally smooth and quick, but do make sure you research the hours of operation for the borders on both side. Generally, the process takes you first to a border station of the country you are leaving. There you will receive your exit stamp for that country. Then you will travel through a "no man's land" until you reach the checkpoint of entry for the new country. In some regions, such as Europe, you may not even realize you've crossed a border, while in others the processs can be somewhat cumbersome. In particular, if you must purchase a visa, the process may take a little longer.
Research your transportation options as they relate to border crossings before your trip begins. Sometimes trains or buses will carry you directly from one city to another and include the border crossing in the route. Other times you will have to take a bus to the border, make your way independently into the new country, and catch a new bus on the other side. If you find yourself in this situation, it's important to know ahead of time exactly how big that "no man's land" is. In some cases it's short enough for you to walk, while other times you'll have to take a taxi or catch a ride. If you're taking a taxi, make sure you have the appropriate currency to pay the driver. There are not always money changers at the border.
Popular Regions to Travel Through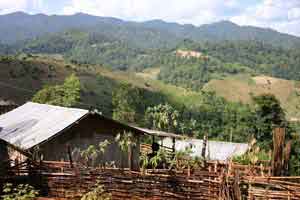 If you have a month or more to travel, you'll likely want to visit a larger region. There are some popular regions that lend themselves easily to overland travel. Some places you might consider include Eastern or Western Europe, mainland Southeast Asia, India and Nepal, Egypt, Israel and Jordan, or Central America. These regions all offer convenient transportation, straightforward border crossings, an obvious travel route, and interesting cultures and travel sights. Obviously Europe is a large land mass and unless you have indefinite amounts of time, you will want to narrow down your destinations. Flights are available in many cities, but they are not necessary. Bus and train travel in Europe is quite easy and popular.
Mainland Southeast Asia is one of the more popular destinations for "backpackers." The affordability of the region makes overland travel not only convenient but also cheap. Most people travel by bus through the region but some trips can be made by train as well. The border crossings are generally straightforward, but some countries may require visas. Some of the bus trips may also be long and uncomfortable. Overnight bus trips are not uncommon.
India and Nepal are two of the most affordable countries you can visit. It is relatively easy to travel between the two countries. Buses and trains are the most popular mode of transportation in the region. Unless you have a significant amount of time, you will want to select one region in India to explore.
Egypt, Israel and Jordan and geographically close but culturally diverse. You can cross between these countries with relative ease. Transportation in each of these countries is convenient and reliable. Buses are the most practical and convenient way to travel through each country.
Central America is a relatively small region so it can be explored in less time than some other regions. Still, there are many different countries and if you hope to fully experience each of them you should allow yourself plenty of time. Border crossings can be somewhat chaotic in parts of Central America but you will generally have no real problems if you have the appropriate paperwork. Buses are the most common means of travel in the region. There are a variety of different classes of bus, so if you are looking for comfort and convenience you may have to pay slightly more.