Such a WONDERFUL hostel!! The staff are fantastic and it is such a great place to meet new friends, especially for solo travelers!! There are walking tours everyday that are super fun and free dinners every night before drinking games and going out! All of the staff are so friendly and make you feel right at home! I have a great time whenever I stay there and will definitely stay there every time I visit London!!:) - Austyn
What sets them apart?
This hostel is all about socializing. There are daily and nightly activities, FREE dinners, pub crawls, and plenty of opportunities to meet other guests. If you're in London to party, then this is the hostel to stay at.
Hostel Personality
Who's staying here?
This hostel strictly enforces it's age limits (18 to 36 years old). In reality, most of the guests are under 30. This is a party hostel so if you're in London to party, then this is the place for you. There are daily activities, free dinners, and pub crawls every night. Don't plan on sleeping but do plan and having a good time and meeting new people.
Insider Tip
This hostel is all about the activities, so if you're hoping to meet other guests make sure you take advantage of whatever's happening when you're in town.
Hostel One Notting Hill
Hostel One Notting Hill is all about the party. It's a social hostel with daily activities for guests including drinking games, pub crawls,
FREE
dinner, walking tours, and more. The hostel is run by backpackers for backpackers. If you've come to London to party, then this is one of the best party hostels in the city.
The hostel is located in the Notting Hill area and is easily accessible by public transit. There are several tube stations very close by and you can get almost anywhere you'd need to in the city.
The staff at the hostel are travelers themselves so they know what to do to make your stay fun and memorable. There's definitely a lot of emphasis on fun at this hostel.
The Facilities
Dorms
This hostel has 4, 6, and 8 bed dorms. The rooms are a bit small, but this is very common in London hostels. All of the rooms are co-ed, so do note that there are no female only rooms. This is a hostel where you shouldn't plan on spending a lot of time sleeping, so expect a basic room with metal framed bunk beds.
Private Rooms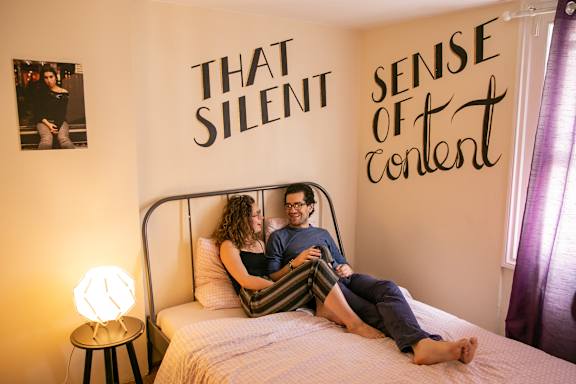 If you want to enjoy the party but then return to your own space in a private room, then you'll likely appreciate either the double or twin private rooms. The rooms use shared bathrooms and are still affordable. It's a great option for friends or couples who want to take advantage of all of the hostel's amazing amenities but don't want to deal with the hassle of staying in a dorm.
Bathrooms
Most of the rooms use shared bathrooms at this hostel. The bathrooms can get a bit dirty and expect a crowd during peak shower times. If you shower during the off times you can avoid a lot of the hassle.
Common Areas
This hostel has a large common area where guests love to hang out, play drinking games, and generally enjoy themselves. There's a shared kitchen where you can cook your own meals, but most guests choose to take advantage of the free nightly dinner. There are plenty of places to eat and drink. Many guests stay up late into the night enjoying the party.
Outdoor Space
In addition to the indoor common spaces, there's an outdoor terrace where guests often gather when the weather is nice. It's not uncommon for people to hang out on the terrace until the late hours of the night drinking, chatting, and having a good time.
The Location
Notting Hill
What's Nearby?
This hostel is located in the famous Notting Hill area. It's close to Portobello Road Market and Royal Albert Hall. The area around the hostel has some great restaurants and cafes, nice green spaces, and a lot to see and do. This is one of the most beautiful parts of London and guests love the location.
Nearby Transportation
There are several tube stations nearby including Bayswater, which is just a couple minutes away. The station is on the Circle and District lines. Queensway Station is also nearby and on the Central line.
Activities
Hostel One is a social hostel and guests love the activities that they organize. There is FREE dinner every night that you can enjoy. This is the perfect time to meet other guests. There are often drinking games and lots of time to hang out in the evening before everyone heads out to a bar or club. During the day there are walking tours and other activities where you can meet other guests.
Amenities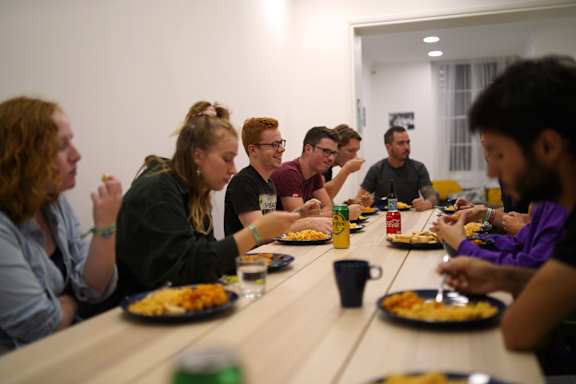 This hostel offers a breakfast every morning that you can enjoy for a small price. Don't miss the free dinner they provide every night though! There's also luggage storage, Wi-Fi access, and a shared kitchen where you can prepare your own meals.
Staff
This hostel is run by backpackers that are all about having a good time. This is a social hostel with a party vibe, and that's thanks to the staff who organize the activities and make sure everyone's enjoying themselves.
Heads Up
This is a party hostel, so expect all of the baggage that comes with that. It can be loud and some guests feel the hostel could be cleaner.
Hostel One Notting Hill
Do you have a favorite hostel that you would like to review? Let us know!