The best part of this hostel is the fact that it is literally right across the street from St. Pancras, which is great if you have an early train in the morning. Snacks are relatively cheap and even though you have to pay to keep your luggage in lockers, I felt secure leaving my luggage there before checking into my room in the afternoon. - Anonymous
What sets them apart?
This hostel's location right across from St. Pancras Station is its most popular draw for guests catching early morning trains. The hostel is also very affordable with simple rooms and a nice cafe.
Hostel Personality
Who's staying here?
Many guests stay here because they have an early morning Eurostar train to catch the next day. It's a cheap place to stay with basic rooms. It's not a particularly social hostel, so don't plan on meeting a lot of people, but it's a diverse crowd in a safe and secure environment.
Insider Tip
This is one of the most convenient hostels if you have an early train to catch.
YHA London St Pancras
YHA London St Pancras is a popular hostel for travelers who are catching early morning Eurostar trains. It's conveniently located right across the street from the station and is a cheap and reliable place to crash for a few nights.
The hostel has basic rooms with comfortable bunk beds. The staff are friendly and the cafe is a great place to enjoy a cheap meal. The hostel attracts a diverse crowd of travelers of all ages, but most guests keep to themselves or stick to their own groups.
The Facilities
Dorms
This hostel has six bed dorms that are split into either female only or male only rooms. The dorms have basic bunk beds and simple furnishings.
Private Rooms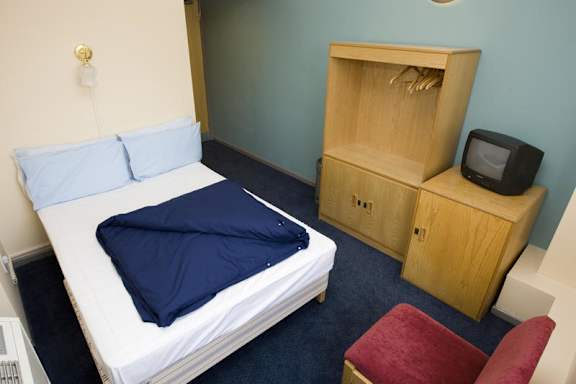 Private rooms include double, twin, quad, and six bed rooms. These are good options for couples or anybody traveling with a small group. While the double room has a standard double bed, most of the other rooms have bunk beds.
Bathrooms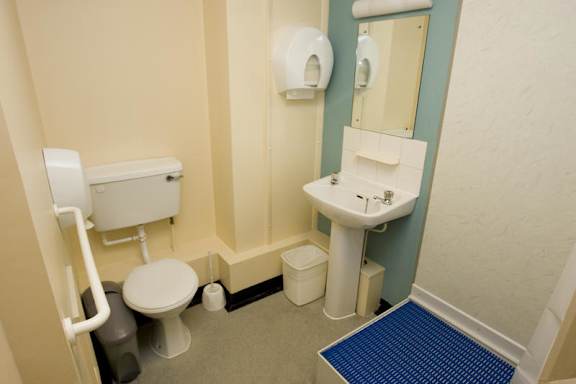 Some of the rooms have en-suite bathrooms while others used shared bathrooms in the hallway. The showers share a room with the toilets, so things can get a bit crowded during peak times.
Restaurant
This hostel has an on-site cafe that serves a filling breakfast and light meals throughout the day. It's a very casual environment and is a great option if you want to grab something fast and cheap. They also have wine available which is nice after a long travel day.
The hostel doesn't have a kitchen available to guests, so many visitors appreciate the options available at the cafe.
Common Areas
The cafe and lounge area is the main hangout space in this hostel. There are tables and chairs and sofas where you can chill out and pass the time. The cafe has a relaxed environment that's perfect for unwinding with a meal or a glass of wine.
The Location
Bloomsbury
What's Nearby?
Located very close to St Pancras station and King's Cross, this hostel is very accessible to everything that London has to offer. It makes a great base for exploring the city and is near many great markets in Camden. It's also near the London Zoo, the British Library and the British Museum, which is about a mile away. If you're interested in some shopping, you can reach Oxford Street in less than a half hour's walk.
Nearby Transportation
This hostel is perfect if you're planning to take the Eurostar, which is right across the street. Head to St Pancras Station for all kinds of transportation connections. The hostel is also close to King's Cross. If you've flown into either Heathrow or Gatwick, you'll also appreciate the hostel's easy accessibility.
Amenities
This hostel has a variety of amenities available, but many of these amenities come with a small fee. Breakfast in the cafe is nice and the elevator to access the higher level rooms is much appreciated. The Wi-Fi can be hit or miss in some rooms but the common space has a strong signal.
Staff
The staff here are friendly and helpful. They keep the environment casual and everyone feels comfortable and respected. This isn't a particularly social hostel, but the staff are professional and the check in and check out process is convenient and easy.
Heads Up
This hostel isn't a social hostel and most guests keep to themselves. The rooms are clean and simple but there is no kitchen. If you want something cheap to eat, the cafe is a good option.
YHA London St Pancras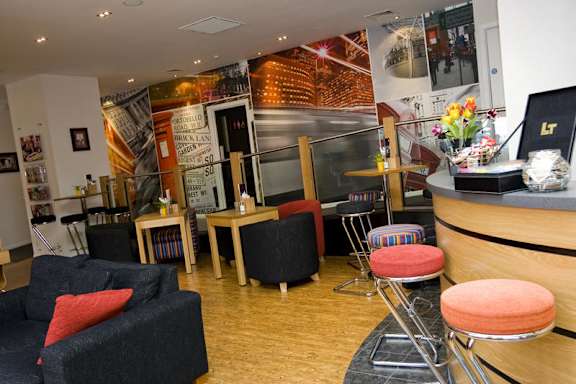 Do you have a favorite hostel that you would like to review? Let us know!