It was super clean and comfortable! The terrace was amazing, sunsets looked beautiful up there. Overall an amazing place. - Nat
What sets them apart?
This hostel's clean facilities and quiet atmosphere make it a reliable option for budget travelers. The rooftop terrace offers excellent views of the sunset and there's a bar where you can grab drinks.
Hostel Personality
Who's staying here?
This hostel has a quieter vibe so it's best for couples and small groups who aren't looking to party as much, but rather explore the touristy side of Madrid. It can feel a bit like a hotel, which appeals to many travelers who want budget accommodation without the party atmosphere of many hostels.
Insider Tip
Head up to the terrace if you're looking to meet other guests. This is the place to go if you want to socialize!
Safestay Madrid
Safestay Hostel offers reliably clean facilities, large rooms, comfortable beds, and a quiet setting where you can enjoy a good night's sleep. This hostel is large and modern and it appeals to a diverse range of guests from a variety of nationalities. The rooms are affordable and comparable to most hostels, but the atmosphere is more like a hotel.
The hostel's rooftop terrace and bar are the place to be if you want to meet other guests or simply enjoy the sunset over the city. It's a gathering place for locals and tourists alike.
The Facilities
Dorms
This hostel is large enough that it has a wide range of dorm sizes and styles. You can choose between 4, 6, 8, and 12 bed rooms as well as rooms with shared bathrooms and "premium" dorms with ensuite bathrooms (these sleep either 4 or 6 people). There are also co-ed dorms and female only rooms. The female rooms are furnished with a table and mirror.
The rooms are surprisingly large, particularly by European standards. The beds are comfortable and the rooms and kept clean and well air conditioned. Guests also have access to a locker. Many rooms have a balcony, too. This is a quiet enough hostel that you can be assured a good nights sleep as well.
Private Rooms
The hostel also has double private rooms that are well furnished, comfortable, and air conditioned. This is a good option if you want a little more space to yourself.
Bathrooms
Guests can choose between shared or ensuite bathrooms. There are even dorms that have ensuite bathrooms, which is convenient. The bathrooms are clean and modern, and plenty are available for the number of guests, so you likely won't have to wait. The showers are hot with good water pressure as well.
Bar
The bar at the rooftop terrace is the most social part of the hostel, but it is only open during the summer months. Year round you can visit the pub below. The rooftop bar has drinks, salads, burgers and more. The prices are a bit high but the atmosphere is great. At the pub you can get food or drinks and they often have DJ's on the weekends.
Common Areas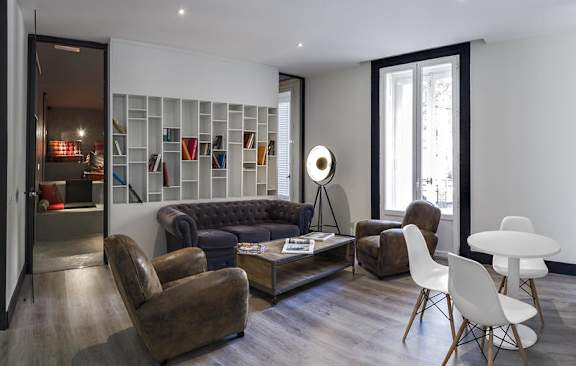 Inside the hostel there are a few great common areas, each with its own style and personality. It's not hard to find a sofa or place to lounge with a good book or a table where you eat a snack. You can also pull out your computer and use the Wi-Fi- to connect with friends back home. Left your computer at home? There are public computers on every floor that you can use.
The Location
Chamberi
This residential neighborhood offers a glimpse into traditional life in Madrid. There are taverns, stores, and parks throughout and residential buildings have beautiful balconies and impressive architecture.
This area is lively without being crowded and interesting without being loud. It's a peaceful setting where you can sit back, relax, and soak up Madrid's local atmosphere.
What's Nearby?
This hostel has an impressive location in a 19th century Madrid building located near Alonso Martinez Square. It's location is a bit outside of the city center (about a 20 minute walk) but it's well connected to public transit. It's about a five-minute walk from Fuencarral Market and the lively Chueca district. You can also reach Puerta del Sol and the Thyssen and Prado Museums in about twenty minutes on foot. In the surrounding area you'll find restaurants and supermarkets where you can grab a bite to eat.
Nearby Transportation
There are three metro stations within a few minutes' walk of the hostel and there's a city bus stop just outside the door. These are all convenient as the hostel is a bit outside of the city center. Alonso Martinez Metro Station is on Lines 4, 5 and 10. Tribunal Metro Station is on Lines 1 and 10 and Bilbao Station is on Line 1.
Activities
This hostel has a bar at its rooftop terrace (summer months only) and a pub that's open year round. On weekends there's a DJ playing music in the pub and many guests enjoy hanging out. There are also occasional movie nights or game nights.
Amenities
This hostel's large size means they have a wide variety of amenities for guests including Wi-Fi, laundry facilities, an elevator, air conditioning, and even public computers on every floor. There are also board games and a book exchange you can take advantage of. The hostel is very secure with key card access and a 24 hour reception area.
Staff
The staff are hard working and available 24 hours a day to answer any questions you may have. They're very professional and knowledgeable about Madrid, so feel free to hit them up for any tips on exploring the city.
Heads Up
Some people say this hostel feels a bit like a hotel. This is good for many (quiet and professional) but harder if you're hoping for a social environment. The breakfast is a bit expensive and you'll get a bit more bang for you buck if you go to a nearby restaurant. Otherwise, this hostel is a great option.
Safestay Madrid
Do you have a favorite hostel that you would like to review? Let us know!