Had a really enjoyable experience at this hostel! Rooms and bathrooms were nice and clean, with good sized lockers. Beds all had curtains, lights and a electric plug which was great. Really fun vibe at night. Location was good, close to the main street and it was a nice walk to the old town. - Australian Girl
What sets them apart?
This self-described "stylish hostel" is exactly that. With plenty of nice features including custom designed bunk beds and some fantastic common spaces, any budget traveler would be quite comfortable at the Ozz Nice.
Hostel Personality
Who's staying here?
Mostly younger budget travelers stay here. Even some of the private rooms have a dorm-like feel to them, so the travelers here are younger backpackers, solo travelers, students, and long-term travelers. However, it's not uncommon to see some older budget travelers here, as some of the private rooms are more like budget hotel rooms.
Insider Tip
Bring your own padlock and towel if you're staying in the dorms, otherwise you'll have to rent them at the front desk.
Hostel OZZ & Bar By Happyculture
With a convenient location and plenty of great amenities, including a bar, the Ozz Nice hostel offers a lot for guests. The common areas are very social, particularly in the busy summer months. The on-site bar flows into the seating area and the lounge area, so guests are all able to have a great time here. The rooms have plenty of custom features to them, too. It's worth checking out if you're looking for a good time in Nice.
The Facilities
Dorms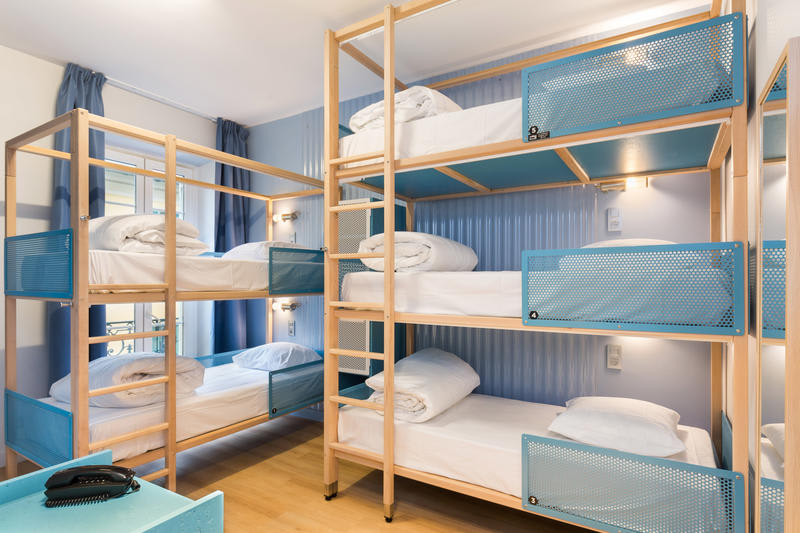 Dorms at the Ozz are modern and have some nice custom features. The bunks are all custom made. Many of them go up 3 levels, while some have 2 levels (you may want to request to not be on the top.) All of the bunks have privacy curtains, lights, and plugs for each bunk. Plenty of natural light comes in through the large windows. Some of the rooms have small balconies, too.
Female-only rooms are available.
Also, the dorms have some very large lockers for each guest (bring your own lock). These lockers are not just large enough for your backpack or suitcase, but also have shelves for other items, coat hooks, and more.
Dorms here also have ensuite bathrooms and air conditioning.
Private Rooms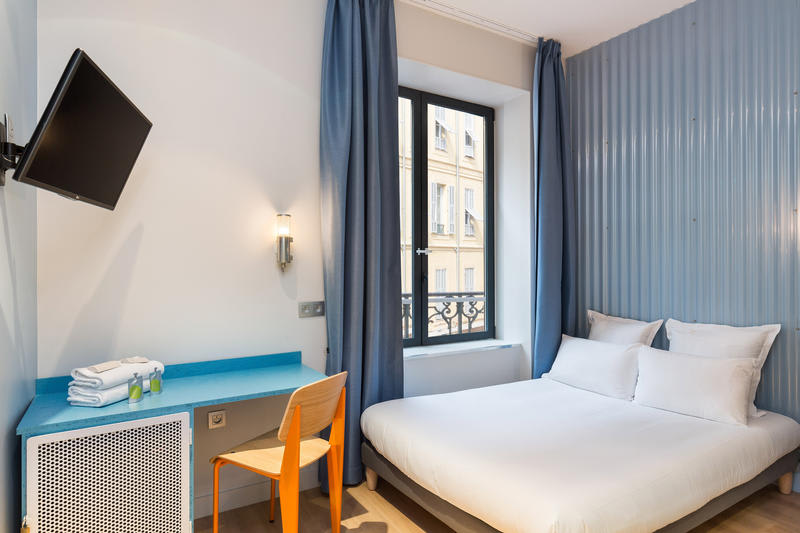 Private rooms at the Ozz Nice come in a variety of sizes. While it's possible to book a larger dorm room for a group of friends, it's also a good option to book a smaller room. This is good for a couple or a pair of friends that want some privacy and quiet time. With ensuite bathrooms, they are comfortable and relaxing. Private rooms here also include towels, soap, and shampoo.
Bathrooms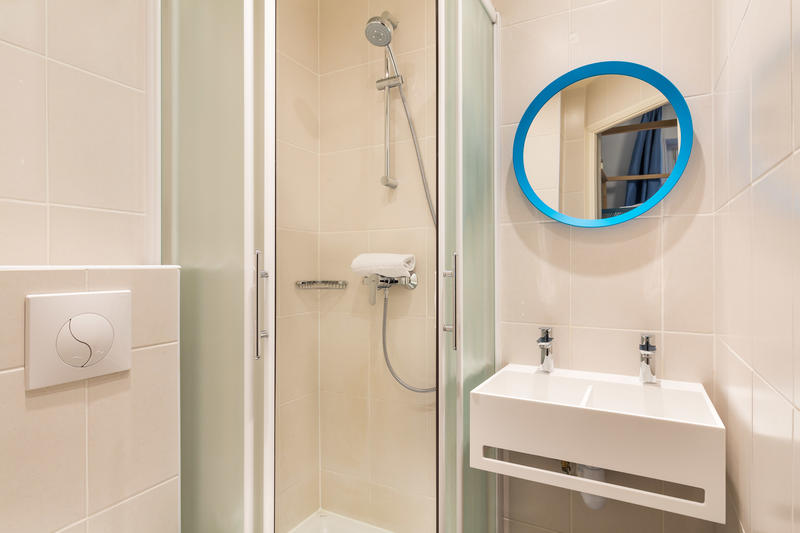 The bathrooms at the Ozz hostel are modern, comfortable, and all are ensuite to their respective rooms. Plenty of hot water and water pressure is available, too.
Bar
The bar at the Ozz Nice hostel is loads of fun, especially during the high season of summer when plenty of other guests are around. The bar area merges into the other common room areas of the hostel, which allows guests to either sit at the tables or have fun in the game and TV room.
Restaurant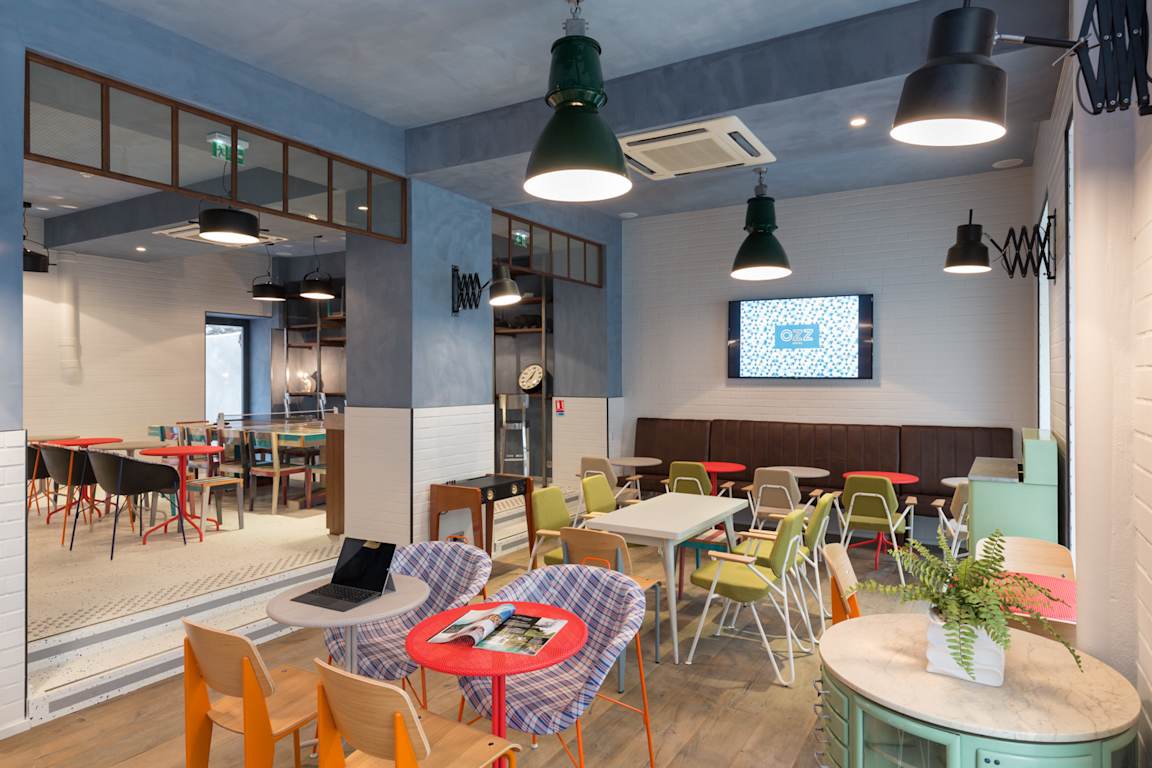 The main common area of this hostel is also a seating area for the cafe. This is where the great breakfast is served, and it's a nice spot to mingle with other guests or just get some work done on your laptop.
Common Areas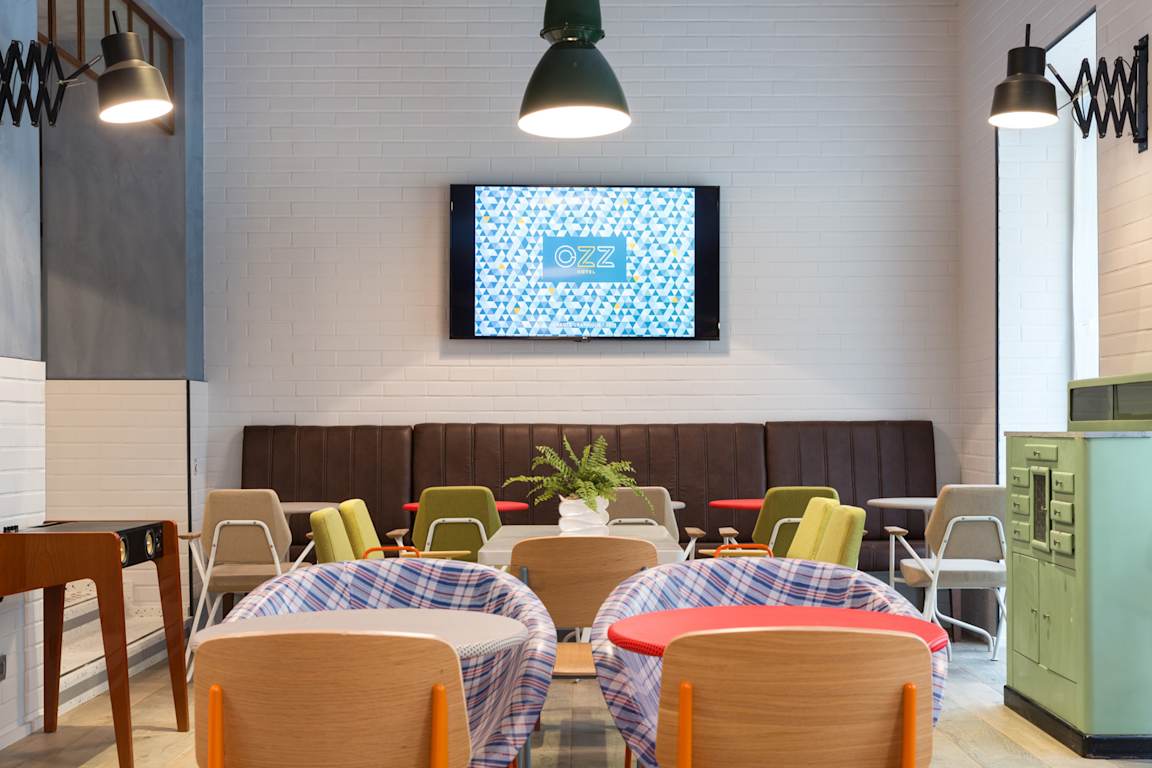 Other than the previously mentioned seating area for the restaurant and bar, this hostel has some fun and relaxing common areas. A game room with a large ping-pong table is set up here, as is a TV area.
Outdoor Space
A small rooftop terrace can be found on the top floor. With a few comfortable seats, this is a nice spot to unwind, enjoy the warm sun of Southern France, and read a book or chat with some friends.
The Location
Gare de Nice Ville
What's Nearby?
As this hostel is situated in the old town of Nice, close to the train station, many attractions and activities are within walking distance. You're only about a 15 minute walk from the beach, and the tram line is just a block away if you want to head down to the Promenade or the museums. Also, within the surrounding blocks are plenty of cafes, bars, restaurants, shops, theaters, and more. You really can't go wrong in this location.
Nearby Transportation
The main train station is only a few blocks away, and the tram line is also quite close. On the tram you can head towards the beach or to the Promenade of the old city. Also, several bus lines run routes right near the hostel, so you can get to the beach or anywhere else in the city if you don't feel up for a walk.
Activities
The bar on the first floor hosts happy hours and late-night parties with music. This is a great place to go during the summer months when things get busy.
Amenities
Other than the previously mentioned bar, this hostel offers standard amenities including free Wi-Fi, coffee machines, an elevator, 24 hour reception, air conditioning, and a terrific breakfast (for a fee).
Staff
The staff here is friendly, fun, and helpful. They can help you plan your time in Nice and make sure that you're having a nice stay at the hostel, too. The hostel is clean and modern, and the staff works hard to keep it that way.
Heads Up
This hostel does not have a communal kitchen so that you can cook your own meals. However, they do have a microwave if you want to heat a few things up. And you're welcome to bring in outside food.
Hostel OZZ & Bar By Happyculture
Do you have a favorite hostel that you would like to review? Let us know!