I have enjoyed my stay very much. Hostel staff were friendly, social and organized a lot of fun things to do during my stay. Hostel was clean and comfortable. Location was also great just beside metro station and close to city centre. Overall, I am super satisfied and would definately come again. - Anonymous
What sets them apart?
In the heart of the Vinohrady neighborhood and next to the metro station sits this smaller hostel that is part of the Hostel One chain. Like many Hostel One branches, the Miru hostel has plenty of great amenities along with organized activities that will keep you entertained, meeting up with other guests, and having a great time.
Hostel Personality
Who's staying here?
As the rooms are mostly dorms, budget travelers generally stay here. Solo travelers, backpackers, gap year and long-term travelers, young couples, students, and small groups tend to be the main type of guests.
Insider Tip
Get to know the metro and tram system, and then you'll be able to explore Prague more efficiently.
Hostel One Miru
The Miru branch of the Hostel One chain is a relaxed and social hostel located in the Vinohrady neighborhood. With numerous group activities such as free dinners, cheap breakfast, and other activities, you'll easily find some new friends here. Also, the rooms are modern and comfortable, and the list of amenities is long. While you're not in the center of Old Town Prague here, the facilities of the hostel make up for it and public transportation is at the hostel's front door.
The Facilities
Dorms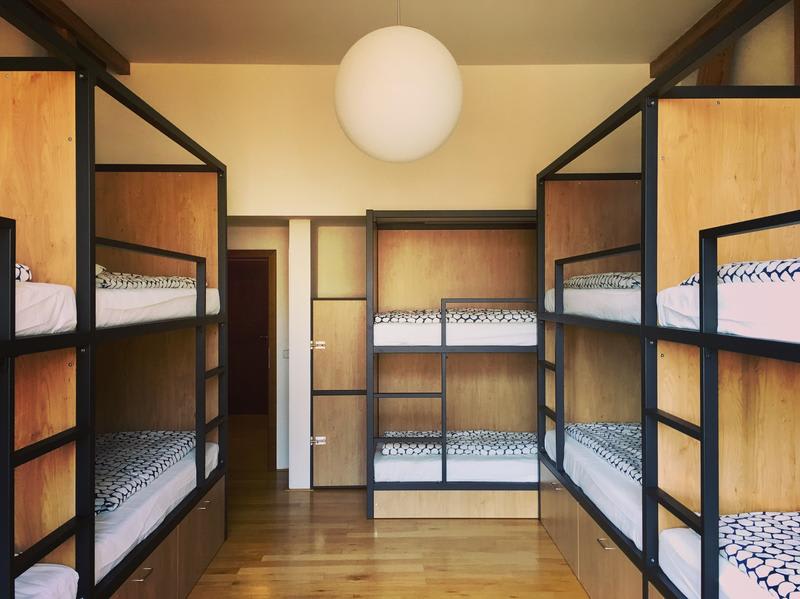 Dorms at Hostel One Miru are modern, renovated, comfortable, and spacious. The beds in most of the dorm rooms are custom made and have plugs and lights for every bed. Rooms come in sizes from 3 to 10 beds, and the smaller rooms don't have bunks, but rather every bed is on the floor. Most rooms also have air conditioning. Lockers are available that are large enough for your bags, too. Most rooms use the hallway bathrooms.
Private Rooms
Double rooms are available for couples or two friends that want some privacy. These are essentially budget-style hotel rooms that use the shared hallway bathrooms.
Bathrooms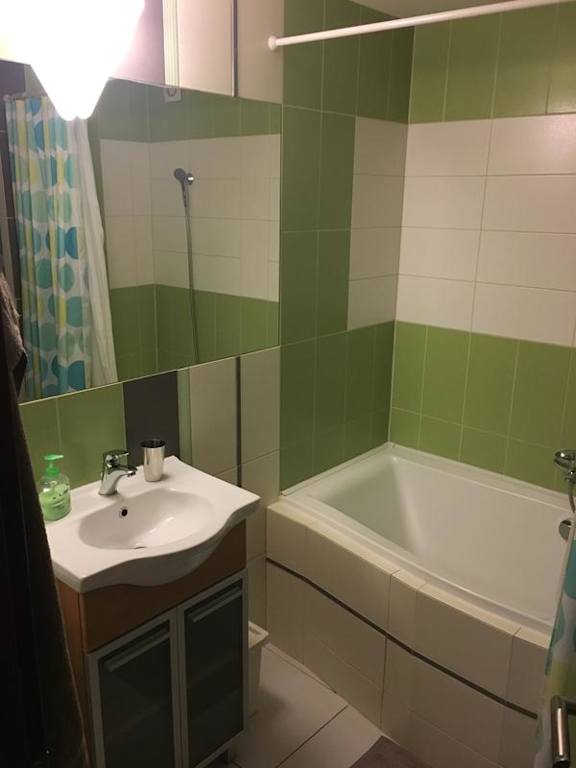 Modern, clean, and spacious, the bathrooms at Hostel One Miru are nice. Plenty of hot water is available. Towels are available for free, as are hairdryers.
Common Areas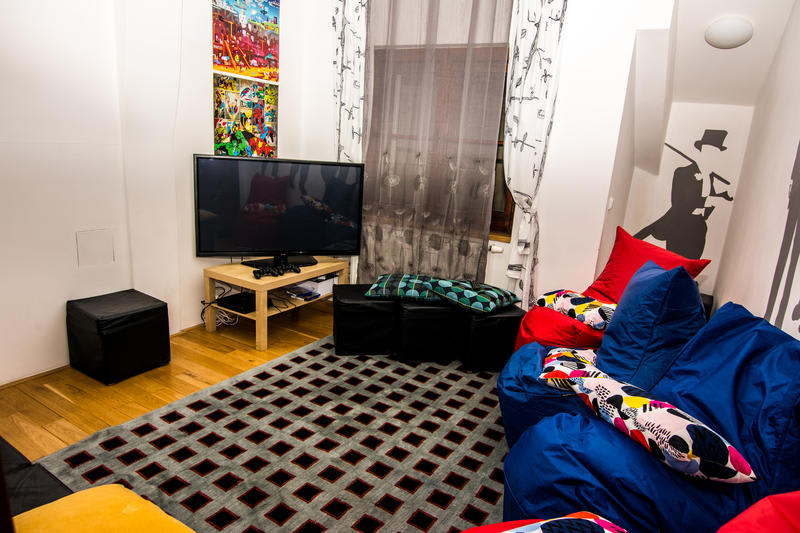 The common rooms here are comfortable and social. The group dinners take place in the dining room, which otherwise is a good place to relax and meet up with other guests or eat the meals that you've cooked in the kitchen.
The lounge has sofas and a relaxing environment with a TV, movies, video games, and more.
The Location
Vinohrady
What's Nearby?
The St. Ludmila church and plaza is directly across the street from the hostel. This is the heart of the Vinohrady neighborhood where you'll find a nice selection of restaurants, bars, clubs, shops, theaters, and more. Located just outside of the old town area, this dense and active area of Prague has plenty of historical character and interesting activities.
Nearby Transportation
The Namesti Miru metro station is located next to the hostel, so all of Prague is at your doorstep. From here you can take metro line A to the main train station, through the middle of old town, up past the castle, and then connect with routes that can take you to the airport. It's a perfectly situated hostel if you plan to use public transportation.
Alternatively, the tram line also runs near the hostel and can connect you into Old Town or New Town to Charles Bridge or anywhere else in the central area of Prague.
Activities
The staff organizes group dinners for free, as well as breakfast for a small price and various tours for guests. Because of this, the hostel has some great social vibes as all of the guests get to know one another and spend time exploring Prague together.
Amenities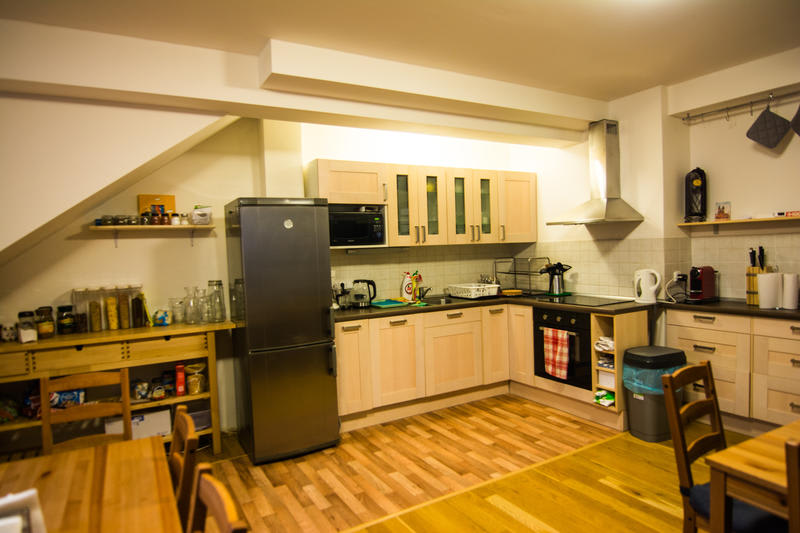 Starting with the fantastic kitchen, the long list of amenities here will make you feel at home. Laundry, free Wi-Fi, towels, maps and tours, and more are on the list.
Staff
The staff here makes sure that everything stays clean and everyone is comfortable. This social hostel gets rave reviews from guests mainly because of the hard work of the great staff.
Heads Up
It's hard to find faults with a hostel that does so well. It's social without being "party hard" and the staff keeps everything running smoothly.
Hostel One Miru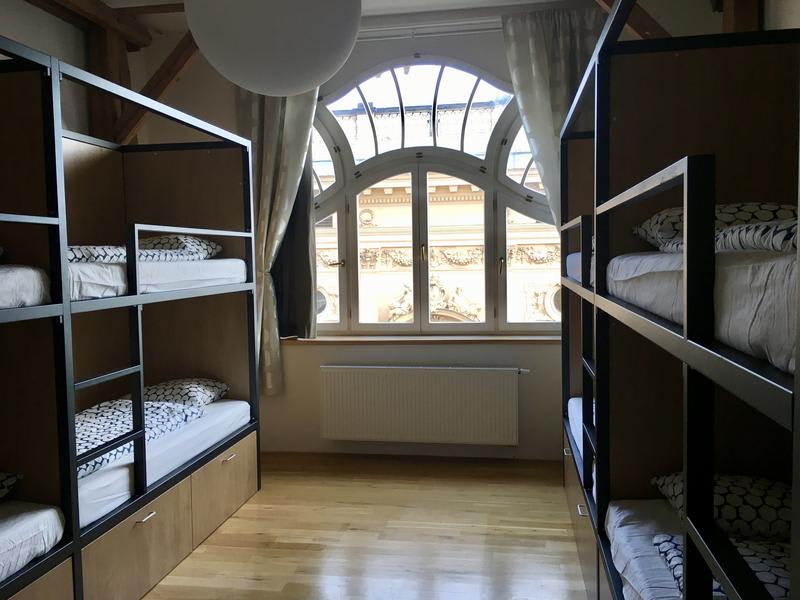 Do you have a favorite hostel that you would like to review? Let us know!