Absolutely loved it here! Location is great, very close to the beach. Very clean and comfortable. They have surfing equipment to rent. Staff are great, many thanks to Ramon, Carlos and the owner! The place has a fantastic chill out vibe. Will definitely come back! - Anonymous
What sets them apart?
The close proximity to the surfing beach and all kinds of surfing equipment available for rent make this hostel an excellent option in San Sebastian.
Hostel Personality
Who's staying here?
This hostel is really all about surfing. It's very close to a great surfing beach. There's surfing equipment available to rent and surfing lessons are available if you're just starting out. Guests of all ages enjoy the experience here, whether you're a seasoned surfer or just learning.
Insider Tip
Talk to the staff about signing up for a surfing lesson. It's tons of fun!
Surfing Etxea
Surfing Extea Hostel offers easy access to one of the area's best surfing beaches. You can arrive at the hostel easily by public transportation and then make yourself right at home. There's surfing equipment available to rent, lessons you can participate in, and other guests to share the experience with.
This is a laid back hostel with a chill staff. It's incredibly clean and comfortable and you'll enjoy a quiet night's sleep here.
The Facilities
Dorms
This hostel offers four and eight bed dorms. The bunk beds are surprisingly comfortable and the rooms are very clean. Some of the rooms have their own terrace and guests get a security locker where they can store their belongings.
Bathrooms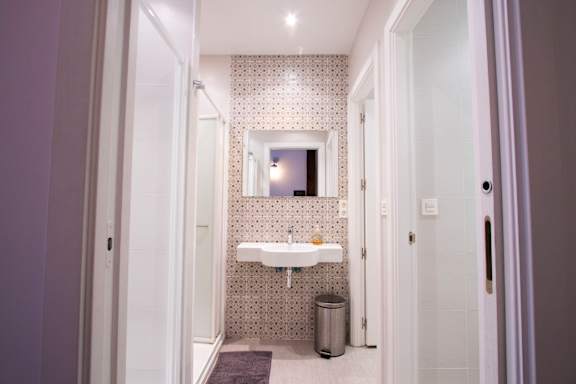 The rooms use shared bathrooms that, like the rest of the hostel, are very clean. There are separate bathrooms for men and women. The showers are good and there's plenty of hot water.
Bar
The on-site bar is a great place to hang out and meet other guests. The prices can be a bit expensive, but the atmosphere is relaxed and fun. The bar is most popular during the peak travel times.
Common Areas
The hostel also has a cozy common area with sofas and a table. Guests sometimes hang out here swapping travel stories and resting after a busy day in the water. The atmosphere is most social during the more popular travel months as things can be a bit slower during the off season.
Outdoor Space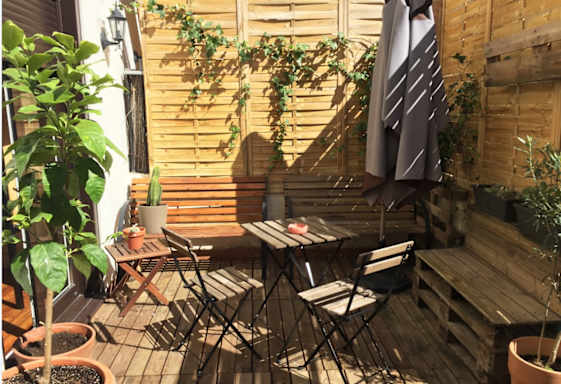 There's a small outdoor terrace where guests can hang out. It's a nice place to enjoy the sunshine with simple tables and a few benches as well as nice plants.
The Location
La Zurriola Beach
What's Nearby?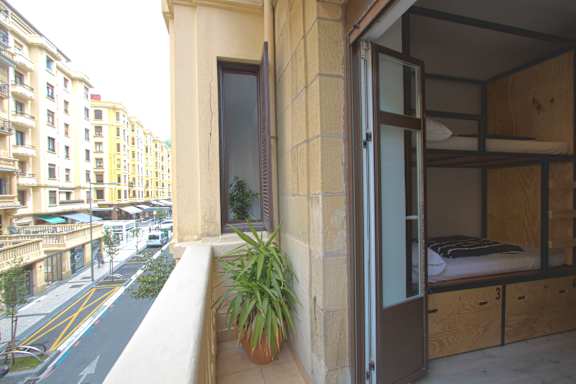 This hostel is ideally located just minutes from Zurriola Beach. It's the perfect place to be if you're interested in surfing. In the surrounding area there are also plenty of restaurants, bars and cafes. You really don't have to go far to find great food or fun hikes. Nearby is Calle Mayor, La Concha Promnade, and the city's tourist office.
Nearby Transportation
There are plenty of bus stops very close to the hostel, so it's easily accessible by public transportation. The airport is about 12 miles away.
Activities
Although the hostel doesn't organize it's own activities, many guests arrange surfing lessons through them. There's also all kinds of surfing equipment that you can rent.
Amenities
This hostel has some great amenities including all kinds of surfing equipment available for rent. There's also bicycles available for rent as well as plenty of travel information. Other standard amenities include Wi-Fi throughout the hostel, vending machines, and a safety deposit box for your valuables.
Staff
The staff here are really laid back. They can help you arrange surfing lessons and will provide any information you might need. They may seem a bit quiet when you first arrive, but over the course of your stay you'll really get to know them.
Heads Up
The kitchen is small and doesn't have the basic appliances. Most guests agree this isn't a problem though because there are plenty of affordable restaurants nearby.
Surfing Etxea
Do you have a favorite hostel that you would like to review? Let us know!