Tahiti and the islands of French Polynesia offer a fascinating combination of island culture, pure romance and natural beauty, and are about as close to paradise as it is possible to find. Tahiti is almost designed to be the perfect place to go on honeymoon, and the mix of gorgeous beaches, idyllic settings and
extreme relaxation
is hard to beat.
Tahiti is a newlyweds dream, but while the mere mention of the name might conjure up overwater bungalows and sun-drenched beaches (and this is definitely on the cards), Tahiti is so much more than this. Newly married couples can put together the ultimate honeymoon in Tahiti with ease, whether your dream is just sunbathing on an empty beach with a cocktail in hand all day, exploring local culture, or getting adventurous halfway up a mountain.
Tahiti has an immense amount to offer newlyweds planning their perfect honeymoon, so read on for some of the best and most romantic things you can do on these gorgeous islands, to make your stay unforgettable. Whether you've been planning to
take a cruise in 2021
around the best island destinations in the world, or you just want to explore everything that
French Polynesia
has to offer, this guide will have you covered.
Things to know
What is it actually called?
The archipelago of 116 islands is officially called French Polynesia, but it is usually referred to as Tahiti (and sometimes Bora Bora). The islands were known as Tahiti for centuries until 1957 when they were renamed, and the old, more romantic name has stuck.
What languages do they speak?
The main languages spoken are French and Polynesian. English is widely spoken and understood, particularly in the more touristy areas and the resorts, but be sure to learn a few phrases in Polynesian and French so you can get by in the markets and make an effort with the local inhabitants.
How do you get there?
The only international airport, Fa'a, is located in the capital of French Polynesia, Papeete, on the main island of Tahiti. All visitors fly in and out of here, then transfer to the other islands by boat or intra-island flights. Flights from the US leave from Los Angeles and take around 8 hours. Getting around the islands is easy, as most are pretty tiny, and almost everyone travels by scooter.
What is the weather like?
Tahiti's weather is heavenly. Tropical and moderate, the sun shines year round, and the temperatures average around 80 degrees all year. November to April is a little warmer and more humid, while May to October is dryer and a little cooler, but you are more or less guaranteed perfect weather whenever you visit.
What sort of cuisine is there?
Fresh seafood is exquisite in Tahiti, as you might imagine, and the local cuisine majors in delicious fish dishes.
Poisson cru
is a favourite, a raw fish
ceviche
with coconut milk, and there is a really interesting French/Polynesian fusion vibe throughout. You'll also find plenty of excellent international restaurants scattered across the islands, and you shouldn't leave without trying out the
roulottes
, local Tahitian food trucks that park up by the waterfront in Papeete.
Where to stay?
Tahiti is the main island, and is vibrant and buzzy. Bora Bora is the most famous, and most visually stunning island, and is the classic honeymoon destination. For couples who would prefer a more alternative, or a more private experience, the Marquesa Islands are remote and mysterious, Rangiroa offers unspoilt white sand beaches fringed with palm trees, and Moorea is perfect for couples on a less generous budget, offering much of the same experiences as Bora Bora but at a significantly lower price.
How much does it cost?
There is no denying that a honeymoon in
Tahiti is not cheap
...but it is a genuinely once-in-a-lifetime experience, and most people feel the costs are justified. When it comes to planning the perfect honeymoon, penny-pinching is not the way to go.
The average cost for a flight from Los Angeles is around $1,300 return, although if you plan ahead you can find flights from as little as $800.
Hotel rooms, particularly for honeymooners, are pricey. If you want to stay on the main islands of Tahiti or Bora Bora, you'll be looking at somewhere between $500 - $1000 a night at a four or five star resort or one of the overwater bungalows, and nothing much below $300 even for the more budget honeymoon packages. Staying on the smaller islands, like Moorea and some of the Tuamotu atolls (such as Tikehau and Fakarava) is much less expensive, with resorts ranging between $200 - $500 a night. If you are on a really tight budget, there are over 300 B&B-style
pensions
scattered across the islands with room rates as low as $100 a night.
Eating and drinking costs can also mount up if you aren't careful, particularly if you eat in hotels. Breakfast budgets at the best hotels alone can run to $40-$60! Expect to pay around $15 - $30 for a main course in a decent independent restaurant, and about the same for a bottle of wine. If you are looking for an alternative, more budget friendly option, try the local street food at the 'snacks' and
roulottes
found on every island.
What to do
Tahiti is made for couples. Everywhere you look the islands live and breathe romance, from the paradise beaches and gorgeous overwater bungalows to the craggy mountain peaks and lush, verdant jungles. It would be perfectly possible to spend the whole of your honeymoon just pampering yourself on the beach (and many couples do just that), but if you do want to look beyond the golden sands and crystal clear waters there's plenty more to see and do.
The beach
Tahiti's beaches are exceptional, and spending your entire honeymoon relaxing on the sand and soaking up sun would be a totally legitimate option. La Plage de Maui is one of the only white sand beaches on Tahiti Nui, and its nearby lagoon offers some exceptional swimming and snorkelling. Lafayette Beach, on the other hand, is coloured pitch black by the nearby volcanic rock. Opunohu Beach on Moorea is a local favorite, while the mile-long Matira Beach on Bora Bora is one of the only public beaches on the island, and a superb find. Finally, you shouldn't miss the amazing pink sand of Tikehau Beach, colored by the coral from the shallow lagoon nearby which is full of beautiful marine life.
Three waterfalls
Looking away from the beach, Tahiti Nui is surrounded by gorgeous jungle full of amazing cascades. A trek through the trees to the north of the island will bring you to Les Trois Cascades or the Faarumai Waterfalls, a stunning series of cascades where you can admire the scenery or take a dip in the natural pools below.
Under the water
The clear blue waters that surround the islands and atolls are full of eye-catching coral reefs and teeming with amazing marine life, and Tahiti offers some of the best snorkelling and scuba diving in the world. The Tikehau Atoll is the gateway to the best scuba diving the islands can offer, while Rurutu Island is the destination for humpback whales between July and October. When it comes to snorkelling, almost every island across the archipelago offers calm waters, beautiful shallow lagoons and stunning coral reefs where you can see everything from dolphins and turtles to manta rays and sharks.
The Huahine Natural Aquarium
For couples not wanting to get their head below the water, the
Huahine Natural Aquarium
is a great option. The Aquarium allows you to get up close and personal with the amazing creatures that live in the waters around the island, via platforms into the shallow lagoon. You can watch from the deck, or dive into the water to get even closer, whatever takes your fancy.
Musee Gaugin
Paul Gaugin was obsessed with Tahiti, and spent the last ten years of his life living here. Much of his artistic style was influenced by subjects and culture of the islands, and his Tahitian-influenced works were some of the most successful examples of the 'Primitivism' movement in Europe. The
Musee Gaugin
is a tribute to his art and influence in Tahiti, and is a fascinating place to dig a little deeper into Western portrayals of traditional Polynesian culture.
Surfing
In surfing communities Tahiti is known for
Teahupo'o
, one of the most dangerous surf breaks in the world. Really adventurous couples might like to try their hand at taming this powerful beast, but there are also other less terrifying waves to be had across the archipelago.
Arahoho Blowhole
Hundreds of years of coastal erosion has created the Arahoho Blowhole, an incredible natural wonder and testament to the power of nature. It is well worth a visit to see the water shooting hundreds of feet up in the air when a big swell hits.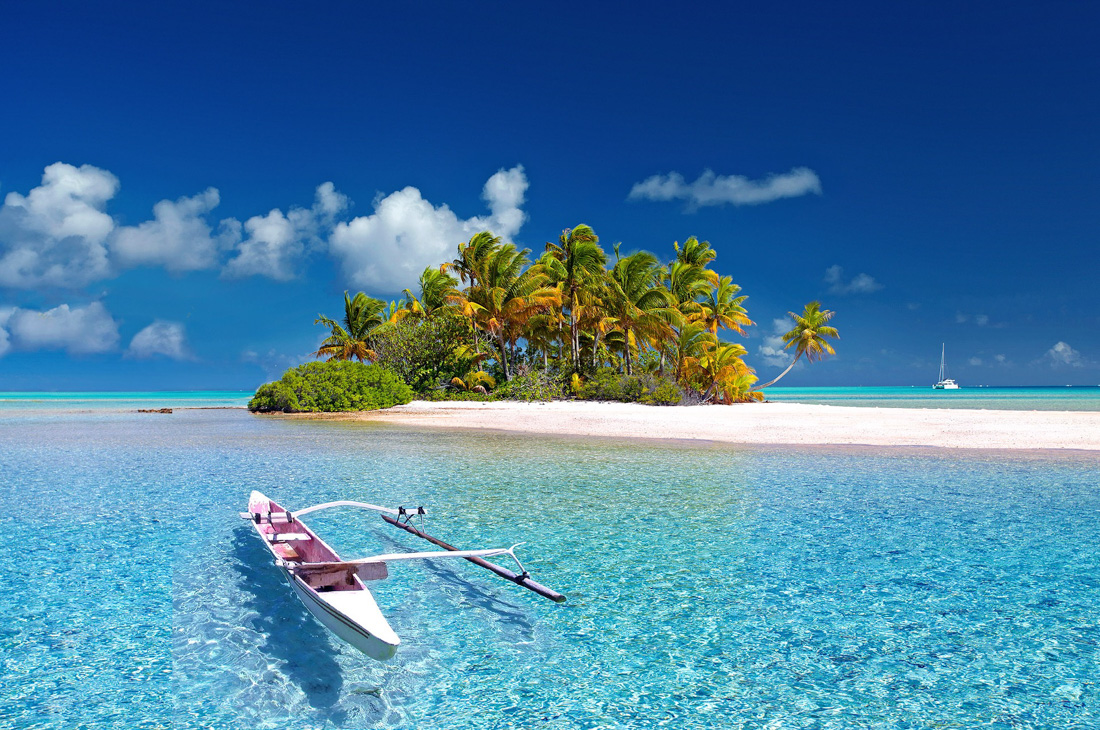 Black pearls
Besides tourism, one of Tahiti's main industries is pearl cultivation and diving. You can visit one of the many pearl farms that are dotted across the islands to learn about how they are cultivated and how they get their colors (often thought to be only black, they actually range from grey to green). Another great option is visiting the The Robert Wan Pearl Museum for an insight into their cultural significance and the myths and legends that surround these beautiful creations.