The Best Airbnb Cabins and Apartments in Honesdale in the Poconos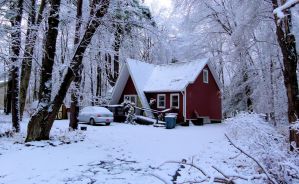 The quaint town of Honesdale, PA in the Poconos is an ideal vacation spot if you want to explore the combination of historic charm and outdoor activities that the region is known for. While in the area, make sure you check out a train ride on the Stourbridge Line, take a hike in the Friends of Promotion State Park, visit the various antique shops such as WeJo, and grab some wine at Antler Ridge.
A number of terrific Airbnb cabins and rental properties can be found in Honesdale for every type of traveler. Whether you're planning a summer getaway, a winter ski excursion, or a fall road trip, any of these places would be great for a family or a couple. So, let's get to it: here are the best Airbnb cabins and apartments in Honesdale in the Poconos for your next trip.
Where are the best places to stay in Honesdale, Pennsylvania?
Contents: 939 Main Apt 2 | Quiet Lakefront Cottage | Wonder Honesdale Loft C3 | Honesdale Family Escape | Honesdale 3BR Apartment | Wonder Honesdale Loft A2 | Retro A-Frame Chalet | Hideaway 1BR | Historic Honesdale Downtown
Recently renovated, this
1-bedroom
apartment is perfect for a couple. With some fantastic furnishings, the entire atmosphere is comfortable and relaxing with nice antique touches. The kitchen and bathrooms are modern, clean, and luxurious. The bedroom is also perfectly appointed and very welcoming. And you can't beat this location, either, as this apartment sits right in the middle of Honesdale surrounded by restaurants, shops, historic buildings, churches, and bars. Check out the photos!
This small
2-bedroom
cottage sits on a lake and has a large back porch to take in the atmosphere. Despite it's rustic appearance, the inside is very nice with a modern kitchen, warm fireplace, and comfortable beds. The bathroom is very clean, too. One of the bedrooms is a nice spot for a home-office if you need to do some work (or school). Laundry, Wi-Fi, and free parking are all included, too.
Here's a luxurious loft apartment with 1 bedroom, plus some extra space for some sofa beds to sleep more guests. With 2 bathrooms, this place would be comfortable for not just a couple, but also a smaller family or group of friends. The kitchen and bathrooms are very modern and renovated. And as it's located right in the middle of town above a restaurant and bakery, the location is perfect and close to many places around town.
This
2-bedroom
apartment is on the top floor of a home with a pool and plenty of outdoor space. It has a good kitchen with everything you need, a very clean bathroom, and comfortable beds. Perfect for a family looking for a spot in the Poconos within easy reach of Lake Wallenpaupack, ski resorts, state parks, and more.
Here's a great loft apartment in the heart of Honesdale that sleeps 6 people in
3 bedrooms
. With its modern and clean decor, and a full kitchen, an entire family or group of friends would find this place to be perfect. And it's right in the middle of town within walking distance to restaurants, shops, historic buildings, and more. Priced affordably, it's not surprising that this is one of the more popular places to stay in town.
While several loft style apartments can be found in the historic center of Honesdale, this one is renovated, modern, and has a fun colorful vibe to it. With a modern kitchen, new bathrooms, and plenty of space, this can be your relaxing home away from home while visiting the historic town and the surrounding lakes and mountains.
Wow! The views from this mountaintop cabin are spectacular. If you're not gawking at the view from the 8-acre property with its fire pit and outdoor seating, then you'll be in the
2-bedroom
private apartment of this cute cabin. It has a full kitchen, comfortable living room, and cozy bedrooms. The price is very affordable, too, so you can't go wrong. It's not far from Honesdale as well as the surrounding lakes, mountains, and attractions.
This shared single bedroom in a house has a shared bathroom, a comfortable bed, and some absolutely fantastic outdoor spaces. You'll have a private TV in your bedroom, but share the kitchen, bathroom, and living room space. It's close to all of the surrounding shops, restaurants, hiking, and more as this place is just outside of historic Honesdale.
This historic
4-bedroom
house sits right on Main Street and is within a short walk to many shops and restaurants. The kitchen is fully-equipped, and the living room is comfortable. The backyard has a nice garden, too. While it's not huge, there's plenty of space for a family in this house with modern amenities and an affordable price.
Some photos are courtesy of airbnb.com.
Share This Article