Smugglers' Notch Places to Stay: the Best Airbnb Cabins and Condos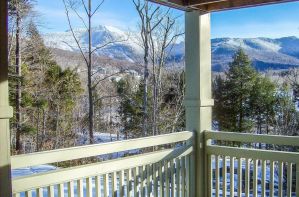 Just north of Stowe, Vermont and about an hour from Burlington lies the ski resort of Smugglers' Notch. This resort is a ski lover's dream come true, as you'll find three mountains, six terrain parks for snowboarding, and a number of family-friendly activities such as ski lessons, gladed trails, snow tubing, and an indoor "Fun Zone" with tons of activities. They also host regular events with fireworks, live music, and holiday specials.
But did you know that summer is also a great time to visit? Smugglers' Notch has a water park, several swimming pools, and also several lakes for swimming, too. Visitors can also go hiking, mountain biking, horseback riding, zip lining, llama trekking, kayaking, and the list goes on. And let's not forget about the fall foliage. When the leaves start changing, this area is the perfect spot to take in all of the colorful mountain views.
Finding a place to stay at Smugglers' Notch doesn't have to be hard. Depending on the size of your group, you should probably consider a vacation rental instead of a hotel. Plenty of options are available not just for families, but also for couples looking for a romantic getaway or a group of friends on a ski trip or hiking adventure. We have researched the best Airbnbs at Smugglers' Notch for your next trip, so here is our list of the most affordable and perfectly located cabins and condos.
Where are the best cabins and condos at Smugglers' Notch?
Contents: Gorgeous 5BR A-Frame | Smugglers View | Smugglers Notch 3BR Condo | Vintage Chalet (Red) | Cozy Chalet (Blue) | Cambridge House 3BR | Luxurious Suite
Smugglers' Notch
,
Vermont
This jaw-dropping A-Frame cabin is simply gorgeous. With
5 bedrooms
, 2 bathrooms, and room for up to 9 people, this mountain house has everything you could want. Starting with the large windows of the main living room, you'll never want to leave this spot. The kitchen is fully-equipped and quite spacious so that there's enough room for everyone to cook. The bedrooms are comfortable and spacious as well, and have wooden beams, interesting lines, and cozy charm (especially the bedroom up top). Bathrooms are modern and kept very clean, too. And it's dog-friendly! The location is also convenient, as it's only a few miles from the ski slopes as well as all of the shops and restaurants in Jeffersonville. Wi-Fi, laundry, parking, and other niceties are included, too.
Smugglers' Notch
,
Vermont
Here's a perfect
3-bedroom
cabin with amazing views and a spacious deck. With recent renovations, this vacation rental has a gorgeous modern kitchen with everything you need to cook your own meals. Two of the bedrooms have large beds, while the third has bunk beds perfect for the kids. That makes this house great for families or a small group of friends, too. With Wi-Fi, laundry, parking, and close proximity to everything nearby, this house is not just great, it's also affordable.
Smugglers' Notch
,
Vermont
This
3-bedroom
condo is located in the Aspens building of the ski resort, so you're just steps from the slopes. Outside you'll find the resort, the beautiful views, and all of the amenities within easy reach. Inside the 1500 sqft condo is a full kitchen, a master bedroom with its own luxury bathroom, and another bathroom for the other 2 bedrooms. The deck offers amazing views of the mountains, too. This is an ideal spot for anyone who wants to be close to the action with their family or group of friends.
For more information on accommodation in Stowe, check out The Best Cabins in Stowe, Vermont: 7 Affordable Airbnbs.
Smugglers' Notch
,
Vermont
Very close to the ski slopes at Smugglers' Notch, this small and cute chalet-style cabin looks like it popped out of a storybook. Perfect for a couple or a small group, it has room for 4 people in
2 bedrooms
. The quaint mountain decor sets the atmosphere here for a truly authentic mountain getaway. But don't worry, this cabin still has modern amenities and comforts. The full kitchen has everything you need to cook your own meals, while the bathroom is also modern and clean. The bedrooms are cozy and comfortable, and the living room is warm as it centers around a nice stone fireplace. Check out the photos!
Smugglers' Notch
,
Vermont
The owners of the cute Red chalet have a neighboring property which is very similar and equally as charming. The small blue mountain cabin also has
2 bedrooms
, a full kitchen, a modern bathroom, and cozy beds. It's slightly smaller than the red one, but priced less, too. And like the other cabin, this one is also just a few hundred yards from the ski resort at Smugglers' Notch.
Smugglers' Notch
,
Vermont
Surprisingly modern on the inside, this updated
3-bedroom
home has enough room for 6 people, which makes it perfect for a family or group of friends. With a fully-equipped kitchen that has nice cabinets and counters, and a spacious living room centered around a TV, your entire crew can be quite comfortable and social here. The bedrooms and bathrooms also have luxurious touches. And downstairs you'll find a
game room
with another TV area and a foosball table. Located just a few miles from the ski slopes, the location is also convenient.
Smugglers' Notch
,
Vermont
Here's a quiet
1-bedroom
condo perfect for a couple looking for a romantic getaway in the mountains any time of year. The living room is nicely appointed, and the kitchenette has a mini-fridge and a microwave so you can have a quick meal or keep your leftovers. The king-sized bed in the bedroom is comfortable and luxurious, too. Outside you'll find gorgeous views, a great fire pit, and some beautiful gardens. Located just a few minutes from the slopes, it's a very convenient spot, too.
Some photos are courtesy of airbnb.com.
Share This Article