The Best Resorts, Condos & Airbnbs in Wintergreen, Virginia for Couples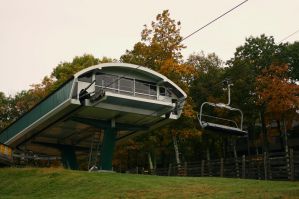 No matter what time of year you visit, the Wintergreen Resort area is a fantastic destination for couples. If you're looking for a romantic getaway from Washington D.C, Richmond, or Charlottesville, Wintergreen is a convenient and fantastic place to spend a weekend. From the multiple hiking trails to the ski slopes, this area offers plenty of fun activities along with some luxurious dining and accommodation options.
In the warmer months, couples can have fun exploring the Humpback Rocks, Ravens Roost Overlook, or Crabtree Falls just to name a few of the hiking areas. Or why not take in a day at the spa at Wintergreen? Then enjoy some of the nice dining options. And if you're looking for something fun, check out the downhill tubing (open in the summer and during ski season in the winter, too). They also offer archery lessons.
And then head out to the many wineries and breweries in the area. Delfosse Vineyards, Flying Fox Vineyard, or Hill Top Berry Farm are all great destinations for some scenic views and tastings. Or head to Devils Backbone or one of the other many breweries in the area to check out the unique beer flavors of the mountains.
If you're looking for an affordable place to stay, below are some of the best options for couples. These studio or one-bedroom vacation rentals on AirBnB are the perfect size for a couple looking for a private romantic weekend (or even an entire week) for a fun getaway.
What are the best places to stay for couples in Wintergreen?
Contents: Light Filled Views Condo | Above the Clouds | New 1BR Condo | Rief's Retreat | Blue Mountain View | Condo - Walk to Slopes
Wintergreen Resort
,
Virginia
USA
Here is a fantastic 1 bedroom condo which is modern and luxurious. With a fully-equipped elegant kitchen, comfortable furniture, and amazing views, any couple would be thrilled to stay here. Relax in front of the gorgeous fireplace or take in the views from the patio just outside the large windows. Wi-Fi, laundry, and ski storage are also included. The location can't be beat, either, as you're just minutes from the slopes and everything else around Wintergreen.
Wintergreen Resort
,
Virginia
USA
With an amazing view from the deck overlooking Rockfish Valley and the surrounding mountains, this 1 bedroom condo offers a relaxing and romantic getaway for any couple looking for adventure. The king sized bed in the comfortable suite is just the beginning. The spacious kitchen is fully-equipped and has everything you would need to cook a meal or enjoy leftovers from the many nearby restaurants. Pool passes for the complex are also included, as is wi-fi, laundry, and free parking. And the location is right in the middle of everything, too. (No kids and no pets.)
Wintergreen Resort
,
Virginia
USA
Here is a brand new condo (new construction) with plenty of luxurious amenities including a cozy fireplace. The 1 bedroom vacation rental offers plenty of space, a modern kitchen, well appointed bathroom, nice furnishings, a great deck with nice views, and more. Wi-Fi and streaming TV services are included. You could work from here or just take a vacation. And as it's right in the middle of everything in Wintergreen, you'll be just a few minutes to all of the ski slopes, hiking trails, and other activities. And parking is free, too.
Wintergreen Resort
,
Virginia
USA
The elegant rustic decor of this 1 bedroom apartment makes this rental property one of the most comfortable in the area. With plenty of space and a very modern well-equipped kitchen, any couple would love the time they spent here. The bedroom is cozy, comfortable, and has a very honeymoon resort type of vibe. The outdoor patio is also a great place to unwind while taking in all of the mountain air.
And this condo is located very close to everything around the resort area, too. From the ski slopes to the nearby hiking trails, you can get everywhere in Wintergreen in minutes. Or just a little further away and you're in the valley with the wineries and breweries!
Wintergreen Resort
,
Virginia
USA
The view from this spot is incredible! This one bedroom vacation rental is part of the Cliffs Condos complex which offers nice amenities, plenty of space, and great decks with nice views. The kitchen is nicely appointed and the living room is large, but cozy. The fireplace will keep you in a relaxed mood while you watch TV or admire the sunset after your skiing or hiking adventures around the resort area. The bedroom is also large and has plenty of natural light with yet even more terrific views in multiple directions over the surrounding mountains. A ski locker is provided, as is Wi-Fi, laundry, two bathrooms, everything you need in the kitchen, and free parking.
Wintergreen Resort
,
Virginia
USA
You can walk to the slopes from this affordable 1 bedroom vacation rental condo. The kitchen has everything you need for your adventures in the area whether you want to cook or have leftovers. Laundry is also included. The unit also has a wood-burning fireplace (with easy access to firewood).
From this place you can walk (or ski) a short distance to the slopes. It's right in the heart of everything, and parking is free too. You'll be just a few minutes from everything Wintergreen has to offer.
Some photos are courtesy of airbnb.com.
Share This Article