The Best Family-Friendly Airbnb Vacation Rentals in Fort Lauderdale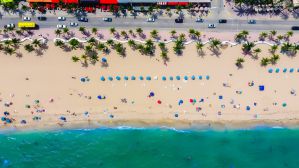 Fort Lauderdale is a terrific family-friendly destination. Not only does this city have amazing beaches, but you'll also find plenty of kid-friendly activities. From surfing lessons to playgrounds to the science discovery museum to the antique car museum to boat rides to state parks, you'll find something for everyone here. You'll probably need more than just a weekend, too, as the list of activities is long!
If you're planning your next trip to Fort Lauderdale and need a family-friendly vacation rental, we have researched the best places to stay on airbnb for your next family trip to this amazing southern Florida destination. All of these vacation rental houses have extra bedrooms, kitchens so you can cook your meals, great locations, and comfortable amenities. Some of them even have swimming pools so the kids can enjoy a quick splash when you return from the day's busy activities. Also, most of these houses are not too far from the beaches.
Where are the best places to stay for a family in Fort Lauderdale?
Contents: Sleepy Bear 2BR | Luxe Home - 3BR with Pool | Sunset House | 4BR Victoria Park Villa | 3BR Luxury Apartment | Hidden Gem 2BR House | Casa Mia | Owner's Unit - Affordable 2BR
One of the cutest houses we've ever seen, this 2-bedroom cottage style home has room for up to 4 people, which makes it ideal for a smaller family. The pool in the back yard is surrounded by gardens so you'll have a blast in a tropical atmosphere. Outside you'll also find a nice seating area, or you can hang out on the screened back porch. And we can't forget to mention the
hot tub
, too.
Inside is a modern and comfortable living room, 2 great bedrooms, a clean and updated bathroom, and a fully-equipped kitchen with ample space and everything you need to cook your meals. Laundry, Wi-Fi, and other amenities are included.
Located only 3 miles from the beach, you're also close to shops, restaurants, and bars in this great neighborhood.
Here's a gorgeous 3-bedroom home with a nice pool which has room for up to 6 people. The main living room area is a spacious room which opens up to the kitchen and dining areas with comfortable furnishings, a TV, along with a large atrium space up to the second level where you'll find the bedrooms. Large sliding glass doors open up into the back yard area where you'll find the pool, and they also let in plenty of natural light. The kitchen is ultra-luxurious with a modern decor, upgraded appliances, and plenty of space to cook everything you need for your entire family or group. One of the bedrooms is located on the first floor. Upstairs you'll find two more comfortable bedrooms along with gorgeous bathrooms. A large balcony with outdoor seating makes a nice spot to relax and enjoy coffee or a meal. Another sitting area upstairs has sofas and a TV so that everyone can have extra space to unwind. This is a great spot for kids to hang out. Wi-Fi, laundry, and more amenities are all part of the package, too. Located about 3 miles from the beach in the heart of Fort Lauderdale, you'll be close to restaurants, shops, bars, and plenty of activities. Check out the photos!
The Sunset House has beautiful furnishings, a convenient layout, a large and modern fully-equipped kitchen, and a clean and modern bathroom. With room for up to 4 people, this 2-bedroom house has enough space for a family or small group of friends traveling together. This really is an ideal and comfortable house for anyone looking to explore the area. It's close to shops and restaurants, too, and is only 3 miles from the beach.
This luxurious 4-bedroom villa is located in Victoria Park, a fantastic neighborhood not too far from the beach, near a large park, and close to shops and restaurants. The house has plenty of room for a larger family or group of friends. The modern kitchen offers everything you need to cook all of your meals, and the ultra-luxurious bathrooms will have you living in style. The living room area is very comfortable too. Guests love the large wrap-around balcony which is accessed by huge sliding doors from the bedrooms. Garage parking is also available, along with laundry, Wi-Fi, a work space, TV's, and more.
Not far from the beach, and close to shops and restaurants, this 3-bedroom apartment has room for up to 7 people, making it ideal for a larger family or a group of friends such as a trip for a girls' weekend getaway. The fully-equipped kitchen is modern and has everything you need to cook. The open-concept floor plan also lets everyone stay together as the kitchen opens up into the dining and living room space. The balcony is also a nice feature, and makes a good spot for you to enjoy your morning coffee or have a meal. Each bedroom is very comfortable, and the 2 bathrooms are kept clean and offer modern fixtures. The building has a swimming pool, gym, and a lounge in the lobby with a pool table and TV. And the location is also nice, as you're just a couple of miles from the beach and very close to shops and restaurants.
Here's a modern and luxurious 3-bedroom house with room for up to 7 people. Just a mile and a half from the beach, it's in a convenient location and close to restaurants and other activities in Fort Lauderdale. The modern kitchen has everything you need to cook all of your meals. The house has a rustic yet updated decor which is very comfortable. One of the bedrooms has a set of twin beds which is good for kids, making this house great for families. Wi-Fi, a grill, parking, and more niceties are included, too.
This 2-bedroom apartment is relatively
affordable
and has room for up to 3 people. The space is bright, full of light, and has plenty of nice amenities. The fully-equipped kitchen offers all that you need to cook, or you can venture out to the nearby restaurants and bars. The spacious living room and comfortable bedrooms will help you have a nice stay. The backyard features even more space with a patio and more seating in the yard, which is perfect for a meal or morning coffee in this private setting. Laundry, 2 bedrooms, Wi-Fi, and more niceties are included. Located quite close to the beach and intracoastal waterway, you're not far from everything in town, too.
Some photos are courtesy of airbnb.com.
Share This Article